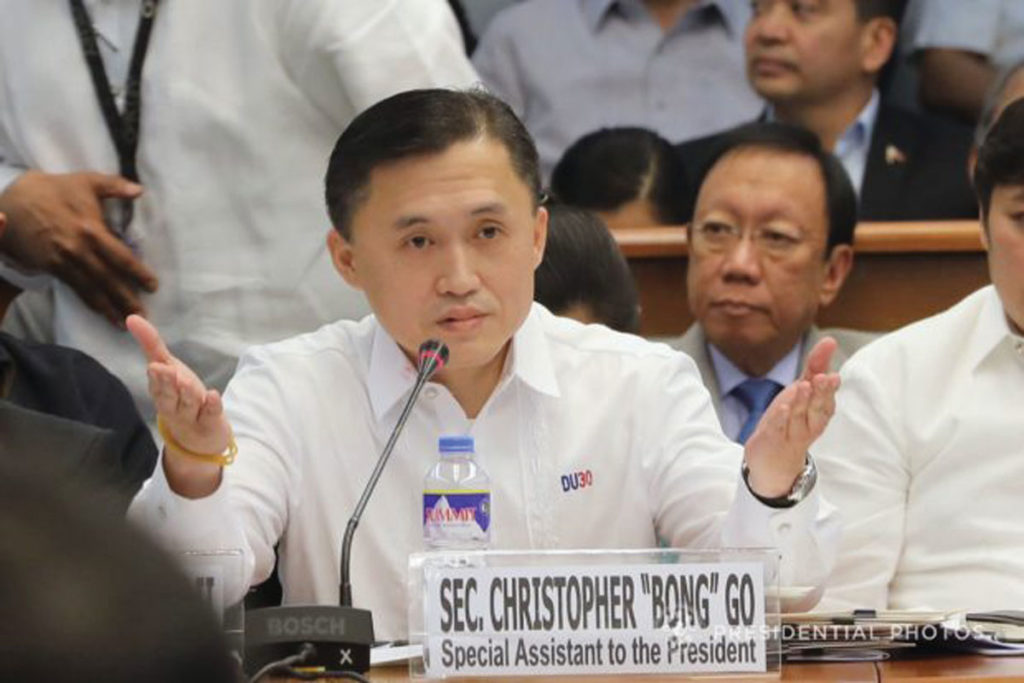 SPECIAL Assistant to the President (SAP) Christopher Lawrence "Bong" Go on Monday, September 10, denied the corruption allegations against him amid the involvement of the family-owned CLTG Builders and Alfrego Builders in the government's public work projects. 
Go said that the said criticisms hurled against him were "politically motivated attacks" considering that there are groups clamoring for him to pursue a senatorial position. 
"Did I have any involvement in these? Did I touch anything? None," Go said, as reported by The Manila Times.
The Philippine Center for Investigative Journalism (PCIJ) reported that the CLTG Builders — owned by Deciderio Go, the presidential assistant's father —  won a total of P1.85 billion in government contracts from 2007 to 2017, not including the joint venture projects with Alfrego, which is owned by his half-brother Alfredo.
Go insisted that the said businesses went through the proper process of bidding. He said that he never interfered with the decision of the Department of Public Works and Highways (DPWH) let alone influenced them to choose the family business. 
"Being related to me does not disqualify them to bid. These projects are publicly [bid on] anyway. I never intervened nor influenced the DPWH on how they bid or award these projects. My office does not control DPWH, to begin with," he said.
He said that he never once conversed with the engineers in the department. 
"Ni hindi nga ako nakikiusap sa mga engineer, 'Ito pondohan mo' (I don't even talk to engineers and say, 'Fund this')," the secretary said. 
He added, "Si DBM (Department of Budget and Management), ni minsan hindi ko sinabihan na lagyan mo ang Davao City para makapabor doon (Not once have I told DBM to allot money for Davao City)." 
He also said that should there be proof that he engaged in corruption, he will immediately quit his cabinet position. 
"Once you are able to prove that I spoke with anyone — secretary, regional directors, DBM — everyone who is connected in your research, if I ever did, I will resign. I will resign immediately," Go promised. 
Go clarified that the family's construction business predates his birth. He said that he could have easily talked his way to the president but because of "delicadeza," he chose not to. 
 "For 15 years, I prevented my family from entering [the Davao] City Hall. I told them, "If you enter City Hall, I will leave [it]," Go said.
Senator Antonio Trillanes IV filed on Wednesday, September 12, a resolution urging the Senate Civil Service Committee to look into the above-mentioned accusations and identify a possible conflict of interest. 
"Whereas, CLTG Builders caught the attention of PCIJ's research because it failed to complete all of its joint-venture projects within the original deadline. CLTG also has a B license which means that it could not carry out a big-ticket project without having a partner," Trillanes said, according to  The Philippine Star. 
Go was among the top likely Senate candidates in a survey by PDP-LABAN along with Davao City Mayor Sara Duterte-Carpio and Sen. Aquilino Pimentel III. However, he denied any plans of running for the Senate.