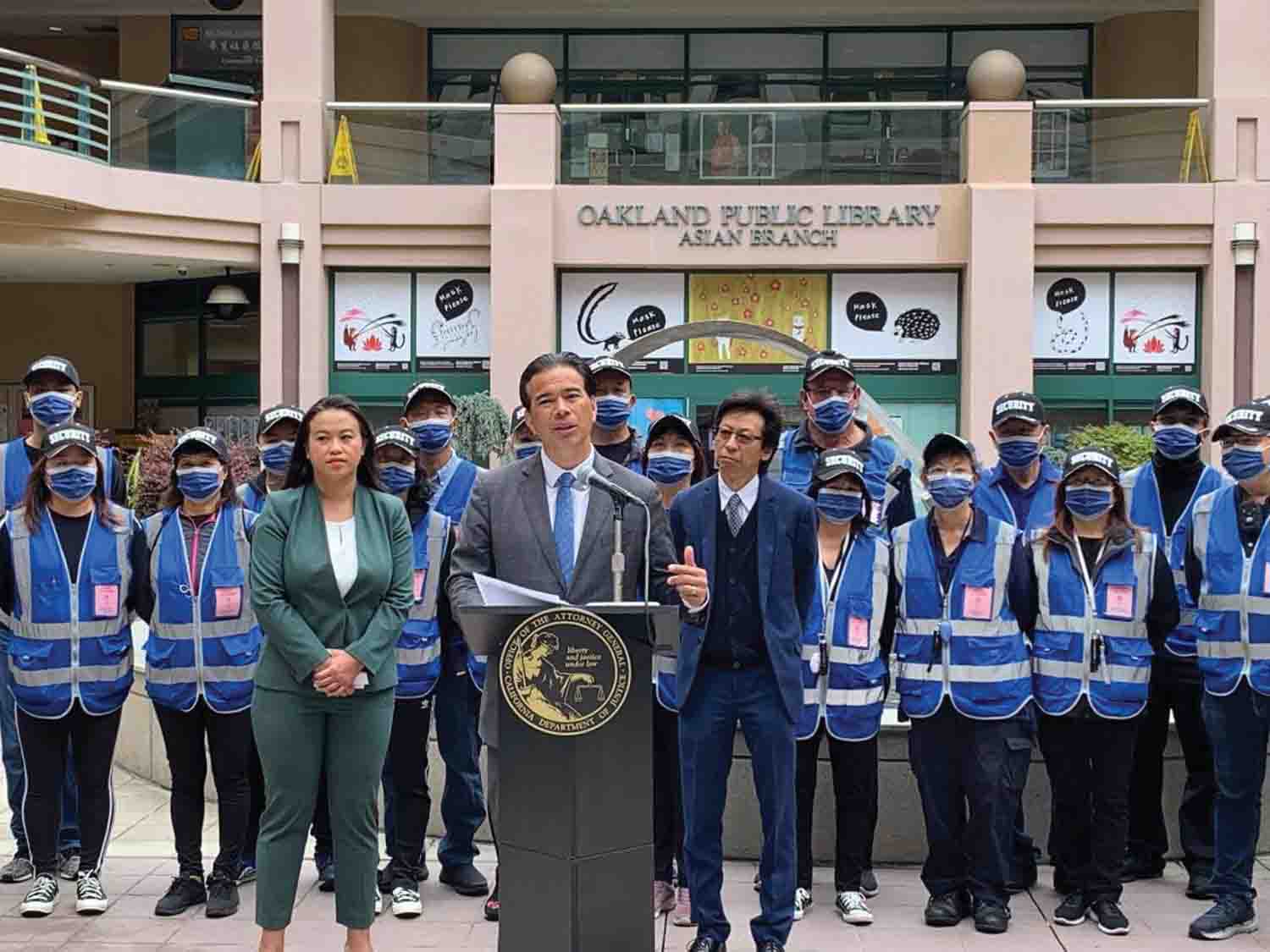 The first Filipino American attorney general of California affirms state's mission to better tackle anti-Asian hate crimes
CALIFORNIA Attorney General Rob Bonta unveiled new hate crime findings this week that, among other things, discovered a 107% increase in anti-Asian hate in California and provided updated guidance for law enforcement in their handling of such crimes.
"For too many, 2020 wasn't just about a deadly virus; it was about an epidemic of hate, as well," Bonta said at a press conference that took place in Oakland's Chinatown on Wednesday, June 30. "And while the pandemic may be receding for now, that other fear still resides in us within our Asian American communities."
Along with the annual hate crimes report, Bonta — who is Filipino American — also released a special report on anti-Asian hate crimes during the COVID-19 pandemic, a dense analysis of the historical context of anti-Asian racism in California, a state that has the largest population of Asian Americans (about 6.7 million, as of 2019, according to Pew Research) and is home to a third of the nation's Asian American community.
The special report found that anti-Asian hate crimes more than doubled during the pandemic, going from 43 reports in 2019 to 89 reports in 2020, with a majority of the reports occurring from March 2020 to April 2020, a period in which harmful monikers and rhetoric that connected Asians to the COVID-19 were most prevalent.
Bonta noted that a majority of the reported hate crimes involved physical assault. But he prefaced by noting that "despite these reported increases, we recognize that hate crimes in the state are generally underreported."
The attorney general also presented the 2020 hate crime report on Wednesday and reported that overall hate crime events increased 31% from 2019, jumping from 1,015 to 1,330 in 2020.
Similar to previous years, anti-Black bias and discrimination were the most prevalent, increasing 87% from 2019 to 2020; in numerical terms, the number of reports jumped from 243 to 456 in 2020, a startling increase amid the so-called summer of reckoning following the high-profile murders of unarmed Black individuals throughout the country.
That being said, the report also included an increase in reported "anti-white" bias, jumping from 39 in 2019 to 82 in 2020.
Following the report of these statistics, which present a socially fractured view of race relations in California, Bonta announced that his office would also be issuing guidance to prosecutors and state and local law enforcement.
Specifically, the attorney general's office would provide more resources for local police to more accurately and robustly identify and investigate hate crimes.
"We need to ensure fair and uniform application of hate crime laws across our many jurisdictions in this big state. We also need to increase the success of prosecutions by ensuring more immediate and consistent contact with victims and affected communities. It is so important that we be victim-centered and supportive of our victims," Bonta added.
As an immigrant from the Philippines, Bonta also mentioned victims who are undocumented and have fear reporting crimes against them because of their immigration status.
He reminded that the state "prohibits law enforcement from asking individuals, including those who are reporting as victims of potential crimes, about their information status, except when the information is necessary to certify a victim for a U or T visa," which are designed for victims of crime.
Bonta's victim-centered approach to hate crime reporting mirrors that of Governor Gavin Newsom, who this week released his yearly budget which includes more funds to resources for hate crime victims, saying in a recent statement that his "administration is taking aggressive, targeted action to support targeted Californians and prevent hate crimes."
In his recent budget proposal, Newsom included a $100 million allocation to "support survivors and another $200 million in community-based responses to violence," but the budget neglects to provide specifics on how exactly those funds will be spent. n