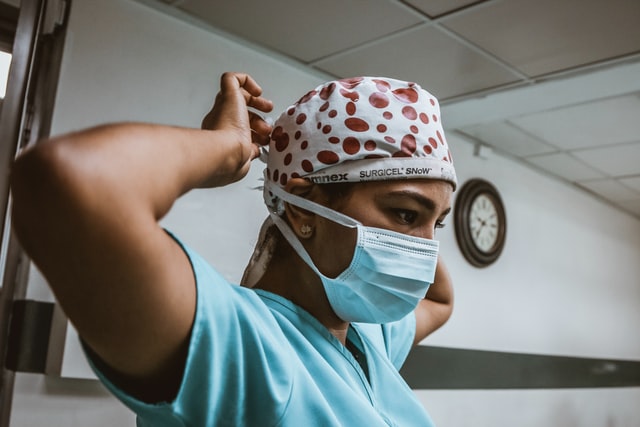 CDC updates mask guidance, requires masks indoors regardless of vaccination status
AS the United States continues to contend with the nationwide COVID-19 surge brought on by the Delta variant, government and health care officials are ramping up efforts to curb the spread through new mandates that encourage vaccination and social distancing.
On Monday, July 26, California implemented a first-in-the-nation mandate that requires health care workers and state workers to either show proof of vaccination or agree to weekly testing, California officials said.
State employees will have to submit documentation of their vaccination by Monday, Aug. 2, and any employees who aren't vaccinated by then must provide a negative COVID-19 test at least once a week, twice a week for state-run health care settings.
For health care workers, the mandate begins on Aug. 9 and all health care clinics and facilities must fully comply by Aug. 23.
According to state officials, California's case rate more than quadrupled from roughly two cases per 100,000 residents a day to roughly 10 cases per 100,000 residents a day. Testing positivity in June was 0.7% but it has risen to 5.2%; and hospitalizations, statewide, are now nearly 3,000, more than triple what it was in June.
"We are now dealing with a pandemic of the unvaccinated, and it's going to take renewed efforts to protect Californians from the dangerous Delta variant," Governor Gavin Newsom said in a statement. "Vaccines are safe — they protect our family, those who truly can't get vaccinated, our children and our economy. Vaccines are the way we end this pandemic."
California continues to lead the nation in vaccinations with more than 44 million doses administered and 75% of the eligible population having received at least one dose, as of press time. But hospitals are reporting an increasing number of eligible people who refuse to get vaccinated being admitted to intensive care units and dying from the disease.
Dr. Peter Bretan, Jr. — California Medical Association (CMA) president and urologist and kidney transplant surgeon — praised the governor's decision to ensure that frontline health care workers are safe from COVID-19.
"Throughout this crisis, health care workers have been a source of strength, sacrifice and perseverance. Ensuring all of us are vaccinated against COVID-19 sends a strong message that the safety of our patients and our colleagues is top priority," Bretan, who is the CMA's first Filipino American president, said in a statement.
"We can all do more to keep each other safe, and health care workers, in particular, have a moral and ethical obligation to do all we can to protect our patients," Bretan added. "We know what this virus can do. Many of us have witnessed the devastation first-hand. After going through so much, it is heartbreaking to see cases rise once again, especially when we have vaccines that can stop the spread of this deadly virus."
California's decision to ramp up vaccination efforts came a day before the Centers for Disease Control and Prevention (CDC) unveiled updated guidelines for masking amid disturbing reports of high transmission across the country.
Previously the CDC announced that it was acceptable for vaccinated people to forego mask-wearing indoors, but on Tuesday, July 27, it changed its guidelines so everyone, regardless of vaccination status, should wear masks indoors.
The CDC's updated guidelines are largely due to the delta variant and its severity toward unvaccinated, in particular.
"In recent days, I have seen new scientific data from recent outbreak investigations showing that the delta variant behaves uniquely from past strains of the virus that causes COVID-19," Dr. Rochelle Walensky, CDC director, said during a media briefing on Tuesday.
"The new science is worrisome and unfortunately warrants an update to our recommendations. This is not a decision that we or CDC has made lightly," she added.
When the CDC previously changed its guidelines on May 13 that allowed vaccinated people to discontinue mask-wearing, the delta variant only represented 1% of reported infections. The CDC now says that it comprises at least 83% of recent cases.
About half of the counties in the U.S. (46%) have high transmission rates and 17% have "substantial" transmission, the CDC revealed on Tuesday. Walensky noted that while vaccinated people "represent a very small amount of transmission," those who live in substantial and high transmission areas should continue to "wear masks in public, indoor settings, to help prevent the spread of the delta variant and protect others — this includes schools."