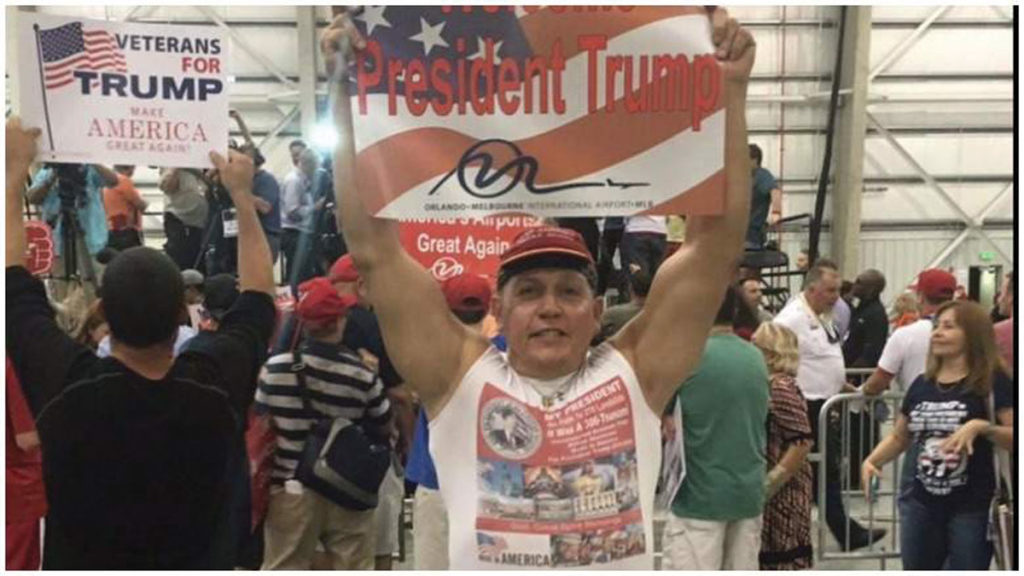 The Filipino American man who pled guilty for mailing explosives to high-profile Democrats and President Donald Trump's critics suffered from mental illness and had a years-long obsession with Trump, his lawyers claim. 
In a 39-page sentencing memo to U.S. District Judge Jed Rakoff of the Southern District of New York, attorneys for 57-year-old Cesar Sayoc pointed to a troubled childhood, isolation, and steroid addiction as having played a role in his obsession and ultimately mailing the explosives.
"In this darkness, Mr. Sayoc found light in Donald J. Trump," wrote defense attorney Sarah Baumgartel in the memo, adding that the infatuation with Trump initially started off as something personal.
She added that Sayoc often relied on taped self-help books, including those written by the businessman and former reality TV star. 
"Mr. Sayoc relied on self-help books on tape to keep going," read the memo. "Donald Trump's books on success and business were his favorites."
With the goal of getting a minimum sentence of 121 months, Sayoc's attorneys said that a "series of traumatic events" including abandonment by his father and sexual abuse by his Catholic school teacher as a child, pushed him "further and further into the margins of society."
Having become more isolated as he grew older along with increased anxiety and paranoia from his excessive steroid use, it wasn't until Sayoc came across the community of ardent Trump supporters that he "found a sense of community that he had been missing for so many years," said his attorneys.
"He conflated his personal situation with the perceived struggles of Trump supporters across the country, and even the President himself," it continued. "His paranoia bled into delusion and Mr. Sayoc came to believe that prominent Democrats were actively working to hurt him, other Trump supporters, and the country as a whole."
The memo said Sayoc became politically radicalized as he began watching Fox News religiously and closely following social media accounts of Trump supporters and conspiracy theorists online.
"Mr. Sayoc was an ardent Trump fan, and when Trump announced he was running for President, Mr. Sayoc enthusiastically supported him," read the memo. "He began watching Fox News religiously at the gym, planning his morning workout to coincide with Fox and Friends and his evenings to dovetail with Hannity."
As for the 16 explosive packages that were sent to 13 political targets and public figures including former President Barack Obama, former Vice President Joe Biden, and current 2020 presidential candidate Sen. Kamala Harris, Sayoc's attorneys said that while the devises "were designed to look like pipe bombs," he had "no true grasp of the severity of his crimes" due to his mental state.
Also included in the sentencing memo from Sayoc's attorneys were photos of the explosive devices, photos from the accused's childhood, of his medications, and of his van and Trump memorabilia.
Sayoc pleaded guilty in March to a total of 65 felony counts from four sets of charges including illegally mailing explosives with intent to kill or injure another, and using weapons of mass destruction.
With a sooner sentencing scheduled for August 5 rather than the original date of September 12, prosecutors in the Southern District of New York have maintained the request that Sayoc get the maximum sentence of life in prison. To "adequately deter acts of domestic terrorism aimed at silencing and intimidating government officials."
In response to the claim that Sayoc did not have the intention that the devices explode, prosecutors said that such claims were a "hoax" and a "desperate effort to avoid accountability."
Acknowledging that the explosives would not have exploded as they were, prosecutors highlighted that real dangerous components were included.
"Deficient as the defendant may be as a bomb maker, hoaxes do not involve real explosives, real shards of glass, and real toxic chemicals, as the defendant's IEDs did," wrote the prosecutors.
"Thus, in addition to the seriousness of the offense conduct, a life sentence is necessary to protect the public from the defendant due to his lack of remorse and lengthy criminal history," they added, referring to previous run-ins with the law, including a 2002 conviction for making bomb threats. "Such a sentence is also appropriate in order to promote respect for the law and to achieve general deterrence of others who may contemplate similar acts of domestic terrorism." (Rae Ann Varona/AJPress)