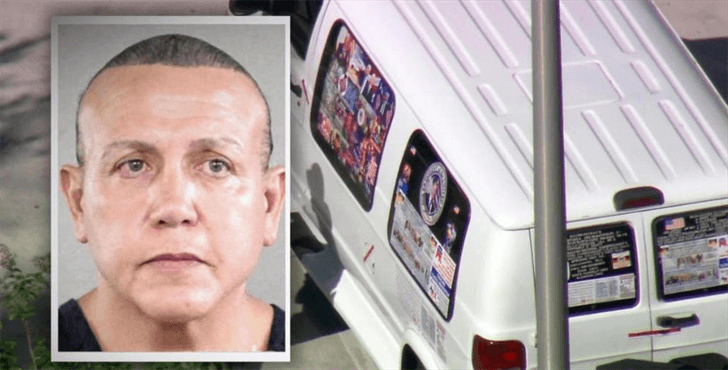 A federal grand jury in New York has indicted Cesar Sayoc on 30 charges on Friday, November 9, after he was suspected of mailing over a dozen pipe bombs to high-profile Democrats last month. 
Cesar Sayoc, Jr., who is half-Filipino and half-Italian, faces life imprisonment following the charges, which include the use of a weapon of mass destruction, interstate transportation of explosives, illegal mailing of explosives, threatening interstate communications, use of explosives to commit a felony, and use of a destructive device during and furtherance of a crime of violence. 
The 56-year-old, who was arrested on October 26 in Florida, allegedly mailed around 16 pipe bombs to known critics of President Donald Trump, including high profile Democrats like Barack Obama and Bill and Hillary Clinton as well as news organizations like CNN and prominent Democrat donor George Soros. 
According to the indictment, the charges on Friday are only for the pipe bombs sent to Soros, Clinton, actor Robert De Niro, James Clapper and John Brennan. 
"As alleged, Cesar Sayoc deliberately targeted 13 individuals with 16 improvised explosive devices, attempting to create an atmosphere of fear and intimidation from California to the eastern seaboard," FBI Assistant Director William F. Sweeney Jr. said in a statement. "The FBI remains steadfast in our mission to protect the American public, and we will move with speed to bring justice to anyone seeking to harm our communities."
As earlier reported by the Asian Journal, Sayoc was transported from Florida to New York on Monday and made a brief appearance before U.S. Magistrate Judge Robert Lehrburger.
In addition to Obama, Clinton and Soros, Sayoc had allegedly mailed pipe bombs to former Vice President Joe Biden; former Attorney General Eric Holder; Democratic Sens. Cory Booker of New Jersey and Kamala Harris of California; and Rep. Maxine Waters of California. 
None of the explosives that were mailed detonated and did not injure anybody, according to officials.  
Sayoc is set to make a court appearance on Monday, November 12. (AJPress)