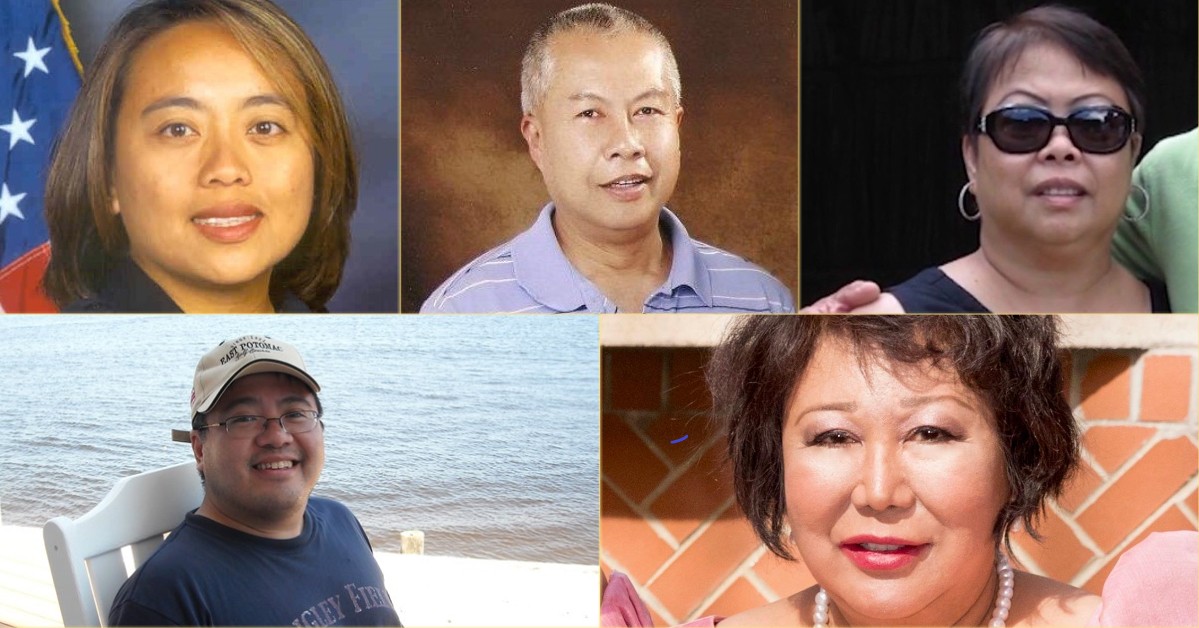 FIVE Filipinos were among names featured on the powerful New York Times front page published on Sunday, May 24 that honored nearly 1,000 individuals who died of COVID-19.
The New York Times headline read: "U.S. deaths near 100,000, an incalculable loss." Its subtitle read: "They were not simply names on a list. They were us."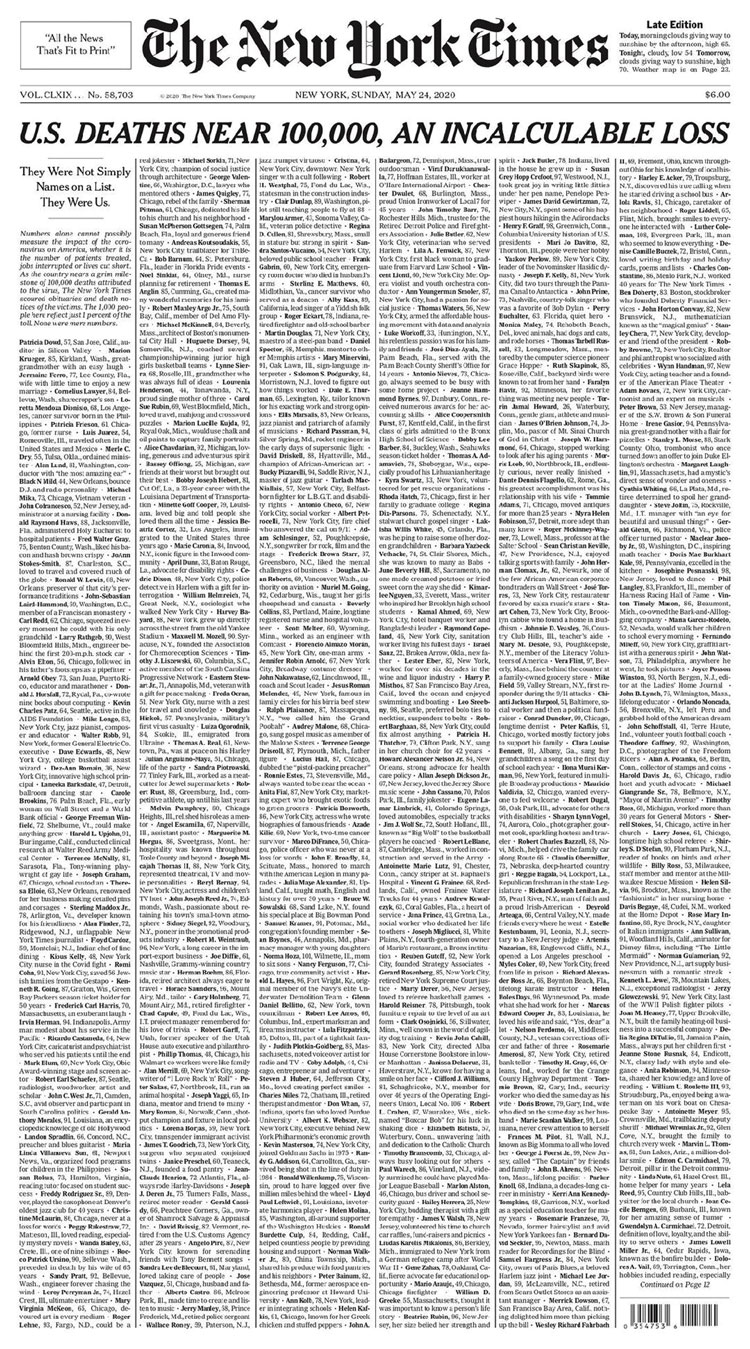 The listed names included their age, city and a short fact about their lives. They represent 1% of the total COVID-19 deaths in the U.S. that as of Wednesday, May 27, reached over 100,000.
The Filipinos mentioned were Marylou Armer of Sonoma Valley, California; Chad Capule of Cheverly, Maryland; Loretta Mendoza Dionisio of Orlando, Florida; Noel Sinkiat of Olney, Maryland; and Maria Linda Villanueva Sun of Newport News, Virginia.
Armer, 43, was a "veteran police detective" who spent 20 years at the Santa Rosa Police Department. She died on March 31, becoming the first line-of-duty death related to the viral disease in the state of California.
Armer was a member of the police department's domestic violence sexual assault team at the time of her death. She began her career in Santa Rosa as a field evidence technician in 1999 and was sworn in as a police officer in May 2008, as previously reported by the Asian Journal.
Before moving to Northern California, Armer grew up in San Diego and joined the National City Police Department's Explorer program.
Colleagues also remembered how Armer would bring lumpia (Filipino fried spring rolls) to staff potlucks or even on any given day.
"It wouldn't last a half hour," Blaine Hunt, a retired officer, told the Napa Valley Register. She could never make enough of it to make the whole department happy."
Capule was described by the newspaper as an "I.T. project manager remembered for his love of trivia."
The 49-year-old was assigned to install a new computer system at St. Agnes Hospital in Fond du Lac, Wisconsin. He began feeling ill and tested positive for the coronavirus; a week later, he was intubated at the hospital. He died on March 29.
Capule was a former member of the George Washington University Medical Faculty Associates IT Group, which remembered him as a "dedicated coworker, vibrant personality, & wonderful human being who "brought smiles to many with his humor, cheerful personality & optimism" and was a "fierce competitor in all things trivia."
The youngest of three, Capule was born in the Philippines and immigrated to Northern Virginia in elementary school, and eventually graduated from the University of Virginia with a major in history and a minor in computer science, according to the Washington Post.
Touching on his affinity for trivia and knowledge, Capule was further remembered as someone who grew up reading his father's National Geographic magazines, dictionaries, and encyclopedias. For eight years, he organized trivia fundraisers for the Rotary Club of Dupont Circle. In 2015, he appeared on an episode of "Jeopardy!"
Dionisio, 68, was described by the New York Times article as a cancer survivor born in the Philippines. In another article, it described Dionisio — called "Lettie" by those who knew her — as "outgoing and unstoppable."
In highlighting her friendliness, Dionisio was remembered as someone who would go as far as inviting a T-Mobile sales clerk to join her family for dinner.
The retired Filipina and her husband Roddy arrived in Los Angeles on March 8 after a trip to the Philippines. Dionisio reportedly fell ill the next day and died on March 10 at Pomona Valley Hospital Medical Center. She became the first fatality related to COVID-19 in Los Angeles County.
Sinkiat, 64, was a nurse at Howard University Hospital for 41 years and was planning on retiring soon, as previously reported by the Asian Journal.
According to The Atlantic, Sinkiat was among the tens of thousands of Filipino health care workers who moved to the U.S. in the late 1970s to early 1980s. He was the first member of National Nurses United and second known Filipino American nurse to succumb to COVID-19 on March 27.
Upon retirement, Sinkiat was planning going on a long motorcycle trip with his friends, reported the Washington Post.
Villanueva Sun, 61, was described by the New York Times as someone who organized food programs for children in the Philippines.
Born in Rizal, Philippines, Villanueva Sun studied accounting at the University of the East before immigrating to the San Francisco Bay Area, according to her obituary. She was further described as a restaurateur, interior designer, accountant, and small business owner.
She moved to Newport News, Virginia last fall after her husband, who is in the U.S. Army, was transferred to Fort Eustis. In early March, she had flown back to California to oversee items that needed to be packed and moved, according to the Washington Post. By March 14, she and her husband were feeling ill with flu-like symptoms. Three days later, she was admitted to Bon Secours Mary Immaculate Hospital for pneumonia and tested positive for COVID-19.
The Filipina died on March 25, and was buried in a private funeral on April 8.
"Of all her personal traits, the most important was her faith in God, which she instilled in her family through encouragement, prayer, service, charity, forgiveness, and love," reads her obituary.
The death toll in the U.S. from COVID-19 has reached a grim new high of 100,047 as of Wednesday afternoon, according to data from John Hopkins University. The number of people who have contracted the virus has reached 1,694,599, but public health experts say the actual number is likely higher.
The U.S. numbers remain higher than counts of other countries — making up approximately 30% of the world's total cases. Globally, more than 5.6 million have contracted COVID-19.
**
Editor's note: The Asian Journal is working to document those of Filipino descent who have lost their lives because of the coronavirus in the United States. If you know of someone or would like to offer a remembrance of someone who has died of COVID-19, please tell us about them by emailing digital@asianjournalinc.com with the subject line "Remembering Lives Lost."