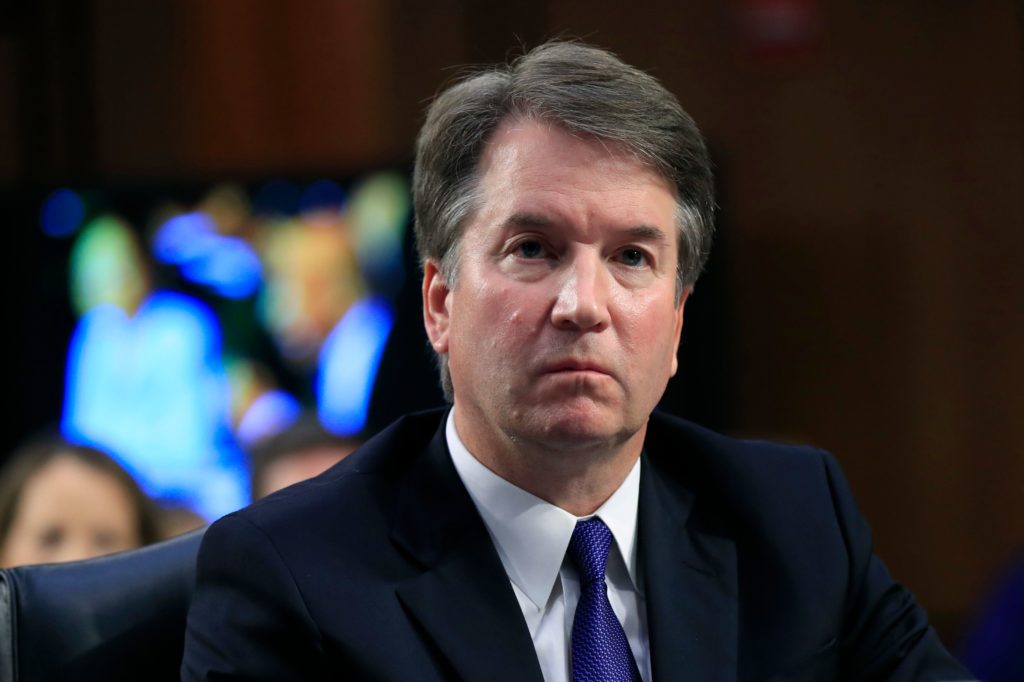 Los Angeles City Attorney's Office announces landmark settlement
Just weeks before the midterm elections are to take place, Justice Brett M. Kavanaugh sat on the Supreme Court bench for the first time on Tuesday, October 9 after weeks of debating accusations of sexual assault and alcohol abuse.
Kavanaugh, 53, was confirmed on Saturday, October 6, and replaces retired Associate Justice Anthony M. Kennedy who resigned earlier this year.  Swearing Kavanaugh in was Chief Justice John Roberts.
The 50-48 Senate confirmation vote to approve Kavanaugh was the closest of such kind in over a century, and was a major victory for President Donald Trump and Republicans who with Kavanaugh may now see a 5-4 majority vote in nine seat Supreme Court.
Kavanaugh was Trump's second nomination to get a seat on the court since the president took office in 2016.
On route to a campaign rally in Kansas, Trump said of Kavanaugh, "We're very honored that he was able to withstand this horrible, horrible attack by the Democrats."
In the weeks leading up to the confirmation, protesters throughout the nation rallied behind Dr. Christine Blasey Ford, a university psychology professor, who accused Kavanaugh of sexually assaulting her in an upstairs bedroom in one of Washington's upscale suburbs in 1982.
Two other women, Deborah Ramirez and Julie Swetnick, also accused Kavanaugh of sexual misconduct in the 1980s.
On Saturday, Ford's lawyer, Michael Bromwich, described the final week of an FBI investigation that culminated the hearings in tweet saying, "A week that will live in infamy for the U.S. Senate, permanently diminishing its stature."
"It treated serious allegations as nuisance to be sidestepped rather than a call to investigate seriously," Bromwich continued.  "It then deemed a perfunctory investigation sufficient when it was not.  Appalling."
For Republican senators — including a few who showed hesitance over voting Kavanaugh forward — a brief weeklong FBI investigation that found no corroborating evidence of Ford's accusations was enough to get their vote.
But Democrats and other protesters, the FBI probe — given its time limit to one week — was simply not enough.
On Capitol Hill Saturday, protesters briefly interrupted the confirmation vote in the Senate gallery by chanting "Shame on you!" and "November is coming!"  Several protesters, many of who were women behind the widespread #MeToo movement, were arrested.
Kavanaugh's hearing drew stark similarities to the also controversial 1991 confirmation hearing of current Supreme Court Justice Clarence who was also subject to sexual harassment allegations by law professor Anita Hill.
According to Nielsen data released about a week before his confirmation, roughly 20.4 million people tuned into the hearings on broadcast and cable networks.
#NovemberIsComing
While the bitter battle over Kavanaugh's confirmation came to an end, it has fueled Democrats and Republicans who are now using its outcome in encouraging people to go and vote in the upcoming midterm elections on November 6.
Senate Majority Leader Mitch McConnell, a Republican, told reporters that the hearing and its result will be boost to Republicans at the ballot box.
"We have noticed some kind of energy pick-up on our side," McConnell said at a Monday press conference in Kentucky.  "It provided the adrenalin shot that we had not been able to achieve in any other way."
Democratic Senator Elizabeth Warren of Massachusetts told protesters before the vote, "It hurts every survivor of sexual assault who has been ignored."
Warren continued with encouragement to "take back the House" and "take back the Senate."
"We have forged a bond that will make us stronger in the next fight," added Warren.
With seats in both the House and the Senate at stake for both parties, Democrats are looking to gain at least two Senate seats, and 23 House seats during the midterm elections in order to be a majority in each chamber.
As House and Senate candidates across the U.S. voiced their opinions with the outcome, so too have some running candidates of the Fil-Am community.
"Kavanaugh's confirmation reminds us that there are still those who think of our voices and our experiences as inconvenient distractions, versus life experiences equally deserving of respect," tweeted Gina Ortiz Jones for Texas District 23.  "Women deserve to be represented, and we'll remember those who sold us out."
Running for California's 14th District, Fil-Am GOP nominee Cristina Osmeña urged people to "Stop bullying Susan Collins," in a tweet linking to an article Senator Susan Collins who as a result of voting for Trump's nomination of Kavanaugh, has been called by many a "betrayer of women."
Osmeña shared her thoughts throughout the hearing once saying, "Dr. Ford seems likeable and trustworthy.  So does Brett Kavanaugh.  I hope he shows compassion for her experience when he testifies.  She has been truly victimized by someone." (Rae Ann Varona/AJPress)