(Reading Time:
5
minutes)
Senate postpones Kavanaugh vote after Palo Alto University professor alleges Kavanaugh sexually assaulted her when they were both in high school
Trigger warning: this story contains mild details of an alleged attempted rape.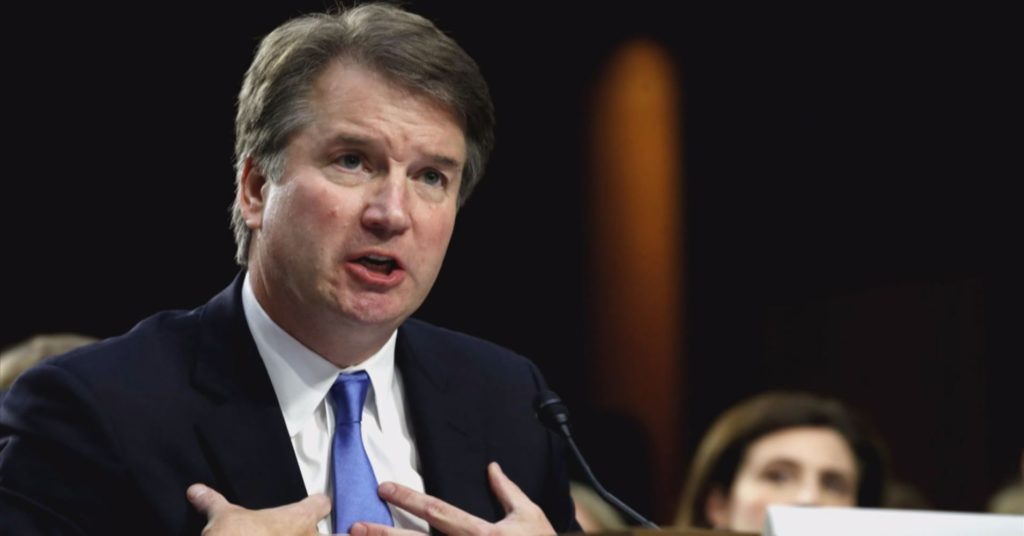 On Sunday, Sept. 16, a psychology professor at Palo Alto University Christine Blasey Ford went public with her allegation that Brett Kavanaugh, a nominee for the Supreme Court, tried to force her into having sex with him in the early 1980s.
Ford, through the Washington Post, came forward following a blistering story published on Friday, Sept. 14  by The New Yorker's Ronan Farrow and Jane Meyer about a complaint by an unnamed woman that Kavanaugh allegedly sexually assaulted her when she was 15 years old. (Kavanaugh was 17 years old at the time.)
Amid the controversy that could affect the Senate Judiciary Committee's vote, committee chairman Sen. Chuck Grassley (R-Iowa) formally postpone the vote on Kavanaugh's Supreme Court nomination, canceling a committee meeting on Thursday morning when the vote was scheduled.
The scandal that has gripped Capitol Hill since last week began on Thursday, Sept. 13 when Sen. Dianne Feinstein (D-Calif.) revealed that she received a letter in July from a constituent that was marked "CONFIDENTIAL" that detailed an assault that occurred at a small party in suburban Maryland.
"Kavanaugh physically pushed me into a bedroom as I was headed for a bathroom up a short stair well from the living room. They locked the door and played loud music precluding any successful attempt to yell for help," the letter reads.
According to Ford, an enibriated Kavanaugh held her down while laughing with his also drunk friend, later revealed to be Mark Judge, classmate of his at the Catholic all-boys school Georgetown Prep. Kavanaugh kept his hand over Ford's mouth, which instilled fear that "he may inadvertently kill me," the letter added.
The letter says that she was able to free herself and escape, but that the event that happened three decades age has been a source of trauma and distress for her.
"It is upsetting to discuss sexual assault and its repercussions, yet I felt guilty and compelled as a citizen about the idea of not saying anything," the letter read.
Senators — including some Republicans like Sens. Jeff Flake of Arizona and Bob Corker of Tennessee — are urging to delay the confirmation vote until after the Senate Judiciary Committee hears a testimony from Ford.
"If they push forward without any attempt with hearing what she's had to say, I'm not comfortable voting yes," Flake told Politico on Sunday after the Post story was published. "We need to hear from her, and I don't think I'm alone in this."
Moderate Republican Sen. Susan Collins of Maine echoed that request in a tweet on Monday, saying that "Professor Ford and Judge Kavanaugh should both testify under oath before the Judiciary Committee."
Articulating sexual assault in the wake of #MeToo
As the national reckoning on sexual assault, consent and abuse of power continues to unfold, Ford joins a legion of women and men who have publicly accused authority figures in academia, the hospitality industry, Hollywood and Washington among other sectors of sexual violence and harassment.
The Kavanaugh allegations mirror the highly publicized 1991 allegation against Supreme Court Justice (then-nominee) Clarence Thomas by attorney Anita Hill who alleged that Thomas has continuously sexually harassed her when he was her supervisor at the U.S. Dept. of Education and the Equal Employment Opportunity commission.
While Ford's and Hill's cases are similar in nature — a woman coming forward with a traumatic experience of sexual assault by a Supreme Court nominee — there are many differences.
Ford's allegation emerges in the era of #MeToo, the broad cultural movement which promotes more nuanced conversations and actions surrounding sexual assault and the exploitation of power. It's also a campaign that seeks to give survivors of sexual violence space to tell their truths and to impose tangible consequences on those who are found to be abusers.
Hill's allegations actually caused Thomas' popularity among Americans to jump (from 52 percent, it peaked at 58 percent, according to Gallup, after Hill testified in October 1991). Hill faced tough questioning from the Senate which eventually allowed Thomas to be sworn in as a Supreme Court justice, a position he still holds.
But the allegations against Kavanaugh are looked through the lens of #MeToo and Time's Up, a key contextual variable that could potentially put his nomination in jeopardy.
From the jump, Kavanaugh's nomination has been riddled with controversy and concern over his uncertainty regarding his views on executive power, abortion and Roe v. Wade and the failure of the White House to release documents that recorded Kavanaugh's employment in George W. Bush's White House.
After Ford came out publicly as Kavanaugh's accuser, more than 200 women signed a letter in support of Ford for "bravely stepping forward." The women are alumnae of Ford's high school — Holton-Arms, a private girls school in Bethesda, Maryland —  from the graduating classes between 1967 to 2018.
"We believe Dr. Blasey Ford and are grateful that she came forward to tell her story," reads the letter, which was also signed by Veep actress Julia Louis-Dreyfus, who attended the school in the late 1970s.
The letter called for "a thorough and independent investigation" into the alleged sexual assault before the Senate can "reasonably vote" on Kavanaugh's nomination. It added that Ford's experience with Kavanaugh is "all too consistent with stories we heard and lived while attending Holton. Many of us are survivors ourselves."
Kavanaugh has denied the allegations, but on Monday White House spokesman Raj Shah said in a statement that Kavanaugh "looks forward" to the opportunity to "clear his name" and is ready to testify. The alleged key witness of the event, Mark Judge, has denied the allegations through the New York Times, claiming that he "never saw anything like what was described."
In an email to Grassley, Judge said that he does not want to testify under oath before the committee if such a hearing would transpire, saying in an email to Grassley, "I did not ask to be involved in this matter nor did anyone ask me to be involved…I do not wish to speak publicly regarding the incidents described in Dr. Ford's letter."
As of press time, Ford has not responded to requests from the Senate Judiciary Committee to testify in a public hearing. Grassley (R-Iowa) said that the hearing would only include Kavanaugh, Ford and himself, but top Democrats have been demanding a wider FBI investigation to gain more knowledge of the alleged incident.
"We have two diametrically opposed stories," Sen. Chuck Schumer (D-New York) said on the Senate floor. "My view: Professor Ford is telling the truth. But if you don't want the hearing to be just a 'he said, she said' affair, an independent investigation, a background check by the FBI, is essential." (Klarize Medenilla/AJPress)