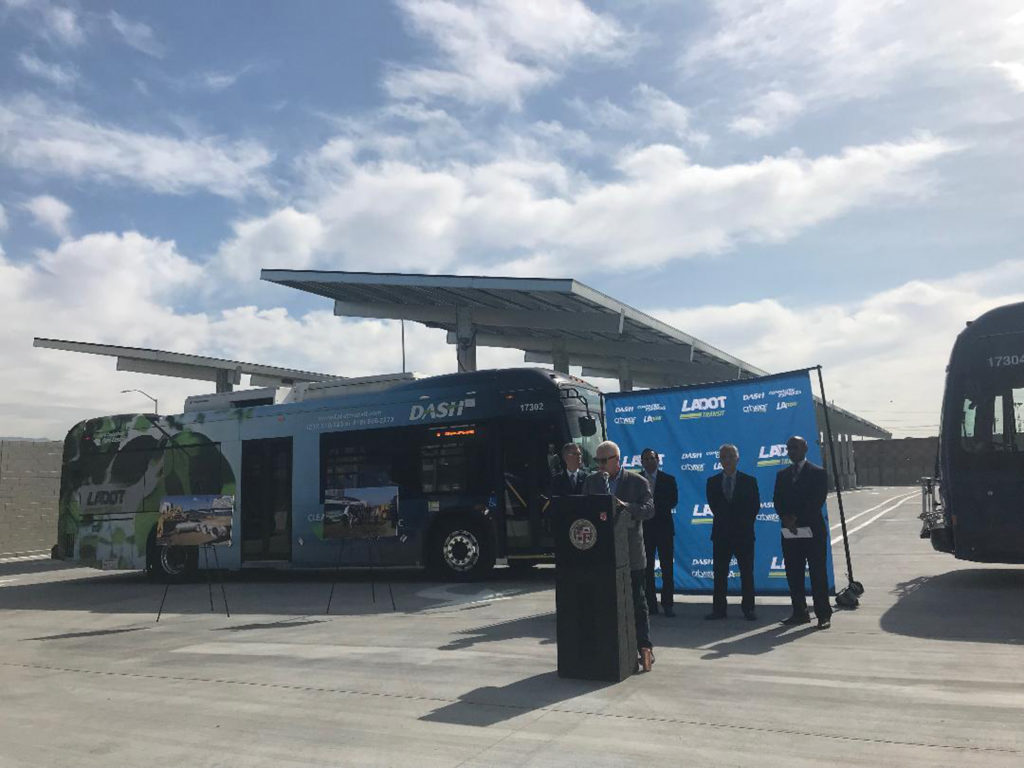 PUBLIC transit in Los Angeles just got a lot more accessible.
The LA Department of Transportation (LADOT) unveiled its new service expansion this week that includes wider access and increased service hours, a new Commuter Express Service and the increase of on-demand rideshare services in certain areas of the city.
The Moving Forward Together project by LADOT is an all-encompassing revamp of the city's public transit system that includes weekend service for all DASH routes, and it increases DASH Downtown route hours to 9 p.m.
Additionally, the new Commuter Express Service offers a new, affordable route option that stretches from Playa Vista and DTLA.
"I am really glad to be here to celebrate what is a huge milestone for public transportation, for the City of Los Angeles and for the growing movement in this city and in this country to protect our environment and to stop climate change," LA City Councilman and chair of the council's transportation committee Mike Bonin of the 11th District said at a press conference in the LADOT Transit's new facility in DTLA on Thursday, April 11.
The massive expansion of public transit comes after two years in the research and public engagement period, where city officials asked thousands of Angelenos who said they want "green public transit options" and new ways to alleviate traffic, reduce emissions and ensure safer commutes.
As a result, LADOT has purchased 77 compressed natural gas and electric buses that will be housed in the new DTLA facility.
In the vein of popular rideshare services Uber and Lyft, last month, LADOT introduced LAnow, an on-demand shared ride service for the city wherein you can hail a ride online, by phone or through the new LAnow smartphone app. Currently, the service is restricted to folks on the Westside — Mar Vista, Palms, Venice and Del Rey.
LAnow one way fares are free for children 4-years-old and younger, $1.50 for adults and children 5-years-old or older and $0.75 for senior citizens and people with disabilities. (For specific service areas, visit www.ladottransit.com/lanow.)
This month, LADOT says that its Cityride service — an assistance program for senior citizens and people with disabilities who live in the city and select areas of the county — has provided more riders with benefits such as free rides on the DASH system.
For years, the city has been looking for ways to improve its public transit system, partially as a way to mitigate the city's notorious traffic problems. But it's also a part of the city's commitment for a sustainable future.
The State of California has committed to going 100% zero emissions bus fleet by 2040, but the City of LA plans to achieve that by 2030 with the new electric buses that the city purchased for its DASH service. Bonin also noted that the LA Metro service is also moving towards 100% electric as well.
"That means smoother and quieter rides and cleaner air for the neighborhoods that we serve," Bonin said. "What's exciting about what's happening here is that it's happening fast and it's happening right now. The future is here, and it's here today. Los Angeles City, Los Angeles County and the State of California are gonna lead the way to make sure we have a climate that our kids and future generations can live in."