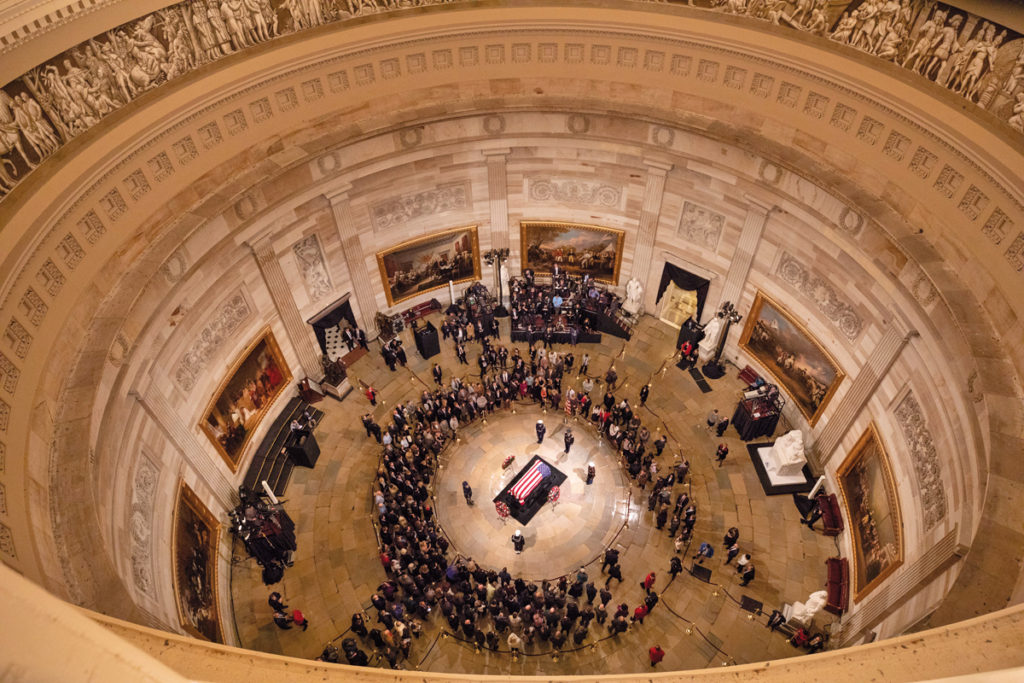 Funeral held for 41st US President at Washington National Cathedral
The late former President George H.W.Bush who passed away on Friday, November 30 is said to have began sponsoring a young Filipino boy under a pseudonym some 20 years ago.
Through Compassion International, a Colorado Springs-based nonprofit, the 41st President of the United States sponsored the boy named Timothy and used the pseudonym "George Walker," according to the nonprofit.
To the Colorado Springs Gazette, Wess Stafford, president emeritus at Compassion, said the pseudonym was also for the young boy's safety as he could have been in danger had others known he was communicating with a former president.
Yet that didn't stop Bush from occasionally slipping in some clues to his true identity, added Stafford.
"The first time he started breaking our little security rules was when he sent a picture of his dog, Millie, and he added, 'This Is Millie. She's met lots of famous people," The Gazette quoted Stafford saying while laughing. "And I thought, 'OK, that's cute, but boy, that's starting to slip some littler secrets in there.'
The sponsorship started around 2000 in Washington, D.C., after Bush attended a Christmas concert, according to the report. When performers asked during intermission if anyone wanted information about sponsoring a child, George Sr. was among those that quickly rose his hand.
Two weeks later, Timothy got his first letter from the former president — the first of many handwritten notes and hand drawn pictures.
Stafford recalled Bush sending Timothy a package full of colored pencils after learning that the young boy liked art.
"He really threw himself into it," Stafford told The Gazette. "He would write to little Timothy and Timothy would write to him, and anything that Timothy said that was interesting, President Bush would write right back with a comment on it. You know, 'Thank you for the picture of that beautiful rainbow. You know, we had a rainbow like that right outside my house just last week.' He was everything that we wish all of our sponsors would be. He was engaged in this little child's life."
Though Timothy got a new sponsor years later due to Bush's busier schedule, Stafford described Timothy as being dumbfounded and speechless when his new sponsor Angie Lathrop told him about Bush.
"It's amazing enough that anyone would care about them but it was beyond his wildest imagination and even his ability to comprehend that the president of the United States knew his name," said Stafford.
Funeral for late president held at Washington National Cathedral
A service was held on Wednesday, December 5 at the Washington National Cathedral for Bush, who passed away on Friday, November 30 at the age of 94, after battling Vascular Parkinsonism for years.
Among those present were his son George W. Bush, current President Donald Trump and first lady Melania Trump, former President Barack Obama and first lady Michelle Obama, former President Jimmy Carter and first lady Rosalynn Carter, and former President Bill Clinton and 2016 Presidential candidate Hillary Clinton among others.
In a 12-minute tribute, George W. Bush — the 43rd president of the United States — described his father as being the "brightest of 1,000 points of light."
"He looked for the good in each person, and he usually found it," said the younger Bush during the service's main eulogy.
He went on to talk of how his father showed him what it meant to a president "who serves with integrity, leads with courage and acts with love in his heart for the citizens of our country."
He continued, "Through our tears, let us see the blessings of knowing and loving you — a great and noble man, and the best father a son or daughter could have."
Referring to his late mother Barbara Bush and his sister Pauline "Robin" Bush who died at three years old, he added, "And in our grief, let us smile knowing Dad is hugging Robin and holding Mom's hand again."
Former Canada Prime Minister Brian Mulroney, former Senator Alan Simpson of Wyoming, and the late Bush's biographer Jon Meacham also gave their tributes. His granddaughter Lauren Bush Lauren, Jenna Bush Hager, and Ashley Walker Bush delivered readings.
On Thursday, December 6, Bush's casket took a final journey aboard a Union Pacific Locomotive 4141 train — named the Bush 4141 in his honor — to College Station, Texas.
Bush was known to have been fond of trains, once saying he preferred it over the Air Force One.
"If I had one of these when I was president, I might have left Air Force One behind," said Bush at the train's unveiling in 2005.
The locomotive was specially made with clear side panels and allowed people to pay their respects. Thousands of people lined up with flags and signs in honor of the late commander in chief.
The 4,300-horsepower train traveled from Houston where a second memorial service took place at St. Martin's Episcopal Church, to the George H.W. Bush Presidential Library and Memorial where Barbara Bush and Robin Bush were also interred in a family plot.