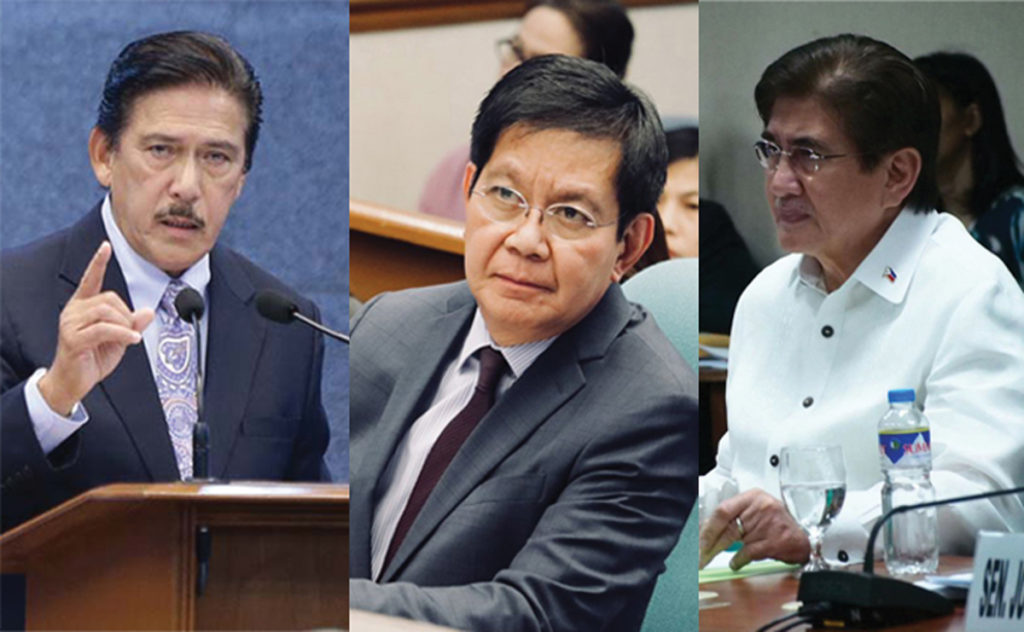 THREE Philippine senators this week filed a resolution seeking to rebuke American lawmakers for their supposed meddling in the Philippines' affairs by condemning Sen. Leila de Lima's detention and Rappler chief executive Maria Ressa's arrest. 
The resolution was filed on Wednesday, April 10 by Senate President Vicente Sotto III, along with Senators Panfilo Lacson and Gregorio Honasan II.
In Philippine Senate Resolution 1037, it expresses "the strong sense of the Philippine Senate to rebuke, for being an affront to the sovereignty of the Republic of the Philippines and an undue interference on its judicial process, proposed resolution nos. 233 and 142 filed by some members of the United States Congress."
The U.S. House Resolution 233 and Senate Resolution 142 condemn the continued detention of De Lima and call for the dropping of charges against Ressa. 
Senate Democrats Edward Markey, Christopher Coons and Richard Durbin, and Republicans Marco Rubio and Marsha Blackburn were the ones to file the U.S. Senate resolution. Meanwhile, Democratic Reps. Jackie Speier, James McGovern, Henry Johnson, Jamie Raskin, Brad Sherman and Lloyd Doggett II introduced the House resolution.
The three senators called the U.S. resolutions "highly inappropriate" since "the Philippines is no longer a vassal or a colony of the United States of America, but a sovereign state and a member of the family of nations governed by its own municipal laws and the generally accepted principles of international law." 
"Considering the tenor of the resolutions of both houses of the U.S. Congress, the same can be considered an interference and intervention on a purely domestic within the authority of the Republic of the Philippines, a sovereign state and equal in stature to that of the United States of America," they added.
The Philippine Senate resolution also stressed that the separate criminal cases against De Lima and Ressa are "already filed in court and the judicial process against them are underway, the government cannot do anything but to let the wheels of justice take its course."
Moreover, the senators pointed out that De Lima is still allowed to deliver her function as a senator despite her detention. 
Sen. Risa Hontiveros, however, came to the defense of the American lawmakers.
"Let us not confuse international solidarity with foreign intervention," she said.
"We in the Philippines believe in due process and freedom of the press," she added.
Malacañang on Monday deplored the U.S. resolutions and accused the American lawmakers of meddling in Philippine affairs.
"Their resolution is an unwelcome intrusion to our country's domestic legal processes and an outrageous interference with our nation's sovereignty as the subject cases are now being heard by our local courts," Presidential spokesperson Salvador Panelo said.
"No government official of any country has the authority or right to dictate on how we address the commission of crimes," he added.
Panelo also urged the lawmakers to "mind their own business" as "their country has enough problems and they should focus on them." (Ritchel Mendiola/AJPress)