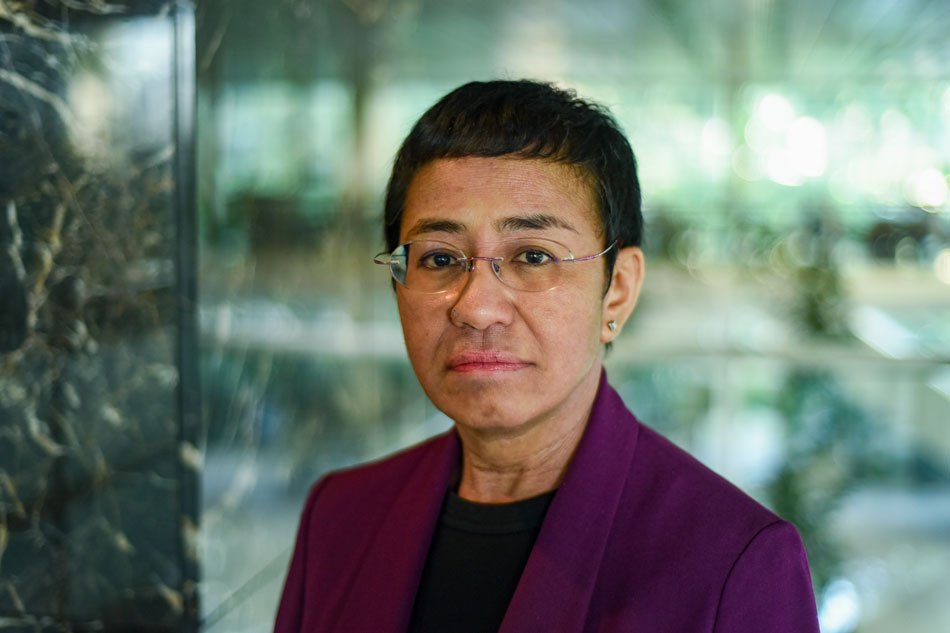 NOBEL Peace Prize winner and Rappler co-founder Maria Ressa on Tuesday, November 16, delivered the prestigious Salant Lecture on Freedom of the Press at the Harvard Kennedy School (HKS).
In the hour-long lecture moderated by Kennedy School professor Latanya A. Sweeney, Ressa talked about disinformation, democracy, and freedom of speech.
"In 2017, an invisible atom bomb exploded in the global information ecosystem forever changing it, but insidiously manipulating us. And we don't know that it happened," she said.
According to Ressa, there's a government tactic focused on manipulating social media called "patriotic trolling."
"[It is] state-sponsored online hate and harassment campaigns that's meant to silence and intimidate," she said. "Flood the market with lies, with disinformation — and think about it like this, right? If information is power, disinformation is abuse of power."
Ressa noted that women were a "favorite" and "easy" target of patriotic trolling across many countries.
"In the Philippines, our data showed us that women were being attacked at least 10 times more than men," she added.
The Nobel laureate identified the steps in patriotic trolling, which included attacking someone's credibility.
"This is gaslighting to the nth degree, and then you repeat it," said Ressa.
"One of the things we've learned is that when you say a lie a million times, it becomes a fact. People believe it. This is the age of social media," she added. "In Mark Twain's time, truth can catch up. And now, it literally changes our reality."
Ressa also discussed how the Facebook algorithm impacts democracy, citing a three-part series she and her colleagues at Rappler wrote entitled "Propaganda War: Weaponizing the Internet."
"These algorithms that make you doubt reality, when social media becomes a behavior modification system that essentially turns us into Pavlov's dogs. This experimentation, where research has shown as early as 2018, that lies laced with anger and hate, spread faster and further on social media," she said.
"If you have lies, meaning you don't have facts. If you don't have facts, how can you have truth? How can you have trust? If you don't have these three, you don't have democracy. You don't have a shared reality," she added.
To combat misinformation and disinformation, Ressa said U.S. policymakers should revise key sections of federal internet law. She also cited the European Union's Digital Services Act, calling it "the most effective" example of a policy that focuses on changing "algorithms of bias."
"EU Digital Services Act [is] probably the most effective right now in terms of looking, not downstream at the content, where you run into all the freedom of speech questions, but upstream, where you look at algorithms of bias, algorithms that prioritize the spread of lies, hate anger and conspiracy theories," she said.
"Let's cut it off upstream. Not here, where it becomes a choice of content," she added. "Content is the byproduct of the toxic sludge."
Ressa also stressed that independent journalism and community are "critical" in fighting misinformation and disinformation.
"Part of the reason we can be resilient is that you need to tell people how they are being manipulated," she explained.
"Most of the time, Americans will say, 'Ah, that doesn't happen here,' and then you see how quickly democracy can collapse," she added. "One of the things that technology has shown us, and it is both good and bad, is that humanity around the world — we actually have far more in common than we have differences."
The Salant Lecture on Freedom of the Press is delivered annually by a prominent journalist, scholar, or practitioner.
In October, Ressa made history as the first Filipino to win the Nobel Peace Prize.
She received the Peace Prize for her effort "to safeguard freedom of expression," with the Norwegian Nobel Committee calling her a representative of journalists "who stand up for this ideal in a world in which democracy and freedom of the press face increasingly adverse conditions." (Ritchel Mendiola/AJPress)