by

Momar G. Visaya and Christina M. Oriel
In honor of the 200th anniversary of Florence Nightingale, the World Health Organization declared 2020 as the "International Year of the Nurse and Midwife."
The American Nurses Association followed suit by adopting the same observance for this year. Wednesday, May 6 marks National Nurses Day, the annual celebration for the nearly 4 million nurses providing care across the United States, comprising the largest health care occupation.
Typically, the day kicks off the week-long National Nurses Week until May 12, but the ANA expanded it to a celebration for the entire month of May with four themes celebrated by week: self-care, recognition, professional development and community engagement.
With the coronavirus pandemic, the tireless work that nurses do has been placed under the spotlight and along with it, the rightful recognition that has earlier eluded the profession.
For the over four million Filipinos living in the U.S., this annual observance has also been about recognizing a part of Filipino American culture and the professional contributions many Filipinos have made to the country's health care system by tending to patients from the beginning to end of life.
Roughly 200,000 nurses in the U.S. are of Filipino descent — all familiar with ironed scrubs, matching clogs or nursing shoes, baon (packed lunch) preparations, and long 12-hour shifts.
In California alone, 20.3% of the state's registered nurses identify as Filipino. On the opposite coast, one in four Filipinos in the New York-New Jersey region works in the health care industry.
How Filipinos came to be represented in the U.S. nursing pool dates back to the early 1900s as American nursing programs were established in the Philippines.
"This Americanized nursing curriculum inadvertently prepared them to work in the United States. They were trained, oftentimes, in English instruction. Even their early nursing licensure examinations had an English language component," said Catherine Ceniza Choy, an ethnic studies professor at UC Berkeley and author of "Empire of Care" (2003).
Then, the first batch of government-sponsored scholars arrived in the United States through the Pensionado Act of 1903. Upon graduating, many students went back to the Philippines to work and to help establish nursing schools. Many others remained in the U.S., where they eventually became the first generation of Fil-Am nurses. Some of those who stayed for employment established the Philippine Nurses Association of New York in 1928.
In the 20th century, the Exchange Visitor Program of 1948 and the Immigration and Nationality Act of 1965 allowed Filipino nurses and other professionals to come to the U.S. and fill the country's shortage of nurses, Choy said.
It's not uncommon to see nursing become a multi-generational profession for many Filipino families, as Filipino Americans born in the U.S. have followed the footsteps of their parents or extended relatives.
Through the month of May, the Asian Journal honors the countless Filipino and Fil-Am nurses who have been tasked with fighting this pandemic and continue to keep the nation's hospitals and clinics running smoothly.
We also remember those who showed up to work, or came out of retirement, and have died on the front lines due to COVID-19 since March. Here are their stories of selflessness and passion to improve the well-being and health of others.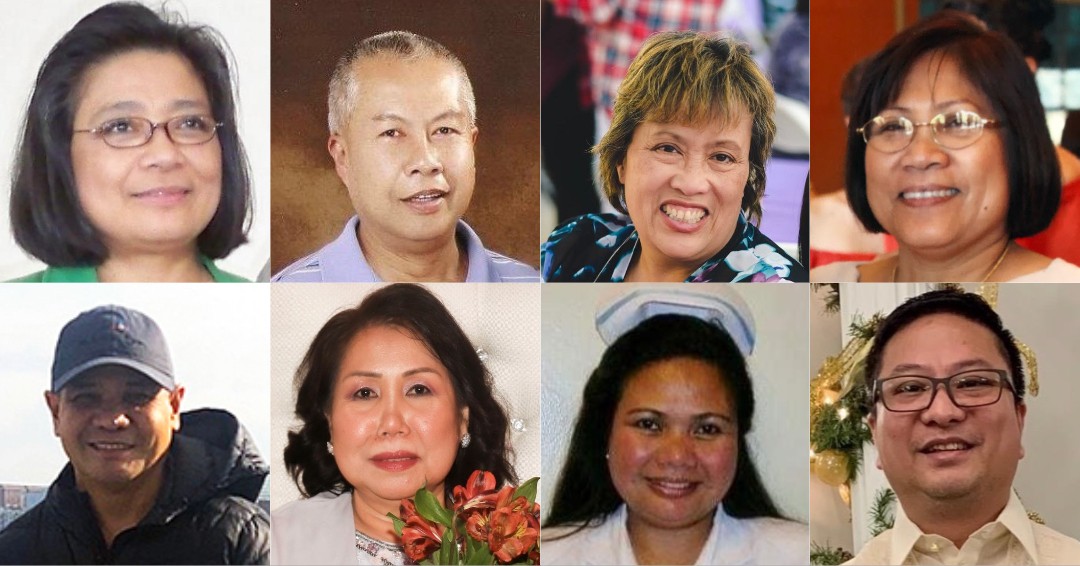 Araceli Buendia Ilagan, Jackson Memorial Hospital (Miami, FL)
Araceli Buendia Ilagan was the first Filipino American nurse reported to die from complications of COVID-19 on March 27. The 63-year-old worked at Jackson Memorial Hospital's intensive care unit for 33 years, treating some of the hospital's most critically ill patients.
She started developing the symptoms on March 24, while working a shift. Three days later, she died.
"During her long and storied career, she also mentored and trained other nurses, and was a champion for the profession," a statement released by the hospital said. "As we battle this global public health crisis, caregivers throughout the world are bravely serving on the frontlines, often putting their patients' lives before theirs. These medical professionals — people like Araceli — are the true heroes, and we salute them all."
Noel Sinkiat, Howard University Hospital (Washington, DC)
Noel Sinkiat, 64, was a year away from retirement after working at Howard University Hospital in Washington, D.C for the last 41 years. On March 27, he became the second known Fil-Am nurse in the U.S. and the first of the 155,000-member of National Nurses United to fall victim to the coronavirus.
Sinkiat and his wife Lourdes Gerardo had returned from a trip to the Philippines where they celebrated a reunion with his high school classmates. He went back to work and did his usual 12-hour shift at Howard. He began experiencing flu-like symptoms on March 22, which he initially thought were his allergies acting up.
He visited an urgent care facility near their home in Olney, Maryland, where he was tested for COVID-19, Gerardo told The Washington Post. The result came back positive after he died. His wife brought him to a hospital on March 27, with his health rapidly deteriorating. Doctors had to intubate him within an hour, his heart failed and they could not resuscitate him.
Rosary Celaya Castro-Olega, retired RN/volunteer (Los Angeles, CA)
Born and raised in Los Angeles, Rosary Celaya Castro-Olega received a bachelor of science in nursing and entered the field in 1980. The registered nurse worked for Cedars-Sinai Medical Center for 37 years and retired in 2017, according to her obituary. Following retirement, she continued to perform her duties as a traveling nurse, spent time with family, and traveled.
With the onset of the coronavirus, Castro-Olega rejoined the front lines and volunteered in LA County. In mid-March, she exhibited symptoms associated with COVID-19 and tested positive. She was hooked up to a ventilator in the ICU at the Panorama City Medical Center and died on March 29 at the age of 63, the New York Times reported.
Castro-Olega is survived by husband Mario, her three daughters, Tiffany, Tatiana, and Trisha, and her two brothers and three sisters.
Divina "Debbie" Accad, Detroit VA Medical Center (Detroit, MI)
Originally from Alimodian, Philippines, Divina "Debbie" Accad was a long-time nurse at the John D. Dingell VA Medical Center in Detroit, Michigan.
The 72-year-old nurse, who was set to retire in April, was hospitalized with pneumonia and spent 11 days at a Taylor area hospital before she died on March 30, becoming the first health care worker fatality in Detroit. Her son Mark Accad, one of four children, said he hopes his mother's death raises awareness of the risks that health care workers face during the pandemic.
"She sacrificed her life for our troops. I want my mom to be known for what she did," Mark told the Free Press.
Nicanor Baltazar, Long Island Care Center (Flushing, NY)
Nicanor "Nick" Baltazar dedicated 40 years of his life to nursing — 30 of those in the United States. The Fil-Am nurse worked at Long Island Care Center for 15 years, and 2020 would have been his fifth year as the director of nursing, according to the New York State Nurses Association.
Baltazar, who died from COVID-19 on March 31, leaves behind his wife Grace, also an RN, and his daughter Abigail, who just graduated with her bachelor of science in nursing.
Daisy Doronila, Hudson County Correctional Facility (Kearny, NJ)
Daisy Doronila, a nurse at the Hudson County Correctional Facility for over two decades, died on April 5 of complications related to COVID-19.
She was initially diagnosed by her private doctor with strep throat and was admitted to a hospital later on after developing a fever and dry cough. Eight days later, she was on a ventilator fighting for her life, her daughter Denise posted on Facebook.
A single mom who lived in Nutley, Doronila recently celebrated her 60th birthday. In a tweet, New Jersey Governor Phil Murphy honored Doronila for her service to the state as "she gave tirelessly to her family and community." Denise plans to fulfill her mother's wishes by laying her to rest alongside her parents in the Philippines.
Susan Sisgundo, Bellevue Hospital (New York City)
Since 2014, Susan Sisgundo had been working in the Neonatal Intensive Care Unit at Bellevue Hospital in Manhattan and caring for newborn babies.
After an eight-day battle with COVID-19, she died at Queens Hospital on April 8, a month before her 51st birthday, which she had planned to celebrate with her family in Bicol.
"Susan was a valued and friendly coworker. She was a team player; always willing to work day time, night time, overtime, and weekends. She always went out of her way to greet people. We can all still hear and see her frequent laugh and smile, and appreciate her efforts to connect with everyone. She was a trusted confidant that could protect a friendship, keep a secret, and honor a debt," her co-workers wrote on a GoFundMe page they organized to raise funds to help send Sisgundo back to the Philippines.
Ali Dennis Guillermo, Long Island Community Hospital (East Patchogue, New York)
Ali Dennis Guillermo came to New York in 2004 to seek a better life for his family and spent his American career at Long Island Community Hospital.
Guillermo, an intensive care unit nurse who also helped in the emergency room, fell sick with COVID-19 in mid-March and was hospitalized for two weeks. On April 8, he died in the ICU of the same hospital where he cared for many patients and helped save many lives. The 44-year-old nurse leaves behind his wife Romielyn and children, Denice, Ali and Aljon.
"His expertise as an ICU, stepdown, medical-surgical and emergency room RN was exceptional for he'd always be willing to help and assist the team whenever and wherever. He'd make the busiest work nights lighter with his jokes and songs," wrote colleague Carmelo Espiritu in a GoFundMe page for the family.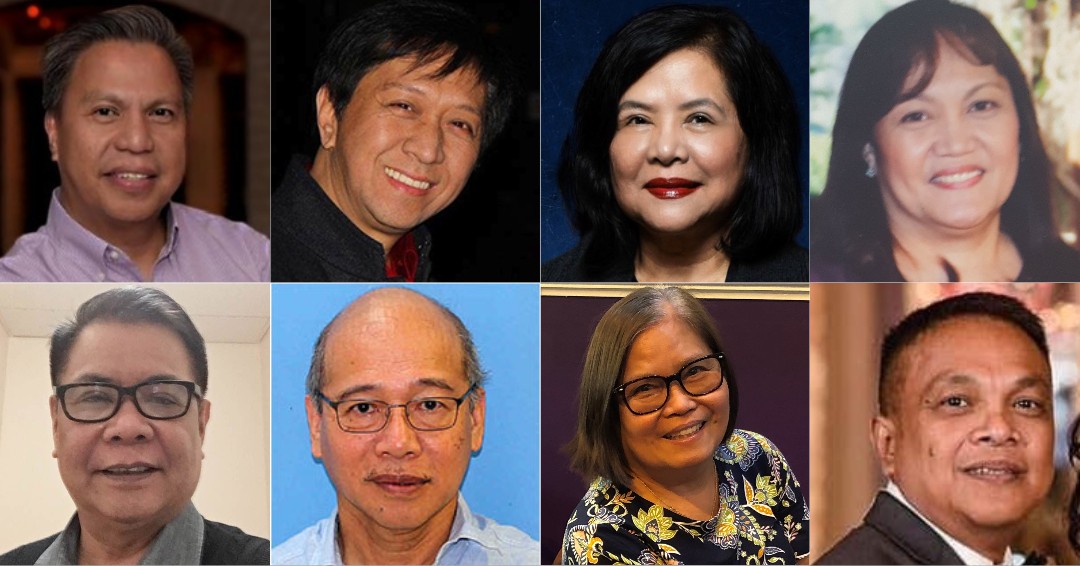 Felicisimo "Tom" Omaña Luna, Trinitas Regional Medical Center (Elizabeth, New Jersey)
Felicisimo "Tom" Omaña Luna, from Pasig City, Philippines, earned a degree in medical technology from the University of Santo Tomas in 1978 and migrated to the United States in 1986. He worked several jobs before working as a licensed medical technologist in the Bronx. He did not enter the nursing profession until the early 2000s when he studied at a local community college in New Jersey and passed his nursing board exam. He later attained a bachelor's degree in nursing at The College of St. Elizabeth in 2016.
Luna was a dedicated registered nurse in the Emergency Department at Trinitas Regional Medical Center in Elizabeth, New Jersey, where he worked long hours. He prided himself on never being sick a day in his life, according to his obituary, but he died from COVID-19 on April 9 at the age of 62.
Luna, who was a devoted member of the Iglesia Ni Cristo-Church of Christ, is survived by his wife, Enriqueta, of 26 years, children, Gabrielle, Gracielle Dane and Giselle.
Ernesto "Audie" DeLeon, Bellevue Hospital (New York City)
Known by colleagues as Audie, Ernesto DeLeon diligently worked at Bellevue Hospital in Manhattan for three decades and most recently was head nurse of telemetry. On April 13, the Baguio City native succumbed to his 13-day infection with COVID-19.
Claire Martinez, a colleague, remembered the 61-year-old nurse as a mentor to other nurses and hospital staff. "He was an immensely kind soul with a humble demeanor. He will always be dearly loved by his friends who have become family, his co-workers, and relatives," she said on the NY State Nurses Association website.
Estelita Atienza Solomon, retired from Wyckoff Heights Medical Center (Brooklyn, NY)
Estelita Atienza Solomon, a 72-year-old nurse who retired from Wyckoff Heights Medical Center in Brooklyn, died of COVID-19 on April 10. Solomon lost her husband Antonio to the virus two weeks prior to her death, while her daughter Catherine has been recovering. She is also survived by her daughter EmyLou and three grandchildren.
Born in San Luis, Batangas, Solomon — nicknamed Estie — started her 39-year nursing career in her home country before migrating to the United States in 1973, where she spent two years at Indian River Memorial Hospital in Vero Beach, Florida. She came to New York in 1976 and landed a job at the Brooklyn hospital. She was promoted to head nurse of the telemetry unit and served that position until her retirement in 2012.
Known for her encouraging attitude and selflessness, Solomon was laid to rest on April 28 at Mount St. Mary's Cemetery in Flushing, New York.
Celia Lardizabal Marcos, CHA Hollywood Presbyterian Medical Center (Los Angeles, CA)
Trained as a nurse in the Philippines, Celia Lardizabal Marcos emigrated to the United States in 2001 and settled in Los Angeles. Three years later, she became a telemetry charge nurse at CHA Hollywood Presbyterian Medical Center.
Marcos, 61, was one of three nurses who responded after a suspected coronavirus patient went into cardiac arrest on April 3. Only wearing a surgical mask, she intubated the patient. Three days later, she had a headache, body aches and difficulty breathing.
Her symptoms worsened, and she was admitted on April 15 to the hospital where she had worked for 16 years. Two days later, she went into cardiac arrest and died, becoming the first fatality for the SEIU Local 121RN, which represents 9,000 RN members in Southern California. Her case highlights the dire need for personal protective equipment for front-liners.
Marcos is survived by sons Donald and John, who both remember their mother for her generosity and how she put the well-being of others first. They plan to honor her wishes to be cremated and buried in her hometown of Tagudin, Ilocos Sur, alongside her parents.
Domingo Victorio "Victor" Sison, Complete Care at Hamilton Plaza (Passaic, New Jersey)
Victor Sison, 64, was assistant director of nursing at Complete Care at Hamilton Plaza, a nursing home in Passaic, New Jersey. He was planning to retire in the coming year.
A front liner who fought COVID-19 until his last breath, Sison died on April 18. He leaves behind his wife Antonia and sons, Paulo and Dominic.
Marlino Cagas, Harlem Hospital (New York City)
A native of the Philippines, Marlino Cagas joined the Harlem Hospital staff as a pharmacy technician. At the age of 60, Cagas embarked on a nursing career at the hospital and started at the bedside in 2018.
He died on April 20 and is survived by two sisters in New York and other siblings in the Philippines. Colleagues released white balloons into the sky to honor his memory.
Celia Yap-Banago, Research Medical Center (Kansas City, Missouri)
At the end of April, colleagues at the Research Medical Center in Kansas City, Missouri were set to celebrate Celia Yap-Banago's retirement after a nearly 40-year career at the hospital. The 69-year-old nurse, who had previously expressed concern over the hospital's preparedness for COVID-19, treated an infected patient in mid-March.
Yap-Banago began showing symptoms on March 23 and tested positive for the disease, prompting her to self-isolate at home for two and a half weeks. Because she did not experience shortness of breath, the nurse did not seek medical attention. She died at home on April 21 after her son Jhulan found her unresponsive.
A vigil was held at the hospital two days after her passing to remember her dedication to the field and to shed light on the lack of protection for critical workers. Jhulan said, "You're either not smart to be in this job for 40 years or you are so compassionate and selfless that you dedicate your entire life to helping others."
Manny Carrillo, The Plaza Rehab and Nursing Center (Bronx, NY)
Manny Carrillo, originally from Quezon City in the Philippines, was an infection control nurse at the Plaza Rehab and Nursing Center in New York.
A resident of Teaneck New Jersey, Carrillo spent six weeks fighting COVID-19 and died on April 23. He is survived by his wife and their three adult children.

Joyce Pacubas-Le Blanc, University of Illinois at Chicago Medical Center (Chicago, IL)
Joyce Pacubas-Le Blanc, who served in the neuroscience intensive care unit at the University of Illinois at Chicago Medical Center, had spent over 30 years in the nursing profession. Thirteen days after testing positive for COVID-19, she died from the disease on April 23 at the age of 53, becoming the first nurse fatality at the University of Illinois Hospital and Health Systems. She is remembered by colleagues for being crafty and lending supplies and equipment to her fellow nurses.
"She did not necessarily give physical hugs, rather it was a hug for the soul, a nurse's soul. She was always ready to say something soothing to all the new nurses or soon-to-be nurses. Or she would feed them or provide whatever they needed. Joyce had the ability to hone in on what someone needed and then give…generously," co-worker and friend Eileen Fajardo-Furlin wrote on the Illinois Nurses Association website.
Pacubas-Le Blanc is survived by her husband Lawrence and two sons, Lawrence Jr. and Derek.
Romeo Agtarap, NewYork-Presbyterian (New York City)
Romeo Agtarap retired last year after working in the adult emergency department of NewYork Presbyterian/Columbia University Medical Center in Manhattan for 20 years. However, the profession called him back as the hospital was in need of nurses when the coronavirus outbreak hit the city. On April 24, the 63-year-old RN died from the virus.
His colleagues remember his wit and the way he loved to make them laugh, according to the New York State Nurses Association.
"He was an incredible soul and human being who devoted his life to saving others. He radiated love, kindness and joy and had a spirit full of enthusiasm that was hard to match. His smile, his compassion and his generosity towards loved ones and strangers [were] what made him special," his colleagues wrote on a GoFundMe page.
Maria Guia Cabillon, Kings County Hospital (Brooklyn, NY)
Fondly called "Mama Guia," Maria Guia Cabillon, 63, brought her motherly instinct to the nursing profession in which she devoted over 30 years of her life. As the head nurse of the department of emergency medicine at Kings County Hospital in Brooklyn, New York, Cabillon directed the department and took younger nurses under her wing, mentoring and guiding them to be the best nurses possible. She would often feed co-workers and wouldn't take "no" for an answer if they declined.
"Mama Gui gave herself to everyone without asking for anything in return. She's a giver and I'd say she is the epitome of what a giver is," Shane DeGracia, a co-worker for six and a half years, told the Asian Journal.
Cabillon had plans to retire, but continued to serve on the front lines. After almost a month of battling COVID-19, Cabillon died on April 26, becoming the first staff fatality in the department. She is survived by her husband, four daughters and two grandkids.
Krist Angielen Guzman (Chicago, IL)
Krist Angielen Guzman, 35, followed her passion and worked on the front lines at a hospital in Chicago. She died on May 2 from COVID-19, leaving behind her husband Omar and their three young children, ages 6 and 5 years and 4 months old.
"Krist set the bar for exceeding expectations as a life-long learner, a loyal and honest friend, and a strong and fierce nurturer. She made her parents proud when she made the decision to settle in Chicago as she pursued her dreams of becoming a nurse. She was a front-liner who treated all her patients and colleagues with respect and dignity," said the description of a fundraiser for Guzman's family.
If you would like to add a Fil-Am nurse colleague or loved one to this list, please email editor@asianjournalinc.com.
**
Editor's note: The Asian Journal is working to document those of Filipino descent who have lost their lives because of the coronavirus in the United States. If you know of someone or would like to offer a remembrance of someone who has died of COVID-19, please tell us about them by emailing digital@asianjournalinc.com with the subject line "Remembering Lives Lost."