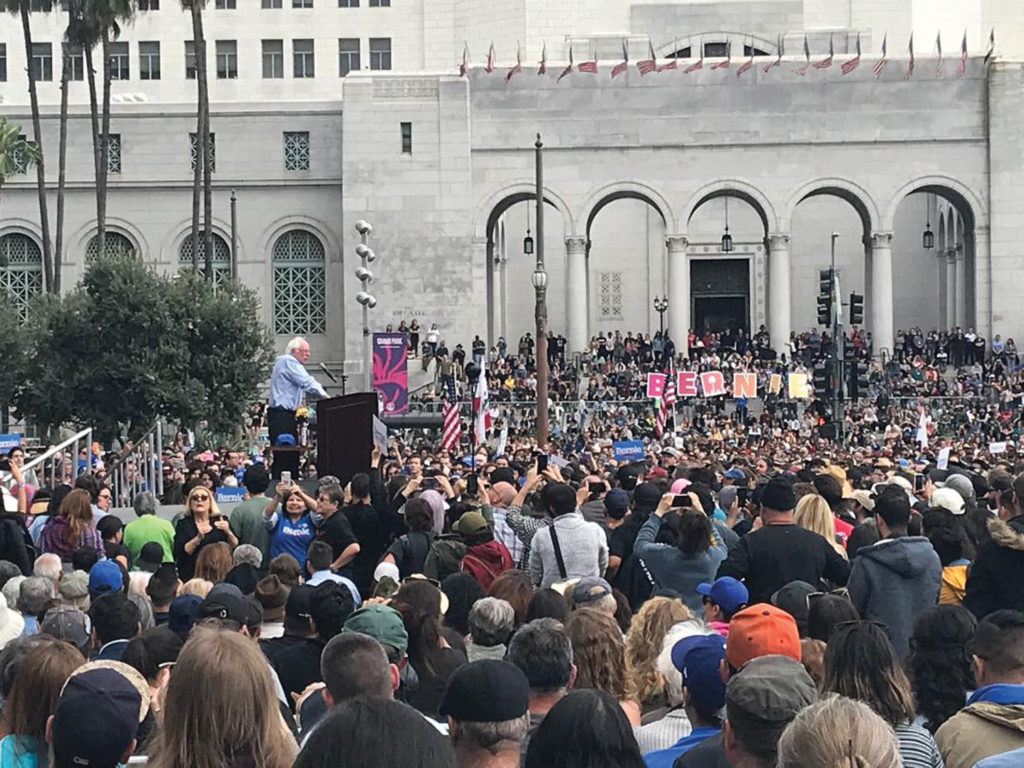 The 77-year-old senator from Vermont and mouthpiece for grassroots progressivism announced his second bid for presidency, stops by Los Angeles to rally supporters
VERMONT Sen. Bernie Sanders is running for president in the 2020 general election, and this time he has a leg up.
Where in 2016 he was the radical outsider, in 2020, Sanders is the veteran of the Democratic field of first-time candidates, and he has achieved name recognition and now stands as an A-List figure in Washington, giving him the added benefit of fixing what went wrong four years ago.
An area of improvement that Sanders and his team have already been tackling is paying more early attention to voters in blue, delegate-rich states, namely California where the self-declared Democratic socialist held three rallies over the weekend: San Diego, San Francisco and Los Angeles.
The Los Angeles rally, held on a cloudy afternoon on Saturday, March 23 in downtown LA's Grand Park, an estimated crowd of 15,000 supporters gathered to rally for Sanders.
At 77, he's the oldest candidate, but his base is young. The largest demographic at the rally by far were young, college-aged voters, with a large chunk of those supporters being people of color and members of the LGBT+ community.
Touting similar platform issues — free public college tuition, reforming the criminal justice system and introducing more climate change initiatives — Sanders speaks to the growing faction of young, liberal Americans who believe in taxing the richest of the rich to provide a more even keel for individuals and families who have been cheated by the system.
Sanders' first presidential campaign was primarily colored by providing an alternative to the old guard of Establishment Democrats. This time around, it's de facto mission statement is taking down President Donald Trump.
"As president of the United States, I will not have kind words to say about authoritarian leaders around the world who espouse bigotry and hatred," Sanders told the diverse crowd of supporters. "Together we will make the United States the leader of the world in the fight for democracy and human rights."
Sanders officially announced candidacy on February 21 with the message, "Not me. Us," a signal to Sanders' mission for inclusion and unity.
"Like everyone in the United States Congress, I have an enormous ego," Sanders quips to the crowd. "So, it's nice to hear you say my name over and over again in your chants. But let me be clear. This is not about me. It is about us. No one singular person, even the President of the United States, can ever do it alone."
Sanders promised that if he's elected, he'll work to enforce campaign finance laws (Sanders is known for refusing corporate and PAC donations to his campaign), fighting income inequality, upholding undocumented immigrants' rights and providing quality healthcare and holding Big Pharma accountable for the inflating price of medication.
"The goal of healthcare is to provide quality care to all, not to have insurance companies make billions a year for our sickness. There are 30 million Americans with no health insurance and much more who are underinsured," Sanders said, adding that he plans to work toward federally-funded single-payer health care.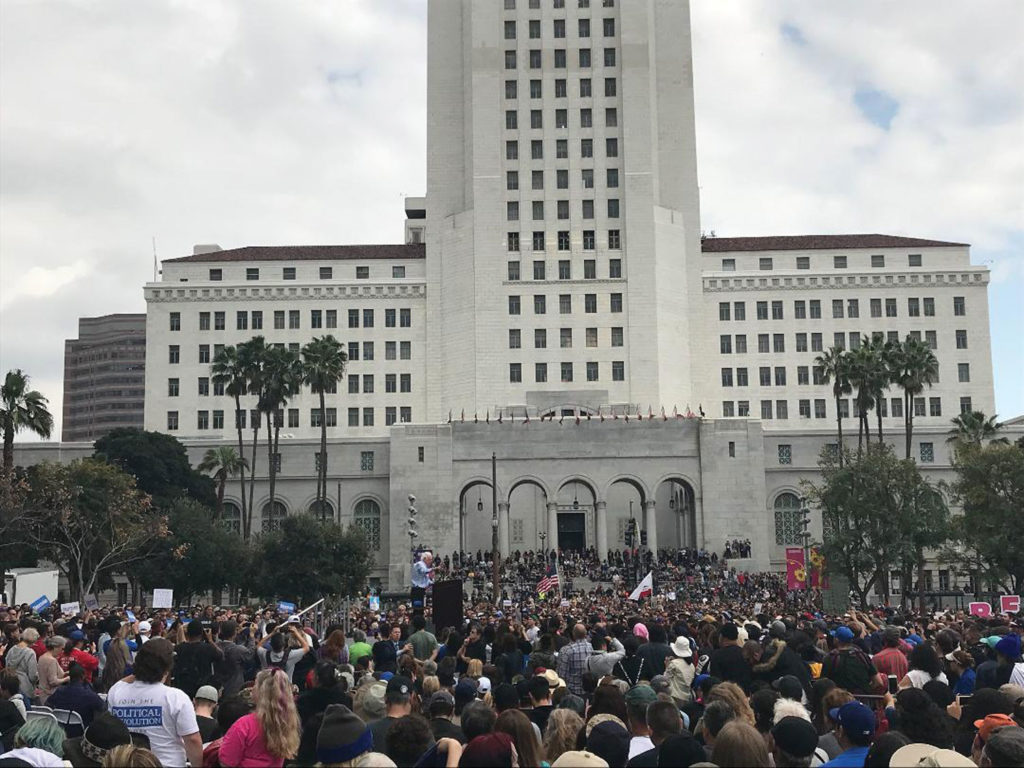 Second time's a charm
The news of Sanders' opting for a second go at the presidency was a shock to a lot of Americans, many of whom have raised the question of Sanders' age.
Upon walking up to Grand Park for the rally on a breezy, overcast Saturday afternoon, it was clear it wasn't going to be a meager turnout. The stage was held adjacent to the LA County Grand Jury building, yet the line for attendees stretched out two blocks on Temple in between Hill and Broadway.
Overflow sections of the rally were imposed on the steps of City Hall and on the northern block of Grand Park near Grand Avenue, likely making this Sanders' largest rally of his 2020 campaign.
"It's really a testament to how influential he is," a Korean-American student named Jennifer Hong told the Asian Journal, gesturing to the colorful sea of supporters. "I mean, look at everyone who is here. It's so varied and diverse. You don't see this [in] other candidates' bases."
24-year-old Fil-Am Jennifer Jose voted for Sanders in 2016 and told the Asian Journal she was "thrilled" upon learning Sanders would be running again.
Holding up a "Bernie 2016" sign with the "16" replaced with a "20", Jose said, "It's like a dream come true. When he lost in the primaries [in 2016], I was devastated. He was the first actual politician I believed in and I'm so happy it's happening again."
In the United States, it's become standard operating procedure to kick start a presidential campaign a year and a half before the actual election. The 2016 election period lasted a whopping 597 days.
As this story is being written, there will be 588 days until Nov. 3, 2020 and the number of Democrats looking to unseat Trump — 17 confirmed so far — continues to grow. Among the more name brand candidates include Sanders' colleagues in the Senate: Elizabeth Warren of Massachusetts, Kamala Harris of California, Cory Booker of New Jersey.
Other notable names in the race include former U.S. Rep. Beto O'Rourke of El Paso, Texas and U.S. Rep Tulsi Gabbard of Hawaii.
Although we're just at the start of the election — as of press time, there are 587 days left until Election Day 2020 — early polls suggest that Sanders is comfortably in second place behind former VP Joe Biden, who hasn't confirmed whether or not he will be running in 2020. (Klarize Medenilla/AJPress)