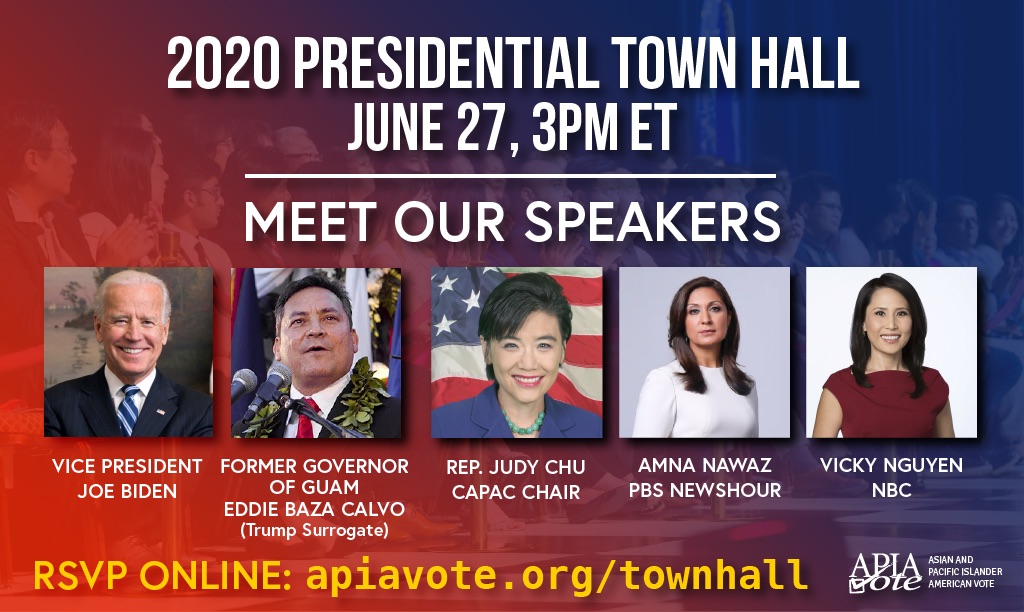 WITH the United States presidential election less than five months away, the campaigns of President Donald Trump and former Vice President Joe Biden will court Asian American and Pacific Islander (AAPI) voters — considered the fastest-growing segment of eligible voters in the United States — in a virtual town hall on Saturday, June 27.
Biden will be present to directly make his pitch, while former Governor of Guam Eddie Baza Calvo will serve as a surrogate for Trump in the livestreamed event hosted by APIAVote in partnership with community organizations.
Rep. Judy Chu (D-Calif.), chair of the Congressional Asian Pacific American Caucus, will provide remarks. Journalists Amna Nawaz of PBS News Hour and Vicky Nguyen of NBC will moderate.
"This two-hour event will allow the candidates and campaigns to present their vision in how that addresses the concerns of Asian American, Native Hawaiian and Pacific Islander folks," APIAVote Executive Director Christine Chen said in her remarks on Monday, June 22, kicking off a week-long virtual leadership summit with sessions highlighting how to engage AAPI communities.
Saturday's event is the fourth time APIAVote has hosted the Presidential Town Hall as an opportunity for campaigns to address issues relevant to the AAPI community. During the 2016 election cycle, former President Bill Clinton served as a surrogate at the event for former Secretary of State Hillary Clinton's presidential bid.
"This is also a time for them to listen to this community and understand our needs and interests as a growing electorate," Chen added.
In a 2018 Asian American Voter Survey released by APIAVote and AAPI Data, 46% of total Asian Americans surveyed said they were not contacted by the Democratic Party, while 56% said they received no communication from the Republican Party.
The same survey found that 22% of Filipinos surveyed said they had a "very favorable" impression of Trump, while 38% said "very unfavorable." Meanwhile, 32% of Filipinos said they had a "somewhat favorable" impression of the Democratic Party and 28% said "somewhat favorable" of the Republican Party.
Though AAPI voters have been often overlooked by the major political parties, the bloc may continue to show influence in key races and districts.
The number of eligible Asian American voters will reach a new high this year as more than 11 million will be able to cast their ballots, according to Pew Research Center analysis of Census Bureau data released last May. The data added that in the past 20 years, the electorate grew by 139%, in part due to naturalized immigrants.
The Trump campaign in May launched "Asian Americans for Trump," co-chaired by Fil-Am Utah Attorney General Sean Reyes and Arizona State Treasurer Kimberly Yee. In addition to "AAPIs for Biden," a group of Filipino Americans formed a nationwide "Fil-Ams for Biden" following the former vice president's performance on Super Tuesday.
Registration for the town hall can be done at https://www.apiavote.org/townhall.