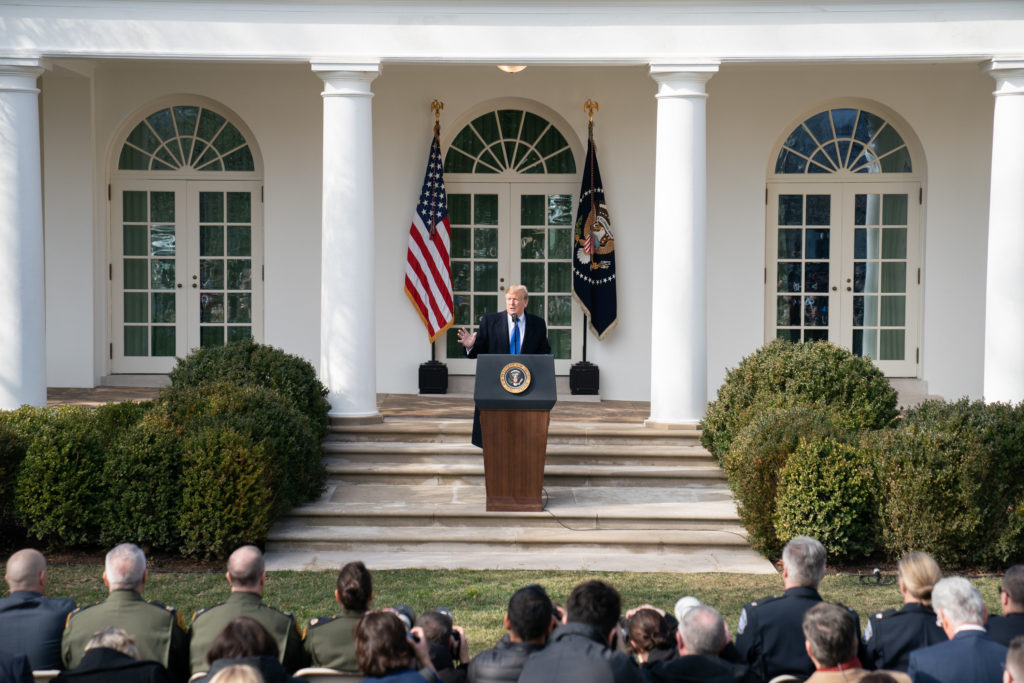 Republicans split on support as other lawmakers seek lawsuits
After Congress approved a spending bill to avert another government shutdown, President Donald Trump on Friday, February 15, declared a national emergency to access billions of dollars for border wall construction—a move many are seeing as an overreach of power, and a move sure to face legal challenges.
Congress on Thursday, February 14 approved a spending bill that gave Trump $1.375 billion for border security funding, an amount far less than the $5.7 billion Trump had asked for.
At the Rose Garden on Friday, Trump said he was declaring a national emergency because of "an invasion of our country with drugs, with human traffickers, with all types of criminals and gangs."
"We are going to confront the national security crisis on our southern border," said Trump.  "And we're going to do it one way or the other.  We have to do it—not because it was a campaign promise, which it is."
The declaration will allow Trump access to about $8 billion for border wall construction, including the recent $1.375 billion passed by Congress.
Of that amount, about $3.6 billion would be diverted towards military construction funds, $2.5 billion from allocated counterdrug activities for the Department of Defense, and $600 million from the Treasury Forfeiture Fund.
Acknowledging the high possibility of legal challenges sure to reach the Supreme Court, Trump said, "We'll win, I think."
He went on to say that he wasn't happy with the nearly $1.4 billion deal made in Congress, and said the national emergency declaration was a fast alternative to doing the wall "over a longer period of time."
"I didn't need to do this, but I'd rather do it much faster," said Trump.
"And I don't have to do it for the election," he continued.  "I've already done a lot of wall for the election 2020."
House Speaker Nancy Pelosi (D-Calif.) said ahead of Trump's announcement that filing a legal challenge was a possible option, but that it was important to first note that what is happening at the borders is not an emergency.
"It's a humanitarian challenge to us," said Pelosi.
Pelosi said that Trump's declaration of a national emergency would set a precedent for a future Democratic president to do the same with gun control.
Her challenging statement came on the one year mark since the Parkland Shooting.
"Let's talk about today, the one year anniversary of another manifestation of the epidemic of gun violence in America. That's a national emergency. Why don't you declare that emergency, Mr. President? I wish you would," said Pelosi on Thursday.
"A Democratic president can declare emergencies as well. So, the precedent that the President is setting here is something that should be met with great unease and dismay by the Republicans," Pelosi added.
Before Trump's emergency declaration, Pelosi and Senate Minority Leader Chuck Schumer (D-NY) asked Republicans to join them in overturning the decision.
"The president is not above the law," they said. "The Congress cannot let the president shred the Constitution."
Trump's national emergency declaration was the 60th to be declared since the power to do so was allowed in 1976.
But given that the U.S. Constitution gives Congress the power to appropriate money, many see Trump's use of the power as being unconstitutional, especially as Congress refused to give Trump the amount he wanted.
Other Democrats were more sure to bring legal actions, including California Attorney General Xavier Becerra. Earlier this month, Becerra said he'd sue the Trump administration in the event of a national emergency over border wall funding. On Friday, he confirmed that a lawsuit would be likely.
"This is not 9/11. This is not the Iran hostage crisis of 1979," said Becerra, referring to the national emergency declared by President Jimmy Carter to freeze assets of Iran during the Iran Hostage Crisis.
"This is a president showing his disdain for the rule of law and our U.S. Constitution."
Governor Gavin Newsom doubled down on Becerra's remarks.
"President Trump is manufacturing a crisis and declaring a made-up 'national emergency' in order to seize power and subvert the constitution," said Newsom. "Our message back to the White House is simple and clear. California will see you in court."
The American Civil Liberties Union (ACLU) said that it was filing a lawsuit next week to challenge the declaration.
"By the president's very own admission in the Rose Garden, there is no national emergency.  He just grew impatient and frustrated with Congress, and decided to move along his promise for a border wall 'faster,'" said ACLU executive director, Anthony Romero.
"This is patently illegal power grab that hurts American communities and flouts the checks and balances that are hallmarks of our democracy," Romero added.
Support split among Republican lawmakers
Ahead of Trump's national emergency declaration, Senate Majority Leader Mitch McConnell (R-KY) expressed support for Trump's move, despite before being among those in the GOP looking to avoid it.
"I indicated to him I'm going to support the national emergency declaration," McConnell said on Thursday.
Republican Senator Richard Shelby said, "I'm not uncomfortable. I think the president's probably on solid ground."
But a number of Republicans were less supportive upon hearing about the announcement of a potential national emergency.
Republican Senator Marco Rubio described the move as a "bad idea."
In a statement, he said, "We have a crisis at our southern border, but no crisis justifies violating the Constitution."
"I will wait to see what statutory or constitutional power the President relies on to justify such a declaration before making any definitive statement," he added.  "But I am skeptical it will be something that I can support."
Senator Rand Paul (R-KY) said on Thursday that he was not in favor of operating the government by national emergency, while Republican Senator Ron Johnson described it as a "pretty dramatic expansion of how this was used in the past."
Meanwhile, Senator John Cornyn (R-Texas) said it "would not be a practical solution, because there would be a lawsuit filed immediately.  And the money would presumably be balled up." (Rae Ann Varona / AJPress)