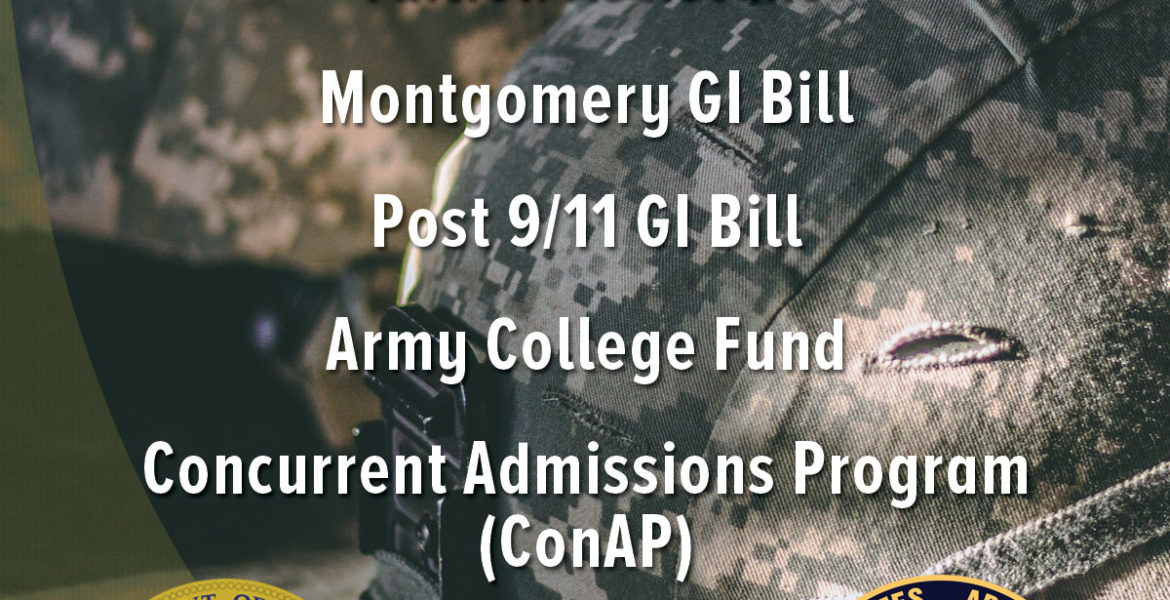 Student loan debt in the United States is at an all-time high in 2018, amounting to $1.48 trillion, according to the Federal Reserve. The average student loan debt for Class of 2016 graduates was $37,172, up six percent from the previous year.
However, those numbers shouldn't detract students from pursuing their higher education dreams, as there are routes they can take to get a degree without burning a hole in their pockets. 
For example, serving in the U.S. military has its advantages, including the opportunities to go back to school without facing the burden of rising tuition costs. 
It's thanks to legislation, like the Post-9/11 GI Bill and Montgomery GI Bill, veterans and service members who can receive education benefits. 
Under the Post-9/11 GI Bill, members who began their service after Sept. 10, 2001 can earn full tuition to the college for their choice for up to 36 months, plus a monthly housing allowance and a books and supplies stipend of up to $1,000 per year. 
The Montgomery GI bill gives full tuition benefits for programs like college, technical or flight school to those who have served at least two years on active duty. 
For those who are thinking of a career in the medical field specifically, the military offers numerous educational and financial aid options. 
The U.S. Army, in particular, has undergraduate, graduate and post-graduate health care education programs. Students can go on to join the Army Health Care Team, one of the largest comprehensive systems of health care in the country, with six corps — dental, medical, medical services, medical specialist, nurse, and veterinary. 
During a recent tour to Joint Base San Antonio — Ft. Sam Houston (JBSA-FSH) — hosted by the U.S. Army Los Angeles Recruiting Battalion — educators from LA County high schools and community colleges had a chance to hear about the various post-high school options the military branch extends.
Ft. Sam Houston is the home of Army North, Army South, Army 5th Recruiting Brigade, Brooke Army Medical Center, the Institute of Surgical Research, the Army Medical Department Center and School, the Army Medical Command and the 502d Air Base Wing.
Andrea Slater-Williams, one of the education counselors at Ft. Sam Houston's Education Center, shared that there are many routes service members, whether active duty or veterans, can take in terms of education. 
"Education does not stop at that point because once they join the military, we're pushing education as well. And the way the Army's going right now, education is key for promotion and things of that sort. There are education benefits for the service member before they enter in active duty, during active duty status and after they get out," Slater-Williams said. 
For those who want to earn their degree while serving in the Army (as opposed to getting the degree after they return from service), the Army Reserve program allows that flexibility to attend school full time and work in a civilian position. It is a six-year service obligation to serve in the Reserve. 
Some of the financial aid benefits for reservists including, but not limited to, a Selected Reserve Montgomery GI Bill (over $13,000 for college, up to $375/month for 36 months for full-time students) or the Concurrent Admissions Program (ConAp), where you can choose from more than 1,800 colleges and earn college credit while training and working in the Reserve. The ConAp also extends to new enlistees in the regular Army. 
"When they're choosing Army tuition assistance, part of that process is them doing about a 14-page career assessment. We want to make sure that they're going to school for something that they want to do, to work in the field that they want to work in. So they're going to do the assessment and find a career that suits themFrom there, we're going to guide them or the system guides them to choose a career goal. They will then choose a degree plan and find this school that offers that degree. It's all this in the system, a really cool program," Slater-Williams said. 
These benefits don't just cover the student itself — his or her spouse can also avail of the opportunities. 
Under the Military Spouse Education and Career Opportunities program, eligible military spouses receive funding support for education, licensing and credentials, career counseling services, and employment readiness tools and resources to assist them at any level. 
"They're eligible to give their spouses money and this money is called the MyCAA, my Career Advancement Account. They don't have to commit any extra time. This is not actually an Army incentive but for dependents, they're able to get it," Slater-Williams explained. "With this, the spouses are able to get up to $4,000. That's $2,000 the first year, $2,000 next year in order to get an associate's degree, licensure certification. This was implemented so service members' spouses are then able to get employed." 
According to the Army, program resources include: Military OneSource SECO Career Center where certified career counselors provide comprehensive counseling services at no cost; The My Career Advancement Account (MyCAA) Scholarship, which is a workforce development program that provides up to a $4,000 scholarship for education, training and licensing to eligible military spouses; and the Military Spouse Employment Partnership (MSEP), which is an employment and career partnership connecting military spouses with more than
270 corporate partner employers who have pledged to recruit, hire, promote and retain military spouses in portable careers.
For more of the education benefits, please visit https://www.goarmy.com/benefits/education-benefits.html. A feature on the medical education programs that the U.S. Army offers will be in next week's MDWK Magazine edition.