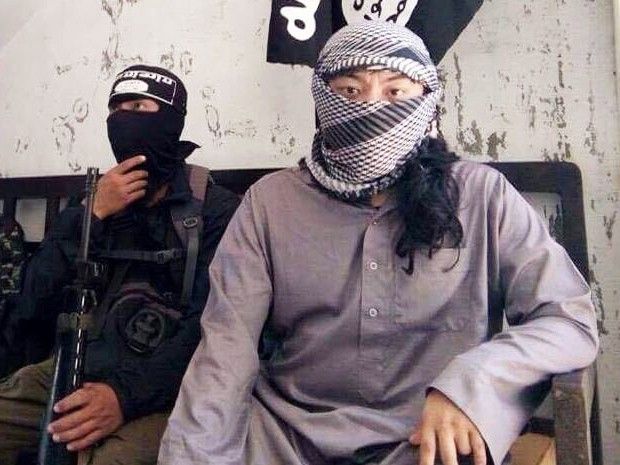 All three had connections to Philippine terror group
A 28-year-old Philippine national was among the three men from Southeast Asia to be added to the U.S. Treasury's sanctions blacklist on Friday, August 24, for involvement with the Islamic State (IS) terror group.
The U.S. Treasury Department imposed the sanctions on Philippine national Mohammad Reza Lahaman Kiram, Indonesian national Mohammed Karim Yusop Faiz, and Malaysian national Mohamad Rafi Udin, freezing their assets and denying them access to the U.S. financial system.  The three were said to be recruiters for the Islamic militant group and appeared in a beheading video for ISIS.
"Treasury is targeting ISIS recruiters who have engaged in a beheading video and other brutal acts as part of a propaganda campaign to attract radicals to join militant terrorist groups in Southeast Asia," U.S. Treasury Undersecretary Sigal Mandelker said in a statement.
"We are sanctioning these terrorists along with our U.N. and international partners as part of a coordinated effort to counter ISIS's global networks that enable the group to recruit foreign fighters to conduct international terrorist attacks," added Mandelker.  
The U.S. move comes a day after the United Nations (U.N.) Security Council put similar charges on Udin, Faiz, and Kiram on Thursday, August 23.  The council required all U.N. member countries to prohibit the three men's travel, freeze their assets, and deny them access to the international financial system.
According to the U.N., Kiram is a senior ISIS member and was a member of Ansar Khalifa Philippines, a Philippine-based militant group that has pledged allegiance to the Islamic State.  Philippine police believe Kiram was responsible for the 2012 bus bombing in Zamboanga City which left at least seven passengers injured.
The U.N. said that Kiram was seen in 2014 training recruits for Ansar Khalifa Philippines, before traveling with his wife to the Syrian Arab Republic in 2015.  
In 2016, Kiram appeared in an Islamic State recruitment video that was distributed on social media.  The U.N. quotes Kiram calling on supporters to "unite and join under the command of the emir of the soldiers of the caliphate in the Philippines, Abdallah al-Filipini."
Indonesian national Faiz, 49, also had ties to the militant group in the Philippines.  In 2014, he joined the Islamic State in Syria and helped with the recruitment of people from Southeast Asia to join the Philippines' Islamic State-linked group, Abu Sayyaf.  He was jailed in the Philippines for nine years on charges of illegal possession of weapons and explosives.
Malaysian national Udin, 52, also traveled to Syria in 2014.  He also helped with recruitment in the Philippines under former Abu Sayyaf leader, Isnilon Hapilon. (Rae Ann Varona/AJPress)