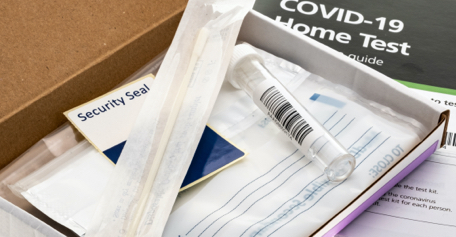 STARTING this week, residents in the United States can order free at-home rapid COVID-19 testing kits from the federal government.
As part of the White House's initiative to deliver rapid tests to Americans amid the latest surge, the website (www.covidtests.gov) to place orders went live on Tuesday, January 18, a day earlier than previously announced.
This is part of the Biden administration's plan to purchase 1 billion at-home, rapid COVID-19 tests, with the first 500 million available for ordering this month.
"Every home in the U.S. is eligible to order 4 free at-⁠home COVID-⁠19 tests. The tests are completely free. Orders will usually ship in 7-12 days," the website reads. It adds, "Order your tests now so you have them when you need them."
The site redirects to an U.S. Postal Service form where individuals can fill in their contact and shipping information.
There is a limit of one order per residential address and orders will ship free starting late January. The tests available for order are rapid antigen at-home tests, not PCR and can deliver results within 30 minutes.
The website's guidance advises individuals to take an at-home test if they begin to exhibit COVID-19 symptoms; at least 5 days after they come into contact with someone with COVID-19; or if they are going to gather with a group of people, especially those who are at risk of severe disease or may not be up to date on COVID-19 vaccines.
"To ensure equity and access for all Americans, the Administration will also launch a call line to help those unable to access the website to place orders, and work with national and local community-based organizations to support the nation's hardest-hit and highest-risk communities in requesting tests," according to a White House announcement.
In addition to the tests, the covidtests.gov website offers additional resources for those who need to get tested immediately or are looking for another type of test.
These include at-home tests at retailers and pharmacies, insurance reimbursement and a list of over 20,000 free testing sites nationally.
According to the CDC, over 65.1 million COVID cases have been tracked in the United States and 847,577 deaths, as of Tuesday, January 18.