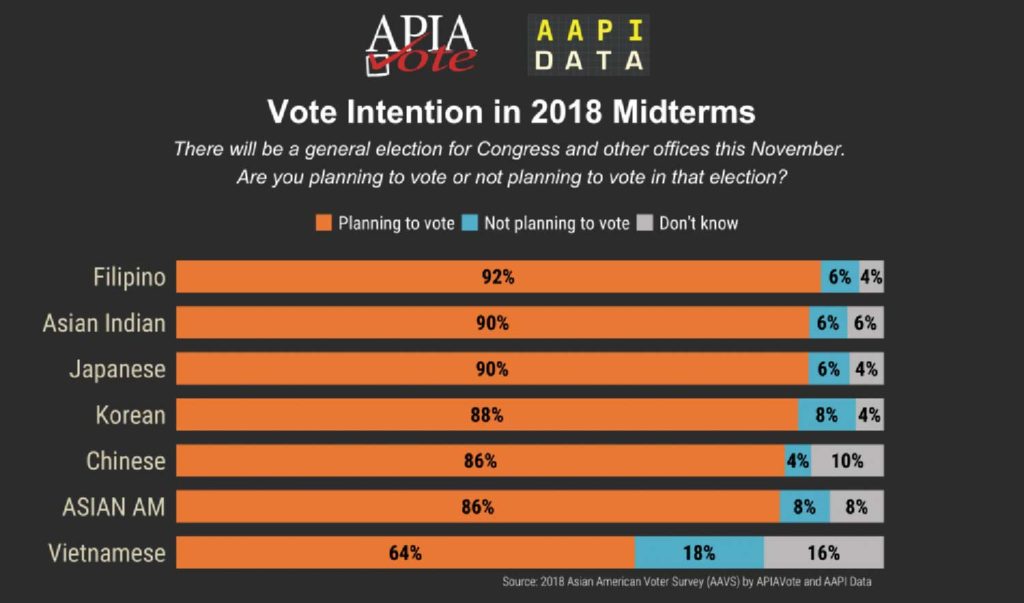 New survey finds increased enthusiasm among the Asian American electorate, Filipinos' intention to vote ranks highest among surveyed groups
It's election season, and voters are fired up.
Recent events in Washington have mobilized American citizens to exercise their rights to vote. The bi-yearly national public service announcements by lawmakers, celebrities and organizations to vote are spreading through social media.
Although the midterm elections, historically, draw significantly less voter turnout, the preponderance of voter encouragement has been on the rise with a vast majority of voters unhappy with many Congress decisions: the passage of the tax code last year, the Cabinet appointments and the recent confirmation of Brett Kavanaugh to the Supreme Court.
The Asian American and Pacific Islander (AAPI) community, as previously reported by the Asian Journal, has steadily become a more viable electorate; the United States Census Bureau found from the 2010 census results that the AAPI electorate is the fastest growing demographic, and the population is slated to double by 2040.
A coalition of AAPI groups led by APIAVote released its quadrennial midterm election survey of Asian American voters this week, and it found that 48 percent of participants are "more enthusiastic about voting this year." In 2014 — which received a poor showing of votership in general — the APIAVote survey only found 28 percent of AAPI voter enthusiasm.
"We have seen great enthusiasm from Asian American voters increase as community organizations and college campuses participate in our regional trainings and organize voter registration and engagement programs," said Christine Chen, executive director of APIA Vote.
When broken down by ethnicity, Filipino Americans are the group with the highest intention to vote in November; 92 percent of the surveyed Pinoys said they are planning to vote while 6 percent and 4 percent said they were planning not to vote or don't know, respectively.
The more-opaque-than-usual voter enthusiasm overall could be attributed to the possible partisan majority/minority shift in Congress if voter turnout increases this year.
In 2016, the Republican Party gained majority of the Senate and the House, which resulted in legislative decisions essentially dependent on the GOP, but with key Senate and House seats up for grabs this election and the vast disapproval of congressional decisions since the 2016 election, the partisan sway may begin to veer blue.
In terms of party preference, a high proportion of AAPI voters — 38 percent — do not identify with either major political party, while 38 percent identify as Democrat and 22 percent identify as Republican.
Within the Filipino-American electorate, it's more of an equal distribution with 34 percent identifying as Democrat, 30 percent Republican and 32 percent not identifying with either party.
"These data show why it's vital to survey the Asian American community," Karthick Ramakrishnan, founder and director of AAPI Data, said in a statement. "Not only is the Asian American community the fastest growing racial group in the country, it is also a politically dynamic population whose vote still remains up for grabs."
On the approval for President Donald Trump, 3 in 5 Asian American voters disapprove Trump's job performance since he got elected, a significant shift from AAPI Data's 2014 midterm survey wherein half of the AAPI votership approved of President Obama's performance and one-third disapproved.
The Democratic Party has claimed the Asian American vote in elections past, which runs true for many minority groups. Generally, the Democratic Party brands itself as a champion for workers' rights, pathway to citizenship for undocumented immigrants, affirmative action, gender equity and other social justice causes which Asian American voters tend to prioritize and favor.
"Our communities will not stand for the extreme anti-immigrant, anti-worker agenda that has disproportionately impacted communities of color, including Asian American workers and families," said Alvina Yeh, executive director of the Asian Pacific American Labor Alliance (APALA), who added that the AAPI electorate is "uniquely positioned to be the margin of victory in key races across the country this November and in 2020."
Are you registered to vote? If not, your application for voter registration must be postmarked or submitted on or before Monday, October 22. To vote by mail, the deadline to apply is Tuesday, October 30.
If you are a new citizen and would like to vote in the midterms, the deadline to apply for New Citizen Eligibility registration is Tuesday, October 23. For more information, please visit: https://www.sos.ca.gov/elections/voter-registration/. (Klarize Medenilla/AJPress)