The protest started out peacefully.
Gathered on a breezy Saturday morning on May 30, tens of thousands of individuals far and wide gathered at Pan Pacific Park on the westside of Los Angeles for a Black Lives Matter rally. Standing 6-feet apart and donning face masks and wielding signs, the rally was meant to be a more muted yet equally as powerfully influential as the demonstration the previous night in Downtown LA.
Filipino American filmmaker Jon Jon Augustavo was among the first of thousands who arrived at the demonstration and, like others, noticed an extraordinary sense of community and harmony as the speakers took turns at the podium and spoke from the heart about the need for systemic change in law enforcement across the country.
"I'm from Seattle and that's my heart, but [this protest] was the first time in 10 years that I was proud to call Los Angeles my home," Augustavo told the Asian Journal.
The rally brought forth speakers who voiced frustration with the pattern of police brutality that has plagued cities across the United States and called for two specific courses of action: defund the Los Angeles Police Department (LAPD) and hold police officers who kill unarmed individuals accountable.
Godfrey Plata, former public school teacher and organizer and current California State Assembly candidate, also attended the protest and described the first half of it as peaceful and going forth as planned. After the gathering at the part, the organizers of the demonstration led the group to a march down toward West 3rd Street and right toward South Fairfax Avenue.
"As more and more people joined in, it became more difficult to, you know, stay 6 feet apart, but people were really respectful and everyone I saw was wearing a mask," Plata told the Asian Journal.
Plata described residents of the affluent Fairfax District honking their horns and pumping their fists in support of the protest, which was planned to end at the Beverly Center. But when he made it to Third and Fairfax, Plata said the march stopped.
He found out that police had divided the march at the intersection, but organizers tried to curve the march around the police blockade to continue on. That's when police began firing rubber bullets.
The protest itself was peaceful. And then the cops came.
Following days of civil unrest across the country, Los Angeles was one of several major cities across the world to hold rallies and marches that brought together thousands of people protesting the pattern of police brutality and murders of unarmed Black individuals.
The protests were sparked by the murder of George Floyd, an unarmed black man, by a white police officer in Minnesota on May 25 in which the police officer knelt on Floyd's neck while apprehending him for allegedly paying with a counterfeit $20 bill at a corner market.
A video, which has now gone viral, shows the officer forcing Floyd down despite Floyd's screaming, "I can't breathe" multiple times. The video documents the moment Floyd's neck breaks and dies.
The murder follows a string of other murders of Black individuals — Breonna Taylor on March 13, who was gunned down in her home and Ahmaud Arbery, who was killed by two white civilians while jogging — this year. Most recently, in Louisville, Kentucky, a black business owner named David McAtee was fatally shot by police officers during a protest on Monday, June 1.
But the core of the protest was much more than these recent incidents.
Since the infamous Rodney King beating in 1992, Los Angeles has become the poster city for unlawful aggression by law enforcement toward individuals, especially Black Americans. The legacy of that murder lies in the ensuing riots from the Black community who were frustrated at the unmitigated violence inflicted on an unarmed man in their neighborhood.
Augustavo saw firsthand when things started to unravel on Saturday, and saw what people on social media have described as provoking the commotion among the protesters.
"My adrenaline was all over the place. I don't think I normally would have walked up to a police officer holding a shotgun and taken a picture," said Augustavo, who posted a moving collection of 10 photos from that day to his Instagram.
He added, "In my normal work, I'm not gonna walk up to a cop while his cop car's running behind him, but I just was like in the moment and thought we need to document these things because no one, at least people who are part of my life, believed it happened the way the media is telling you."
According to Augustavo, a blockade of police officers started pushing people and eventually began firing rubber bullets at nonviolent protesters. Video clips of these incidents widely spread throughout social media; credentialed journalists covering the protest were also among those who were hit. White protesters began standing in front of Black protesters to protect them from the bullets as the demonstration mounted into non-lethal, albeit brute force against protesters.
Mainstream media coverage of the event placed most focus on the destruction on the scene, but what protesters like Augustavo saw was clear agitation from the police units toward an otherwise orderly march.
"You know, we have people on our side yelling aggressive things, but they're not physically doing anything, so it was like, 'We're not hurting anyone, so what are you protecting?" he said.
Things spiraled further out of control when police cars were being lit up and people began vandalizing nearby storefronts and public spaces. (It is unclear whether or not these vandalizers were part of the original protest; those who were a part of the original protest said they were not as the protest's organizers stressed the importance of maintaining a peaceful demonstration.)
The culmination of the events that transpired in Fairfax mirrored the hundreds of protests across the country that began peacefully but escalated as soon as law enforcement got involved, like in Philadelphia, where peaceful protesters on an expressway were boxed in by police units, who were seen throwing tear gas on the protesters.
"I'm not surprised that things escalated when police began to use force," said Plata, who has participated in many peaceful demonstrations that have gone awry in the past.
Across the U.S., thousands have been arrested, citywide curfews have been put in place, the National Guard has been deployed, and the core rallying cry of the protest is now getting lost amid the widespread coverage focusing on the mayhem and vandalism, harkening back to the Rodney King shooting, all of which most people remember the riots more than anything else.
Intercultural solidarity and fighting anti-blackness in the Filipino community
Bringing the focus back to the core matter in hand — police brutality and the ways in which systemic racism against the Black community feeds into the violation of due process — is a key objective of this current wave of protests.
The violence, vandalism and looting of small businesses, which many people have suggested were instigated by folks outside of the Black Lives Matter movement, have taken up more broadcast and print space among media platforms, but what gets lost in sensationalistic reportage is the core focus of the movement itself.
The emergence of digitally-native social justice campaigns like Black Lives Matter — founded in 2013 after the murder of 17-year-old Trayvon Martin — have expanded the network and possibilities of intercultural solidarity for movements that are primarily dedicated to one cultural group in particular.
Shortly after, when the 2014 shooting of the unarmed teenager Michael Brown in Ferguson, Missouri, a new wave of protest erupted across the country, catalyzing social media campaigns and a newfound era of "wokeness" began to take shape, especially among younger Americans.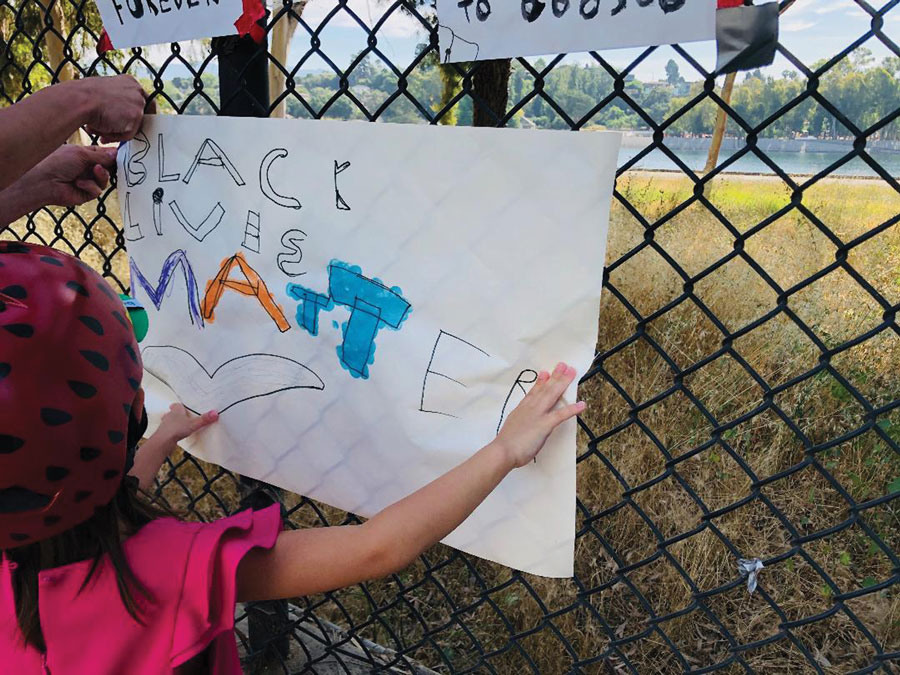 But the root of anti-blackness within the Filipino community runs deep and can be traced to periods of colonialism that have cultivated internalized colorism and classicism that attributes whiteness — in appearance and in demeanor — as superior.
Concepts like racism and discrimination are learned things, and it's universally experienced among Filipinos that from a young age, we are taught a false dichotomy of white versus black; we're often taught that having darker skin is undesirable, that black neighborhoods are always dangerous and other warnings that are rooted in internalized colorism.
Twenty-four-year old Filipina American middle school teacher Lauren Mendoza shared that, growing up, other Filipinos have instilled those same messages within her, messages that have upheld the model minority myth.
"It doesn't make sense in a way that I would excuse it, but I think that a lot of [Filipinos] also really internalized the model minority myth, that Asians are better than other people of color because of these examples of success we're seeing with a lot of Asian groups in America," Mendoza shared in an interview with the Asian Journal.
Mendoza didn't attend the protest on Saturday, but as a science teacher at the Southeast Middle School where the student body is largely black and brown, she is keenly aware of the ways in which institutions put black and brown individuals at a disadvantage.
"As an Asian American it's important to think about both how my experiences as a person of color can help me think about how race plays a really important factor in educating other people of color, and also how, because I'm not a black or brown person, I can see through parts of my privilege that may be blind to ways that I could be preventing my students from having an equitable educational experience," she said.
Understanding that Filipinos and Asian Americans do hold a relative degree of privilege in America — even during a pandemic in which anti-Asian sentiments continue to run rampant — is a tough pill to swallow given the history of Filipinos and Asians in the United States.
But that, too, also presents a conundrum. The recent PBS docuseries Asian Americans details the complicated history of anti-Asian sentiments and legislation in the United States from the Chinese Exclusion Act to the exploitation of Filipino farmworkers.
The history of unbridled racism against Asians is extensive, yet what emerged from the latter end of the 20th century was a boom in Asian American "success," feeding into the model minority myth.
"I think it's really important to understand how much we subscribe to white supremacy and how white supremacy is not just the supremacy of white as in skin color, but it's also supremacy in a form of life that has been built to lift up whiteness," Plata said.
The United States, a country that began based on a protest and speaking truth to power, was a nation literally built on slave labor and exploitation of Black folks as well as non-Black people of color. What emerged from centuries of exploitation was a concept of America as a searchlight towards economic stability based on rugged individualism.
"When you immigrate here, the hope is survival and you learn the rules of what survival means, which is that in order to gain economic access, you follow the rules of the game as they've been painted for you," Plata, who immigrated to the United States from the Philippines as a young boy, shared.
Asian immigrants, especially Filipinos, often follow or seek to follow this paradigm of social and economic mobility, this concept of the American Dream. But Plata explained that by participating in this game and ignoring the systemic shortcomings that put other communities at a disadvantage, we inadvertently bolster the institutional pillars of anti-blackness.
"As immigrants, we are constantly eating up this myth that has been created for us, and that's how we participate in anti-blackness," he added.
Understanding the ways in which Asian Americans, especially Filipinos, participate in a system that upholds systemic discrimination is one of the first steps of standing in solidarity with the Black community.
The farce of assimilation in America among Asians has either unintentionally or intentionally upheld the model minority myth, a perceived white-adjacency cultivated among the Asian American community, Plata explained.
For Filipino immigrants, the stakes are high when they migrate to the U.S. because of the desire to prove oneself to those in the motherland that they can make it in America amplifies, and the thirst to follow the path that had been laid out for them, a path that instills a degree of latent antiblackness among those who follow.
Given the historical treatment of Asians in America, it seems antithetical to be silent on other communities' experiences with racism and discrimination. But the vastness of the Asian American community, which contributes to the diversity of experiences and ideas, creates distance within the community which makes the idea of coming together as one difficult.
"As Asian Americans, we're so separated because culturally we're just so different and we're put under this umbrella and we don't really have this camaraderie that I feel like Latinos and Black people have," Augustavo shared. "But it's really complicated with Asian Americans because we want so badly to be part of the conversation, but I don't feel like we don't really put the effort to put ourselves there."
Augustavo thinks that many Asian Americans "pick and choose conveniently when we want to be involved" in social justice. Recently, the COVID-19 pandemic has catalyzed many successful social media campaigns against anti-Asian racism, which urged people to stand in solidarity for the more than 1,500 Asians who have been victims of harassment, bullying and, in some cases, violence.
In short, those campaigns were seeking empathy for the community and non-Asian allies to stand up for them. In turn, in a world based on equity, it would be incongruous to stay silent amid another community's call for solidarity and action.
Mendoza said that for many Filipinos, it may be difficult to empathize with the Black community and the cause that Black Lives Matter was built on because it's not happening to them, directly.
"Supporting the black community and Black Lives Matter means supporting anti-racism in our country," Mendoza said. "If we don't live in a world where black people aren't protected, the next day it could be another group facing similar forms of oppression."
She brought up the popular analogy of Nazi Germany and the fact that one-third of the population, Nazis, was persecuting another third of the population, Jews, while the other third stood idly by, watching the genocide in real-time.
"It's important that we as Filipinos and Asians not be the one-third of people who are just watching," she said.