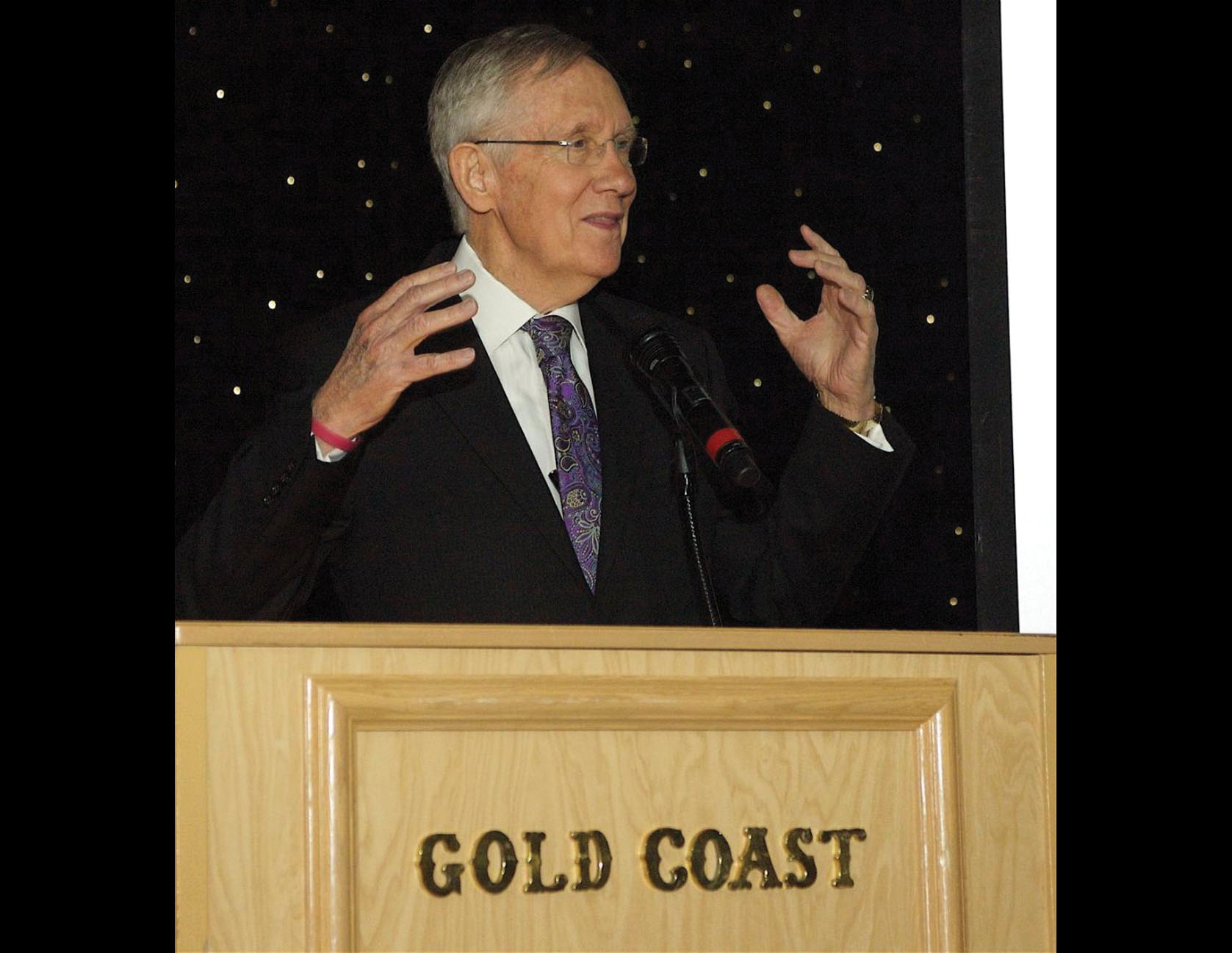 NEVADA residents and community leaders are remembering Harry Reid, the former U.S. Senator majority leader who was the state's longest-serving member of Congress, who died this week at the age of 82.
Reid died on Tuesday, December 28 at home in Henderson, Nevada, after a "courageous, four-year battle with pancreatic cancer."
"Harry was a devout family man and deeply loyal friend," she said. "We greatly appreciate the outpouring of support from so many over these past few years. We are especially grateful for the doctors and nurses that cared for him. Please know that meant the world to him," Reid's wife of 62 years, Landra Reid, said in a statement, according to the Associated Press.
Born in Searchlight, Nevada, Reid's foray into politics began when he was elected to the state Assembly at the age of 28 and two years later became the state's youngest lieutenant governor.
He was elected to serve in the U.S. House of Representatives in 1982 and won his first election in the Senate in 1998, defeating Republican John Ensign.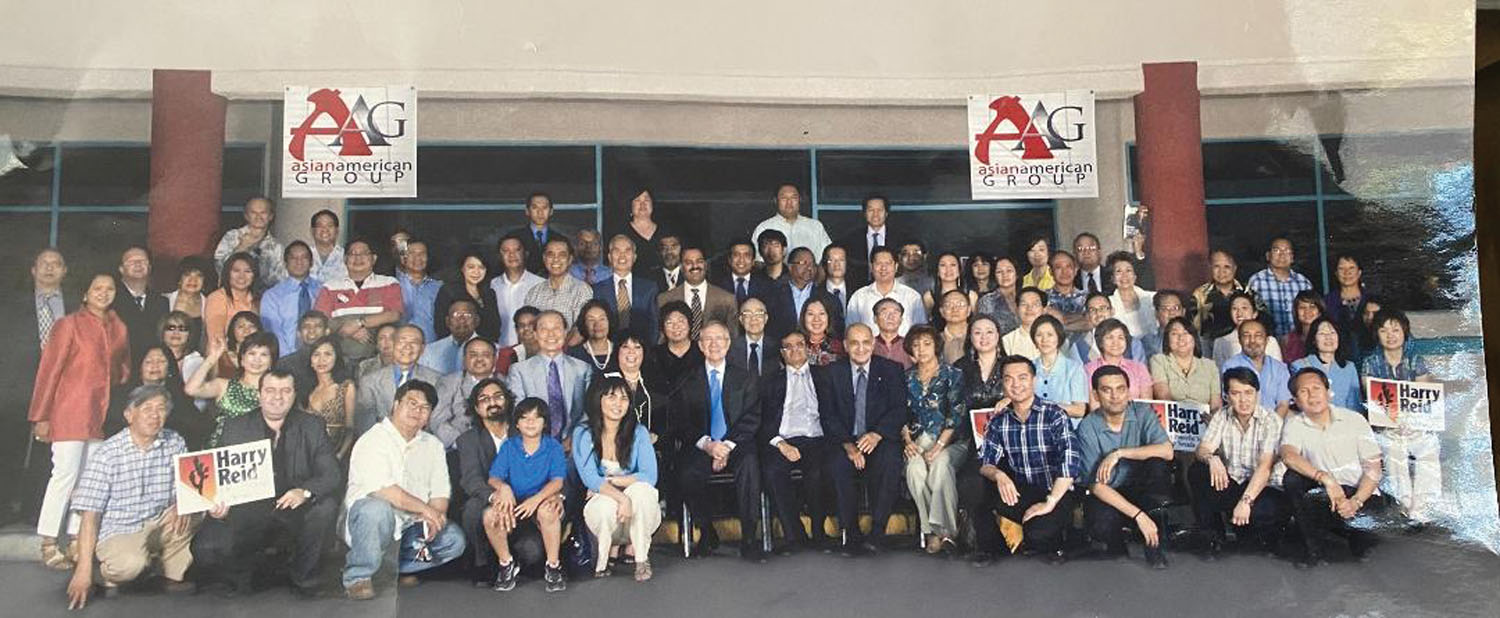 Reid became Senate majority leader in 2007 and was pivotal in pushing the Silver State's caucuses to February, kicking off the presidential nominating season. Reid recognized the power of the state's Asian Americans and Pacific Islander (AAPIs), making an effort to court the electorate and frequently held roundtables with the community.
"The Culinary Union is proud to have called Senator Harry Reid a friend for over 50 years. Senator Reid was a true champion of working families in Nevada and he always stood in solidarity with workers," said Geoconda Argüello-Kline, secretary-treasurer of the Culinary Union Local 226. "Knowing that we could count on his support was always a source of strength for Culinary Union members over the years. His friendship was essential as we fought to ensure that hospitality jobs in Las Vegas could be middle-class jobs with fair wages, good benefits, including free health care and a pension, and job security."
During his time in the Senate, Reid introduced bills fighting recognition and compensation for Filipinos who fought in World War II, earning him the Order of the Golden Heart Award by former Philippine President Gloria Macapagal-Arroyo in 2008.
"[Senator Reid was] a man with a vision for all Americans. He was a friend, a mentor and a fighter for our Filipino Americans veterans. He was one to make sure AAPIs had a seat at the table. We will miss him tremendously," Gloria Caoile, Las Vegas community leader and director of civic engagement at the Asian Pacific American Labor Alliance, told the Asian Journal.
Among his work in subsequent years included the American Recovery and Reinvestment Act in 2009, which included a provision to provide one-time compensation to the veterans — after waiting for six decades. He also introduced the Filipino Veterans Family Reunification Act in 2013, which would have expedited the visa process for children of the veterans. In 2015, he cosponsored legislation to award veterans with the Congressional Gold Medal, which was signed into law by then-President Barack Obama in December 2016.
Earlier in 2016, Reid was among Senate Democrats who joined the U.S. Citizenship and Immigration Services in announcing the Filipino World War II Veterans Parole (FWVP) program, which would allow veterans to apply to bring spouses, children and certain other family members to live with them in the United States.
"After facing decades of injustice and separation from their loved ones, Filipino veterans in Nevada and throughout the country finally have the opportunity to reunite with their families," said Reid said in a 2016 statement. "The President's executive action will help get some family members of Filipino veterans out of the family-based visa backlog, where many have waited for decades. There are more than 100,000 Filipino Americans living in Nevada, and I know how much they contribute to our country. This program is a victory for them and Filipino Americans throughout around the country."
Reid retired from politics in 2016, helping former Nevada Attorney General Catherine Cortez Masto win as his successor.
"The Nevada State Democratic Party and all Nevadans are saddened by the news of Senator Reid's passing. In his many years of service to the State of Nevada and our nation – as a state legislator, Lieutenant Governor, member of Congress, and Senator – Harry Reid demonstrated his deep commitment to his community, his Party, and his country. Senator Reid's work to protect and conserve Nevada's natural resources, one of his top priorities throughout his nearly 50-year career, leaves a lasting legacy across our landscape. His tireless work to build the Democratic Party in Nevada will benefit us for generations to come," said Judith Whitmer, chair of the Nevada State Democratic Party.
In 2018, Reid was inducted into the Nevada Boxing Hall of Fame, expressing his love for the sport.
His impact on the state continues to be memorialized as the Las Vegas airport was recently named the Harry Reid International Airport in 2021, formerly known as McCarran International Airport.
In a tweet on Tuesday, President Joe Biden honored Reid as a "son of Searchlight, Nevada, Harry never forgot his humble roots. A boxer, he never gave up a fight. A great American, he looked at challenges and believed it was within our capacity to do good — to do right. May God bless Harry Reid, a dear friend and a giant of our history." n