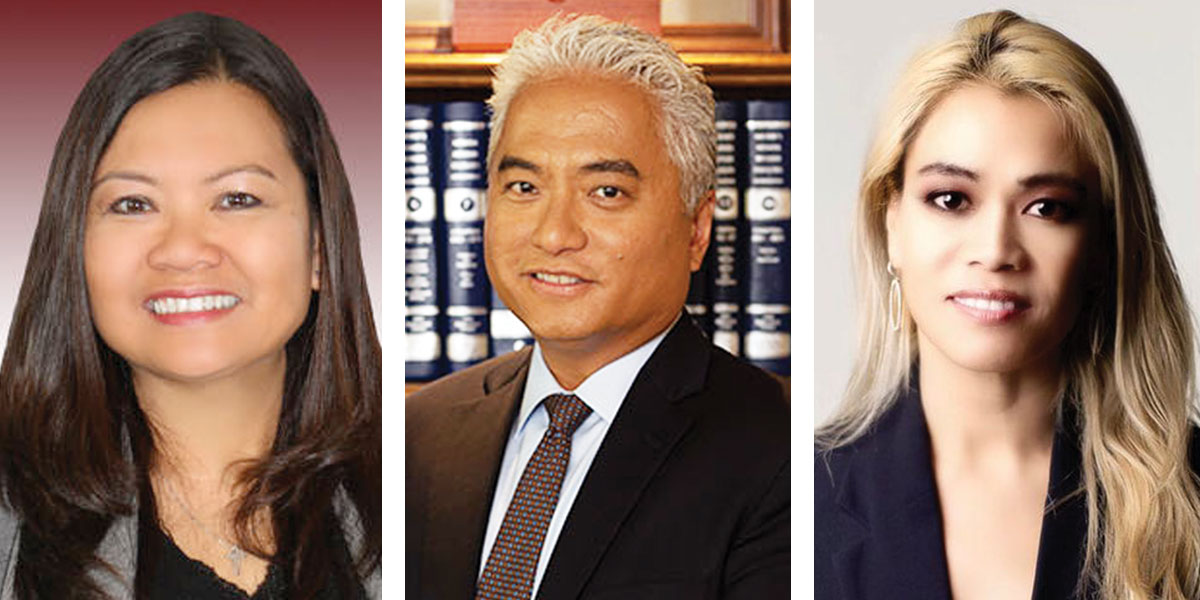 THREE Filipino American attorneys are eyeing judicial posts in Clark County as Nevada holds its primary election on Tuesday, June 9.
Caesar Almase, Maricar "Rica" Andrade and Gemma Nazareno-Edquilang are on the primary ballot, which registered voters in the state received by mail to limit the spread of the coronavirus.
A former Clark County deputy public defender, Almase is among four candidates vying for the Department 21 seat of the Nevada 8th Judicial District Court.
Almase, who moved to the U.S. from the Philippines in 1973, obtained his law degree from West Virginia University and started his legal career in Las Vegas as a law clerk for District Court Judge Valorie Vega.
After spending nearly five years in the county's Public Defender's Office, he turned to private practice and handles criminal law cases.
"My opponents simply do not have the jury trial or District Court experience that I bring to the table," Almase told the Las Vegas-Review Journal. "I'm in court almost every day for a variety of proceedings. As a voter, you need to consider what type of judge you'd want in your trial. If you had a trial in District Court, would you want a person with very little jury trial experience?"
Andrade is seeking the judgeship for Department Y of the District Court's Family Division.
Family Court handles cases involving divorce, annulment, child custody, visitation rights, child support, spousal support, community property division, name changes, adoption, and abuse and neglect.
Andrade, who immigrated to the U.S. at the age of six, went on to earn her law degree from the University of Nevada, Las Vegas' William S. Boyd School of Law. She has been practicing family law for 12 years and was appointed to be a pro tem hearing master in 2014.
"Family court judges have strong influences over people's lives and families. If the community continues to elect judges who are representative of only a certain group or who belong to a certain class, this can have long-standing effects on its citizens," Andrade said on Ballotpedia. "In order to have decision-making power and make real change, we need to elect people who we believe will bring our voices, concerns, and issues forward. Rich, affluent people can afford to litigate their family court cases and are in a better position than their counterparts. It is important to elect people who come from the communities that they serve because they have a true understanding of common struggles."
Outside of law, Andrade co-founded nonprofit organization Bamboo Bridges, which brings culturally relevant services, such as domestic violence and sexual assault advocacy services, to Asian American and Pacific Islander women and families in Southern Nevada.
Nazareno-Edquilang, a resident of Clark County for over 18 years, is competing for the Department T seat of the District Court's Family Division.
She obtained her law degree from Santa Clara University School of Law and has been a licensed attorney in Nevada since 2001, focusing on family law, general civil litigation, personal injury, estate planning, probate, and immigration.
A candidate who wins more than 50% of the vote in the June primary will win the election. If no one receives the majority vote, the top two candidates will advance to the general election in November.