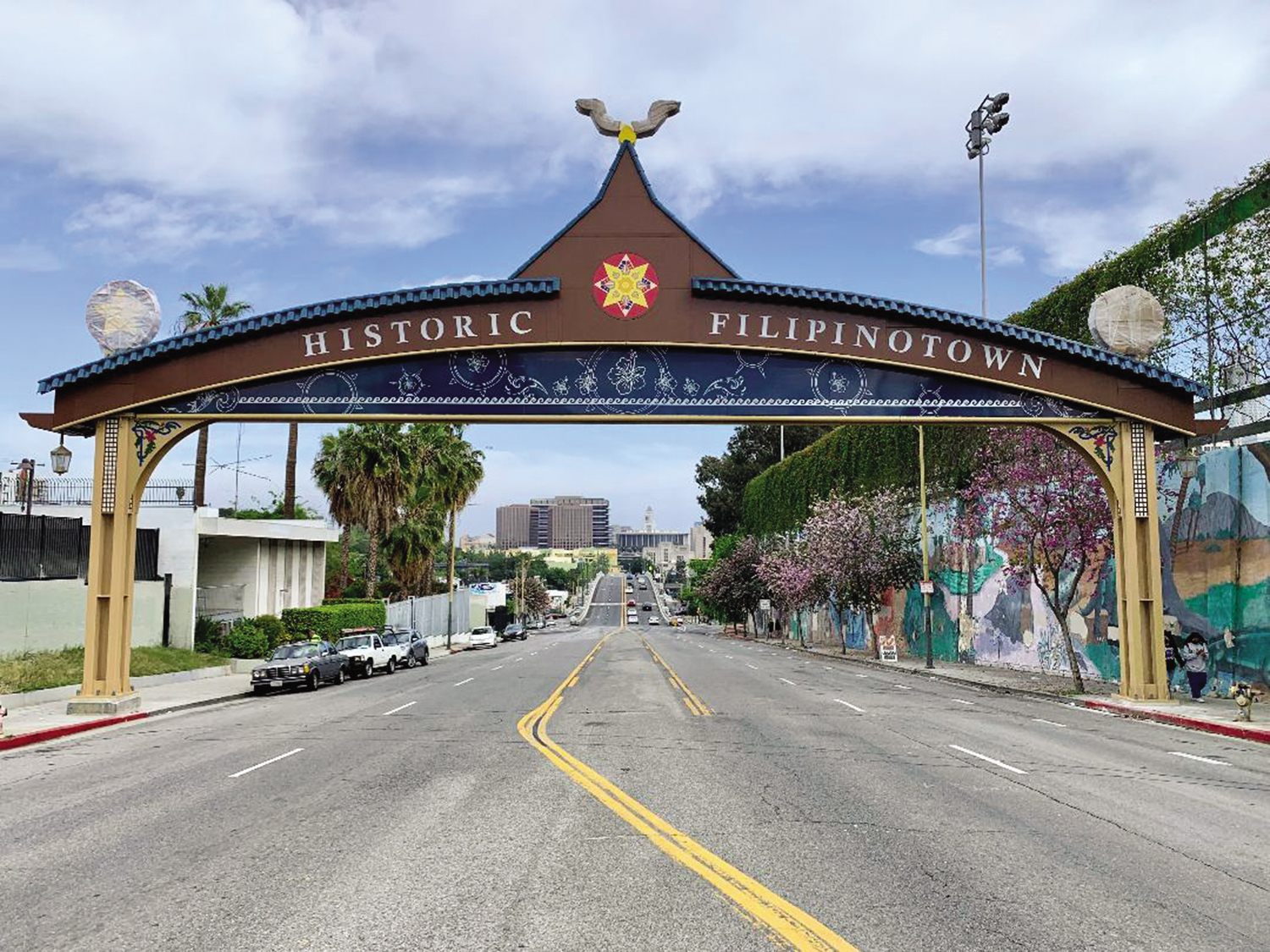 The long-awaited landmark celebrates the Filipino American community
A community celebration to officially unveil the Historic Filipinotown Eastern Gateway will be held on May 7, following the landmark's installation at the beginning of April.
Rising 30 feet high and spanning 82 feet across the width of Beverly Boulevard at the eastern entrance into Historic Filipinotown, "Talang Gabay: Our Guiding Star," was designed by Filipino artist Eliseo Art Silva with Celestino Geronimo, Jr.
"This past weekend, we installed the beautiful new gateway in Historic Filipinotown, and I have one thing to say: Wow!" said Councilmember Mitch O'Farrell, who represents Historic Filipinotown. "This community is so deserving of such an iconic, impressive landmark. The Historic Filipinotown Eastern Gateway pays fitting tribute to the incredible contributions of the Filipino community in Los Angeles and beyond."
The gateway features numerous design elements including: the Parol; the Gumamela flower also known as hibiscus, which pays tribute to frontline workers; and the Sarimanok – all symbols with deep roots in Filipino culture. Crews completed the structural installation this past Saturday, April 2.
"The Historic Filipinotown Eastern Gateway project has been nearly two decades in the making," said Jessica Caloza, former commissioner for the City of Los Angeles Board of Public Works. "It's a monument not just for the Filipino and Asian community, but for all immigrant communities who come to Los Angeles to build a life and a home. The gateway represents that hope and dream of what's possible and thanks to the community, our elected officials, and so many partners, it's now a reality."
Councilmember O'Farrell, joined by local leaders and community members, will officially dedicate the Historic Filipinotown Eastern Gateway with a community ribbon-cutting on Saturday, May 7, 2022 at 4:00 p.m. at the intersection of Beverly Blvd and Belmont Ave. The celebration will include food, music, and dance performances. Residents interested in attending are encouraged to RSVP at bit.ly/HiFiGateway.
"2022 is a huge year for SIPA and Historic Filipinotown. Not only are we celebrating 20 years of the Historic Filipinotown designation, but SIPA is also celebrating our 50th anniversary," said Kimmy Maniquis, executive director of Search to Involve Pilipino Americans (SIPA). "The Talang Gabay gateway is a beautiful symbol of a neighborhood that holds great significance to Filipino Americans in Los Angeles and we are proud to have been part of the process. As SIPA opens our community center on Temple street later this year, we celebrate with the City of Los Angeles and our fellow legacy organizations in creating long-standing cultural markers that will honor the Filipino American community for generations to come." n