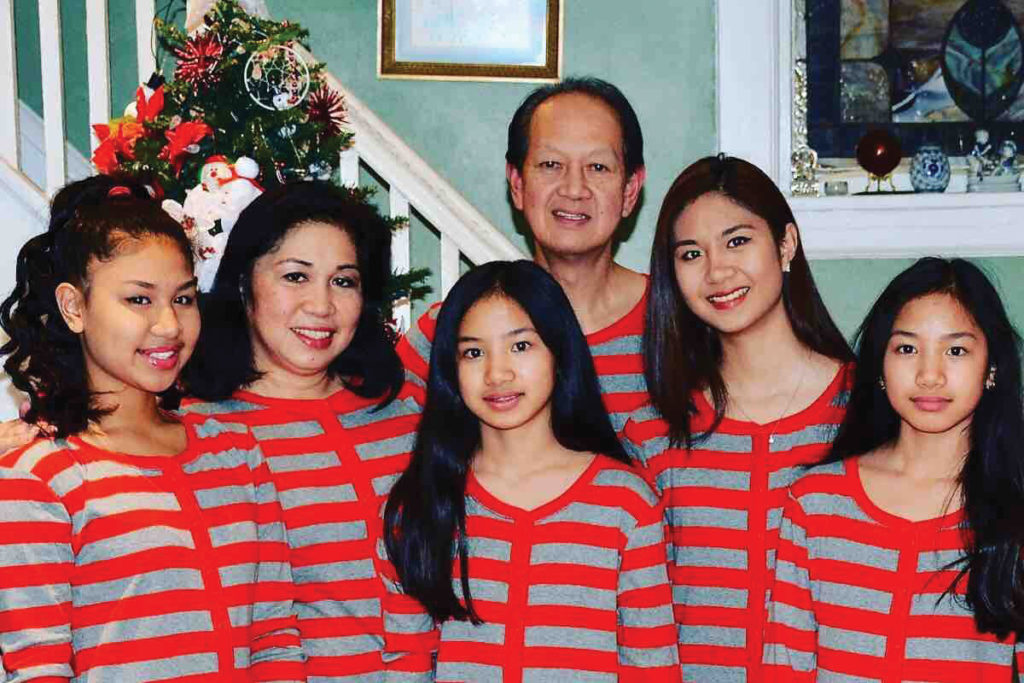 Mary Rose Ballocanag, the only surviving member of the Trinidad family in the fatal car crash in Delaware last July 6, buried her husband Audie and their four daughters Kaitlyn, 20; Danna, 17;  and 13-year-old twins Allison and Melissa this weekend.
 The public visitation was held on Friday, August 10 from 3:00 p.m. to 9:00 p.m. at St. Anastasia Roman Catholic Church at 1095 Teaneck Road, in Teaneck. The funeral services were held on Saturday, August 11 at Fairleigh Dickinson University's Rothman Center at 100 University Plaza Drive in Hackensack, New Jersey. A private cremation followed at Rosedale Crematory in Orange.
"Physical is nothing but it is the pain inside that is unbearable," Ballocanag said in a press conference at Kessler Rehabilitation Center last week. "I just have to do what I have to do so I can seek justice for them, that's why I am here. So that's what I am going to do, I am gonna get better and seek justice for my family."
 Audie Trinidad was a postal worker in Bronx, New York. Kaitlyn, known as Nikki, was a nursing student at the College of Mount Saint Vincent in the Bronx. Danna was a junior at Teaneck High School. The twins, Melissa and Allison, attended Thomas Jefferson Middle School in Teaneck, according to an obituary for the family.
 Diane Lucianna, Ballocanag's lawyer said that she has a broken left arm with infection, both knees are fractured with surgery, she has fractured ribs, shoulder and right hip. The 56-year old nurse has been recovering at the Kessler Institute for Rehabilitation in Saddle Brook.
 They also said that they are going to investigate whether the Delaware Department of Transportation should have a divider up on the 60 feet wide grassy median on Route 1, as they are considering the other civil and criminal aspects of the case.
The driver of the Ford F-350 truck that hit the Trinidad family's van just reportedly finished his job in Newmarket, Delaware and was going back to Cambridge, Maryland where he is reportedly from. After crossing the median, he hit a white car driven by a young man who made it out alive, before the head on collision with the Trinidad family van.
"It was 3:45 in the afternoon, not late at night and not on his own time, and he was driving a work vehicle loaded up with construction equipment and metal," said Lucianna. "This has to be a criminal act, not negligence."
The lawyers also said that it was ridiculous that weeks after the horrific crash, no charges had been filed.
The investigation is expected to take months, according to officials from the Delaware State Police and Attorney General's Office. 
"I spoke to Deputy Attorney General Axelrod, he doesn't want to say too much, he says he wants to conduct his investigation right. He doesn't want to be influenced by outside forces. He doesn't want to be criticized," Lucianna said.
She also appealed to viewers to call lead investigator from the Delaware State Police, Cpl. John Forrester at (302) 365-8485 if they witnessed the accident or if they know anything about the truck driver.
"Alvin Hubbard hasn't said sorry. The man was wrong on how he drove. Not once has he reached out to the family and say 'I am sorry'," lawyer Frank Carbonneti said. "We will file a lawsuit against Hubbard and the company that he works for. We are investigating whether the Delaware Department of Transportation has fault but that's secondary."
 "I have to bury my husband and four daughters," Ballocanag said in between sobs. "I want justice for them and I want to see him criminally prosecuted. All my broken bones and injuries will heal, but not the unbearable pain in my heart."
The local community in Teaneck led by the classmates of the daughters and the Filipino American community held a candlelight and prayer vigil at Votee Park, with friends, relatives and neighbors lighting candles, leaving mementos and sharing stories.
 A GoFundMe for the family has raised $292,044 as of press time, with more than 7,500 donors and counting and becoming viral on social media site Facebook, with more than 63,000 shares and an outpouring of supportive messages.