FRESH off the heels of the highly successful opening of "Crazy Rich Asians" is yet another groundbreaking film meant to raise the profile of the Asian American community.
It is called 'Searching', it stars John Cho and it is a psychological thriller. The film, directed by Aneesh Chaganty with a script he co-wrote with Sev Ohanian, makes history with the casting of Cho in the lead role.  
"That is part of the deep satisfaction I get from showing this to audiences, we're seeing an entire Asian American family onscreen, not just the side character but an entire loving family and that gratifies me," the 46-year-old Cho told the Asian Journal in an interview. "I am very proud of who made it, who I made this film with, who it shows and who it's for."
The Star Trek actor also shared that when the script was sent to him, he said no at first. It is a genre flick, viewed entirely through a computer screen.
"[It's] because of the technology part. I said I don't know if this is possible and I was not sure if I wanted to do it. I watched 'Unfriended' and even though I liked the movie, I was like I'm not sure if this is something I want to do," he explained.
There will be comparisons with "Unfriended," but Cho is unfazed.
"Our movie is a lot different. I was worried that it wasn't going to be very cinematic," he said.
"I met with Aneesh and he pitched me his version and he said we are going to move the camera in the sense that we were going to do pans and zooms and in the sense, we were going to do a traditional movie," Cho added. "I saw something in him and felt a connection with him. I was impressed by his skill and said why not."
Upon seeing the film's final cut for the very first time, Cho grabbed his phone and texted Chaganty.
"I told him that he has added to the vocabulary of cinema. That is really hard to do and I was so impressed with him with the final product," Cho said. "It represented so much work possibly more than any movie I have ever done."
For Cho, the finished product went so far from what they did on set to where it landed and credits the creative crew for painting this world he and his family had to live in.
"I like putting a foot forward with a movie like this that is written and directed by two exceptional people of color and have a whole Asian American family and have it be in a genre that is sort of mainstream popcorn kind of movie," added Cho.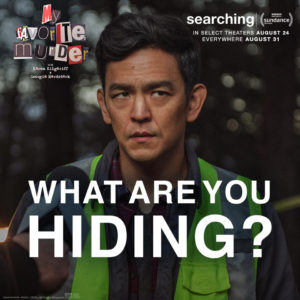 Film background
Aneesh Chaganty and Sev Ohanian met in film school at the University of Southern California. They co-wrote a piece together called Seeds, a two-minute project that was shot on Google Glasses.
The small film opened the doors for them, and Aneesh went on to New York to write and direct commercials for Google, which he did for two years. Sev continued on wearing his independent producer's hat and he met with the producers of Unfriended who wanted them to come up with a short film follow up, shot on a computer screen.
"That was way more exciting for me than a feature film because I didn't think a feature film was possible on a computer screen," Aneesh told the Asian Journal.
Bottomline, they pitched an eight-minute short film to the producers only for the producers to tell them back that they had shifted gears and wanted a full feature.
"I said no and Sev was kicking me under the table. What they were asking was for us to stretch eight minutes to 90 without being gimmicky," he added.
For the next two months, the two of them would bounce ideas off of each other because nothing so far was sticking. Then one day, Aneesh told Sev that he had an idea. Over the phone, they shared their idea of an opening scene and lo and behold, they had the same concept.
"That moment, there was a light bulb that went off and we realized the potential of this idea, this conceit. We realized that there was a way to make this movie and not have 90 minutes of gimmick but 90 minutes of cinematic, engaging and emotional film," Aneesh explained.
The opening sequence they discussed over the phone is a montage of events that happened in 17 years, and it happened to be one of Cho's favorite scenes.
"Creating all those memories of home life that you see on the first seven minutes, the montage. That was a challenge to make it real and draw up on my own life and I liked that," he said.
In the end, what they have now is a thriller that is 135 minutes long.
"I thought it was going to be longer. The fact that we got it into 130 is a victory for us. That, to me is the perfect length," Sev added.
The film has built a following of sorts, starting when they screened at the Sundance Film Festival earlier this year. They have been to various film fests across the country, including the recently concluded Asian American International Film Festival in New York where Searching was the opening night film.
"It has been great to hear people tell us what they like about the movie. We've had feedbacks telling us how engaged they were, how they were on the edge of their seats and how the twists and turns surprised them," Sev said. "You can't get told that enough and not feel great about it every time."