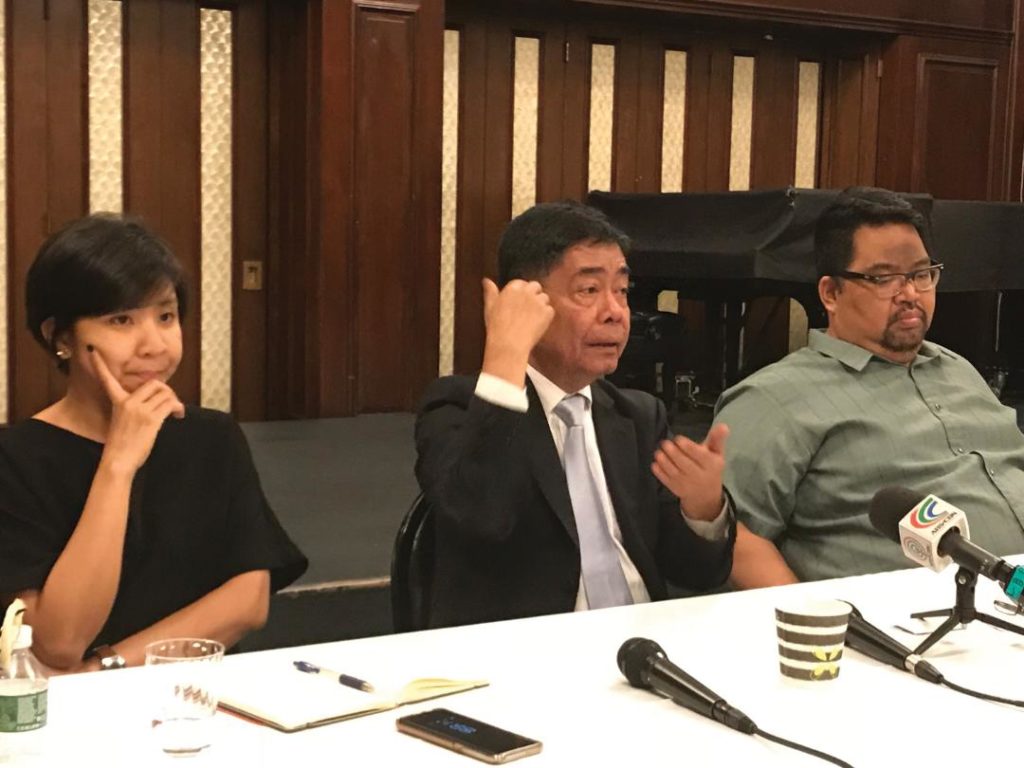 Ambassador Claro Suarez Cristobal, a career diplomat with the rank of Chief of Mission I, took his post as Consul General of the Philippines in New York on June 30, 2018.
His first official event was a meeting with the local media covering the community. At a free wheeling discussion that lasted for almost two hours, Consul General Cristobal shared his story, along with his hopes to engage the community at large.
This new assignment is his third time to be posted in New York. From 1990 to 1993, he worked as Third Secretary at the Philippine Mission to the United Nations and from 1993 to 1997 as a Consul at PCGNY. He returned to the Mission as a Minister from 2000 to 2002 and now he is back as the Consul General.
"I have never received a warmer reception, it is like 105 degrees Fahrenheit in Central Park," Cristobal said as he welcomed the press on July 3rd, when record temperature was recorded and the city was in the middle of a scorching heat wave.
Before his current posting, he served as Director-General of the Foreign Service Institute (FSI) beginning on 2 July 2015. He has also served as Philippine Ambassador to the Arab Republic of Egypt from December 2011 to June 2015 and Consul General of the Philippines in Hong Kong from April 2009 to December 2011. He was also Minister and Consul General at the Philippine Embassy in Tokyo from September 2002 to January 2007.
In the Home Office, Con Gen Cristobal served as the Spokesperson of the Department of Foreign Affairs from February 2007 to April 2009, Special Assistant at the Office of the Secretary from 1998 to 2000, Special Assistant at the Office of the Undersecretary for Policy in the latter half of 1997, and Assistant Director at the Office of Asia and Pacific Affairs from 1988 to 1990.
Before joining the Philippine foreign service, Mr. Cristobal was Professorial Lecturer in Economics at the De La Salle University-Manila, Finance Manager at Cocomark, and Instructor in Social Sciences at the University of the Philippines. He was a Presidential Citation Awardee in 2009 and 2010 and a Gawad Mabini Awardee in 2007 and 2012.
He graduated from the University of the Philippines with a Bachelor of Arts in Philosophy (cum laude) in 1974 and a Master's degree in Economics in 1979 and completed all course requirements for a Ph.D. in economics also from the University of the Philippines.
"[A career in foreign service] was not part of my dreams. I wanted to be a lawyer but I ended up teaching," he shared when asked about his journey to becoming a diplomat.
Then a friend asked him for help in reviewing for a Foreign Service Officer examination. To make a long story short, he ended up taking and passing the FSO exam. He was already in the private sector then but he wanted to see what the government had to offer.
With a family and three sons, plus mortgage payments and tuition fees for the kids, he decided it was not a sound decision so he lost his eligibility. Then the 1986 People Power revolution happened and in 1987, he received an invitation from the Department of Foreign Affairs giving him a last chance if he still wanted the job.
He jumped at the opportunity because he was getting bored in his private sector job, which he took after working for five years in the academe.
"I found a career that never got me bored," Mr. Cristobal said. "Almost every 2 to 3 years, I get to do something different. This is my fourth in New York but I will be doing something very different from what I used to here."
"I didn't prepare for this but it seems like my life has been leading up to it. It looks like serendipity, somebody up there was planning," he added.
With his experiences in Hong Kong, Tokyo and Egypt, Cristobal said he is looking forward to working and partnering with the community in order to serve their needs.
"It is a must to engage the community and if that means attending events and meetings even during the weekends, then so be it, that's the job," he said. "If you want to have a deep engagement with the community, you have to be where they are."