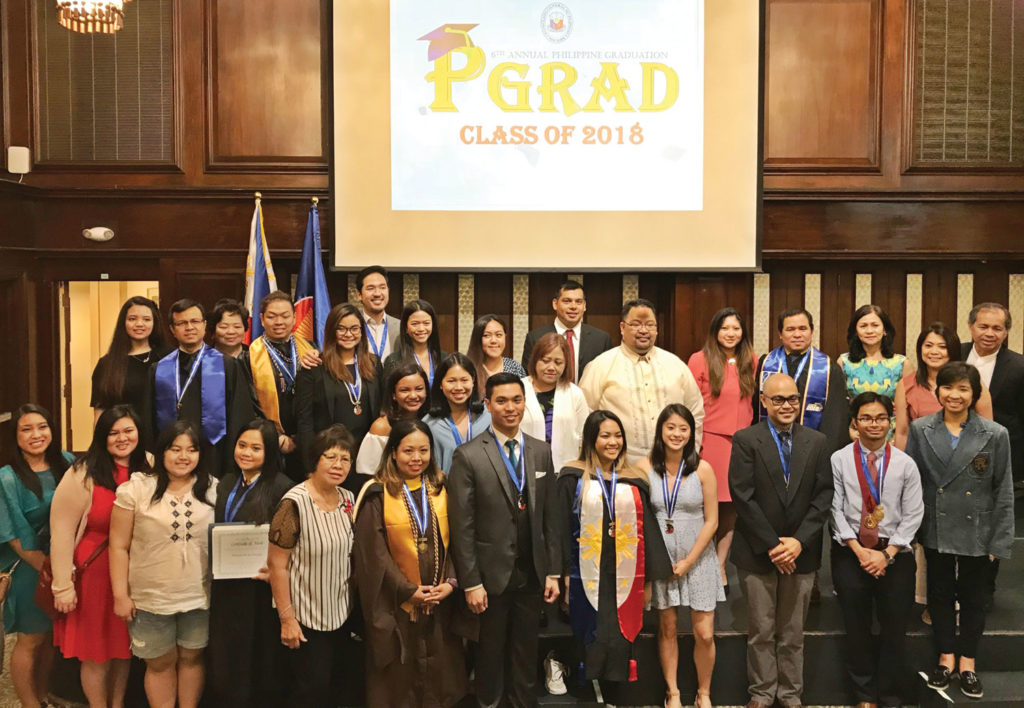 The Philippine Consulate General in New York (PCGNY) hosted the 6th Annual Philippine Graduation (PGRAD) last June 9 at the Philippine Center's Kalayaan Hall. The PGRAD is one of the PCGNY's legacy projects for the Filipino-American youth.
 Thirty one graduates of bachelors and masters degrees were part of PGRAD Class of 2018, finishing various programs in Social Studies, Law, Women's Studies, Health and Medical Sciences, Media and Communications, Mathematics, and Information Technology. 
In his welcome remarks, Deputy Consul General Kerwin Tate congratulated the graduates and parents for their academic achievement, and wished them success in their professional and personal lives.
Opening Keynote Speaker Aries Dela Cruz, Manhattan Regional Representative for the Office of Governor Andrew Cuomo, impressed upon the newly graduates the value of edication to Filipinos, and the responsibility of having knowledge in our world today. He shared that every influential man or woman had one thing in their hands that changed the course of history. He urged everyone in the audience to use their degrees for purposes that embody their values.
New York Assemblyman Brian Barnwell, represented at the event by Ms Erika Dioquino, relayed his congratulations to the celebrants, and recognized their contributions to New York, acknowleding that "a great state is only as good as its constituents."
During the intermission, City College of New York Baruch College's Fusion Modern Dance Group performed a pop number that energized the crowd.
Achieving their dreams
New York University graduate of Bachelor of Arts in Public Policy, Global Public Health, and Sociology Janelle Micaela Panganiban was awarded a Special Personal Letter by Governor Cuomo and a Special Citation by Assemblyman Barnwell, after earning her Summa Cum Laude in all her programs. She is a member of the Gaddang indigeous tribe in Isabela, Philippines.
Also among PGRAD's Class of 2018 is Chiara Abaquin who graduated magna cum laude from Boston College – Lynch School of Education with a double major in Applied Psychology and Elementary Education.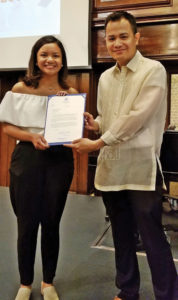 "I just wanted to learn as much as I could. I always did my best but it was not my end goal to be magna cum laude," she shared.
Chiara was presented with the Patricia M. Coyle Award, which is "given to the graduating senior in Elementary Education who is a clear thinker in her field, able to translate the theories of child development and learning into the practice of teaching young children with enthusiasm and love; a person who is a thoughtful, reflective teacher; perceptive and sensitive to the needs of the children."
The young educator has set her sights for the Harvard Graduate School Education this August, for the intensive Master of Education program in Mind, Brain, and Education.
Alongside the Coyle Award, she was granted the Matthew R. Copithorne Scholarship, presented to graduates "exhibiting the qualities of character, industry, and intelligence who plan to do graduate study at Harvard or MIT".
At the awarding ceremony, Chiara said she didn't even which awards she won.
 "It was a real honor, everyone among my cohorts is competitive and they all come from different backgrounds. It is so nice to be given the privilege to be with them onstage and receive these awards," she shared.
 Looking beyond 2019, Chiara is hoping to finish her masters program and gain teaching experience here in the United States before going back home to share everything that she has learned.
 "I was hoping to get into teaching here for a bit and get more into curricular work because the curriculum in Massachusetts is so strong. After a couple of years working here, I plan to go back to the Philippines," she said.
Chiara graduated at the top of the Multiple Intelligence International School (MIIS) Class of 2014, where she was an active member of the International Relations Organization, the fencing varsity team, and the MI Stage and public speaking club. She was also the Student Council Vice President, as well as the Team Captain for the Mathematics Teachers' Association of the Philippines (MTAP) Math Challenge.
Her parents Ramon and Mary Joy Abaquin run the Quezon City-based private school, which was founded in 1996.
 It is the first educational institution in the Philippines that has based its approach on the multiple intelligence framework of Harvard-based cognitive psychologist, Howard Gardner. The MI approach, which is implemented in the United States and other countries, backed by recent research on how children learn, is responsive to the needs of the 21st century.
"Education is key to national development so that Filipinos have an option and they could be competitive globally," Chiara's mom Joy said. "The kids who come out of our school, their mindset is to go out and come back."
The school is one of only five international schools in in the Philippines accredited by the Council of International Schools. (Momar G. Visaya)