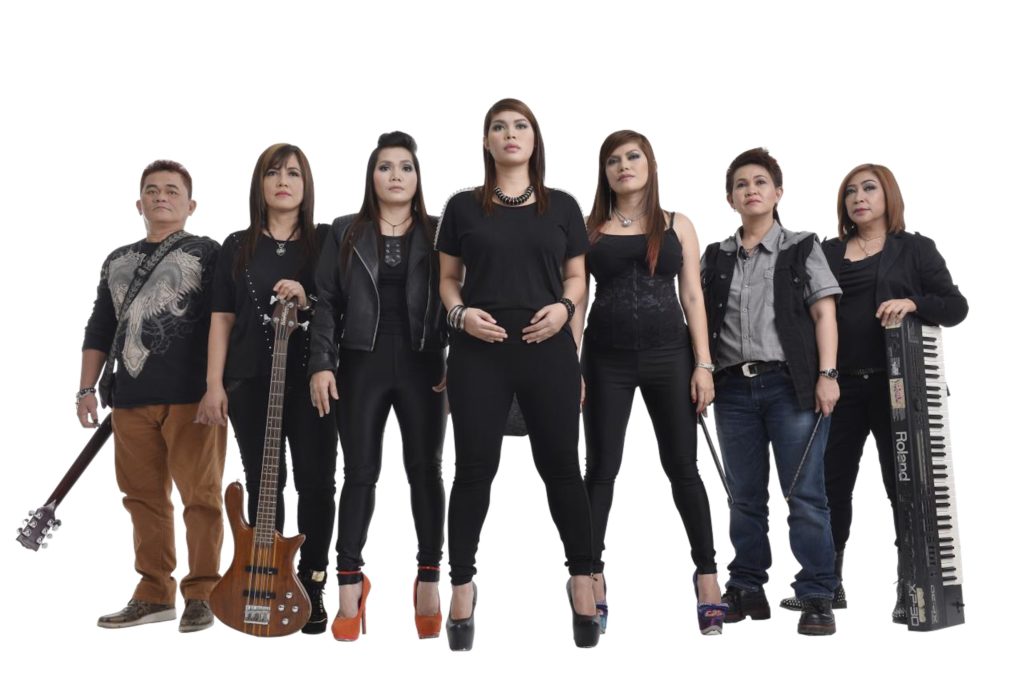 One of the most popular OPM (Original Pilipino Music) bands in the Philippines gets to perform before their Filipino American fans as Aegis takes centerstage at the Pano Hall in Thunder Valley Casino & Resort in Lincoln, California on April 6 starting at 8pm as part of their worldwide album tour.
Composed of seven members – Juliet Sunot, Mercy Sunot-Borjal and Kris Sunot of Cagayan de Oro City, Stella Maries Galindo-Pabico of Misamis Oriental, Vilma Goloviogo of Manila, Rowena "Weng" Pinpin-Adriano of Pampanga and Rey Abenoja of Southern Leyte – the band has been churning out albums and hits since 1998.
Initially belonging to different bands but handled by one management company, AG Talent Development and Management headed by Mr. & Mrs. Solito Galindo, the group's members were put together in the early '90s to form the AG's Sound Trippers Band. In 1998, the band's name was changed to Aegis.
According to the group, their band's name is a shortened version from the initial band name coined from their last names (Abenoja-Galindo), AG's, which morphed into Aegis. Also, the band decided to adapt the word Aegis, which means "shield" or "protection" in Greek Mythology because they want listeners of their songs to be protected and shielded from loneliness. As most of the songs in their albums are love songs, the band is hoping that music lovers will find their songs as protection from being lonely and broken-hearted.
Among the albums released by Aegis are "Halik," "Mahal na Mahal Kita," "Ating Sayawin," "Paskung-Pasko," "Ating Balikan," "Muling Balikan," "Aegis Greatest Hits," "Aegis Greatest Hits Vol. 2" and "Back to Love," which contains some of their most requested cover songs. Aegis has also released a 20th anniversary album which contains all original songs, with Ken Sunot and Rey Abenoja composing some of the album's songs. Most of Aegis' signature hits were composed by the late Cesar Abenoja, a former band player and prolific songwriter.
Aegis has earned gold, platinum and multi-platinum status for some of their albums. The band has also won a few awards, including an Awit Award for Best Christmas Recording (2001), an Aliw Award for Best Major Concert (Group) in 2017, and an OPM Icon For All Ages Award (Magandang Buhay, ABS-CBN) in 2017.
The Aegis band is known all over the Philippines as their songs have been featured as theme songs in popular soaps. In 2005, the band sang the theme song of "Krystala" featuring Judy Ann Santos which aired nightly on ABS-CBN, as well as the theme song for "Rated K." In 2007, they sang "Kisapmata," the theme song for the GMA-7 show "ESP."
In 2012, they performed "Hindi Sumusuko," the theme song for TFC. Six years later, Aegis performed the song "Ako'y Ako," the theme song for ABS-CBN's "The Blood Sisters." That same year, 2018, the group's song, "Halik," was chosen by ABS-CBN as the title for the drama series featuring Jericho Rosales, Yam Concepcion, Sam Milby and Yen Santos.
The band has guested in popular Philippine TV shows in different stations, including "Tonight with Boy Abunda," "It's Showtime," "Rated K," "Sarah G Live," "Gandang Gabi Vice," "ASAP," "Wowowee," "Eat Bulaga," "Kapuso Mo, Jessica Soho," "Wowowillie," "Wiltime Bigtime," "Letters and Music," "Wish FM" and "PenPen de Sarapen." They have also appeared in a couple of movies ("My Bebe Love: #KiligPaMore" and "This Guy's In Love With U Mare"), and have had endorsement deals with Puregold, Alaska and Andok's.
Internationally, Aegis has thrilled their fans by performing in international tours in North America, the Middle East, Europe, Asia and Australia.
According to the band's members, they had never dreamed of becoming recording artists and role models. For them, earning a living through music, and performing in clubs and lounges all over Japan was enough – it was enough that they could earn a few lapad's, stay in nice hotels overseas, indulge in great food, and have some extra money left to send over to relatives in the Philippines.
But success came to them which gave them the opportunity to perform locally and overseas, and share their music with their fans. As long as there are Filipinos and fans anywhere in the world who long for great music, Aegis says they will be there to provide that.
Tickets to their almost sold-out show on April 6 at the Thunder Valley Casino & Resort are still available by calling TicketMaster at 800-745-3000, or by calling Thelma (510) 386-7737, Donnie (916) 335-2930 or Aries (510) 421-3335. VIP ticket holders and audience members who purchase Aegis merchandise will have a photo opportunity with the band. [Guests must be 21 to attend; those between ages 13-20 must be accompanied at all times by an adult 21 years or older.]
(Advertising Supplement)