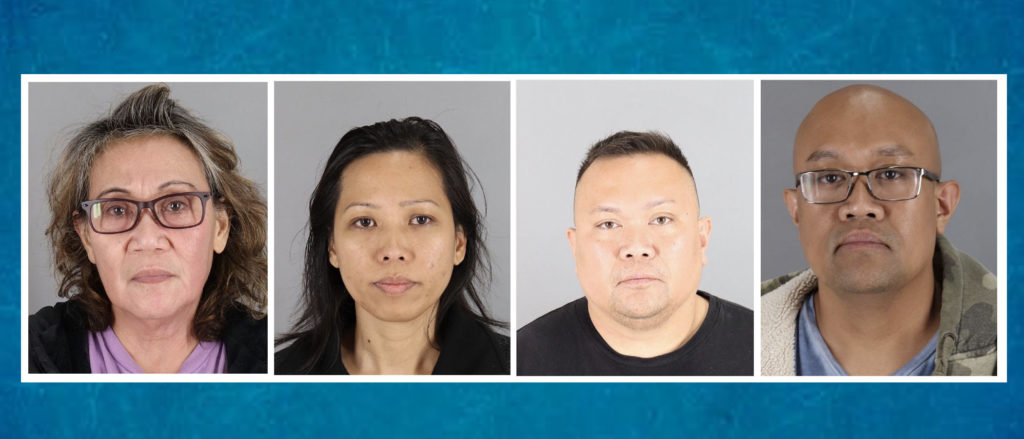 Most of victims were Filipino, said Attorney General Becerra
The Filipino owners of six Bay Area adult and child day care facilities were charged last week  for numerous violations including human trafficking, wage theft, possession of illegal weapons, and rape.
A  total of 59 charges were filed Friday, September 7, against four members of the Gamos family — Joshua, 42; Noel, 40; Gerlen, 38; and Carlina Gamos, 67 — who while operating their four adult care facilities and two child care facilities in the Bay Area, employed and exploited mostly Filipino immigrants.
At a news conference Friday, California Attorney General Xavier Becerra said that it was the workers who "helped bring this case to light."
"It is the workers who are the greatest victims of Rainbow Bright and its operations. Most of the workers are Filipino immigrants," he added. 
Of the charges, 26 were for grand theft of wages and labor, totaling around $8.5 million, according to Becerra.
 Eight of the charges were for human trafficking and violence, and three were for rape. Noel and Joshua Gamos were also accused of offering female employees gifts in exchange for sex acts.
According to the complaint, the alleged abuse happened between 2008 and 2017.
The charges are a result of a yearlong investigation by the attorney  general's Office Tax Recovery and Criminal Enforcement (TRaCE) Task Force, and involving the San Mateo County District Attorney's Office; the U.S. Department of Labor; the California Department of Industrial Relations; the California Department of Social Services; and law enforcement departments in Pacifica, South San Francisco, and Daly City.
"While the employees were providing by all accounts loving care, they were doing so under egregious circumstances," said Becerra.
The complaint said that employees at the Rainbow Bright facilities were promised a room to sleep in and food while working as live-in caregivers. They were also told that they would receive a monthly salary between $1,000 and $1,200 for eight hour work days, five days a week.
Instead, the employees were forced to work nearly 24 hours a day while employed at the defendant's Rainbow Bright Daycare facilities, according to the complaint. Employees were also forced to sleep on floors and garages, and were locked outside in the rain when the owners were not home.  They were also threatened to be turned over to U.S. immigration officials, and had their passports confiscated by the Rainbow Bright executives.
"No worker in the United States should live in fear or be subjected to violence, abuse or exploitation at the hands of their employer," said  Becerra.  "The charges against the Gamos family members are despicable. We must not turn a blind eye to abusive labor practices.  Report it, and we will investigate and prosecute."
Fourteen illegal assault weapons were also seized by agents serving the arrest warrants.  Three of the assault weapons were "ghost gun" rifles, meaning they did not have serial numbers, according to a statement released by Becerra's office.  Ghost guns allow for bypassing registration regulations and background checks.
"What's most painful as we discuss this is is this is happening in neighborhoods," said Becerra.  "This could be happening in your  backyard, in your neighborhood, with people you believe are living a  regular life and being cared for." (Rae Ann Varona/AJPress)