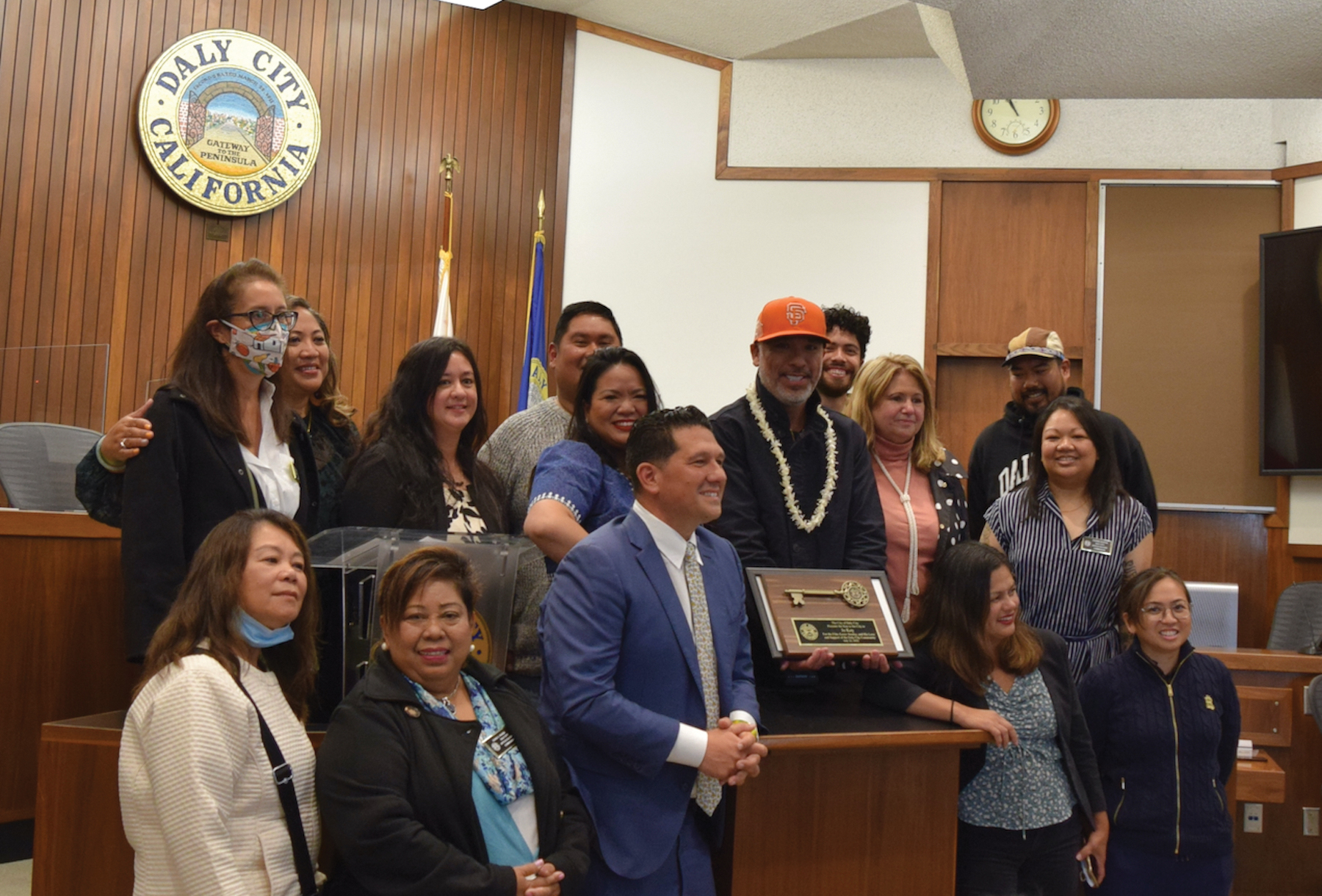 COMEDIAN Jo Koy was presented with a Key to the City of Daly City in the city council chambers in simple ceremonies on Friday morning, July 22.
Accompanied by an entourage that included his sister Gemma, son Joseph Herbert Jr., Easter Sunday scripwriter Ken Cheng and friends and supporters, Jo Koy, who is Joseph Glenn Herbert Sr. in real life, received the commemorative plaque from Daly City councilmembers Juslyn Manalo and Pamela DiGiovanni. Daly City Mayor Rod Daus-Magbual, Vice Mayor Raymond Buenaventura and Councilmember Glenn Sylvester could not make the ceremony due to previous commitments.
Koy also received a special citation from the County of San Mateo, represented by San Mateo County Supervisor David Canepa, declaring July 22 as Jo Koy Day in the county.
"It is with great honor to present this key to the city on behalf of the Mayor, the city council to you, Jo Koy. And with the significance of the key, it is from your sheer talent to make people laugh and as Joey Guila said, heal people… laughter is healing… and the key represents opening doors, literally bringing others along with you in a bayanihan spirit and the value of kapwa," Councilmember Manalo said, after which she read the words inscribed on the plaque.
And in true Jo Koy fashion, the comedian had people laughing in stiches during his acceptance speech.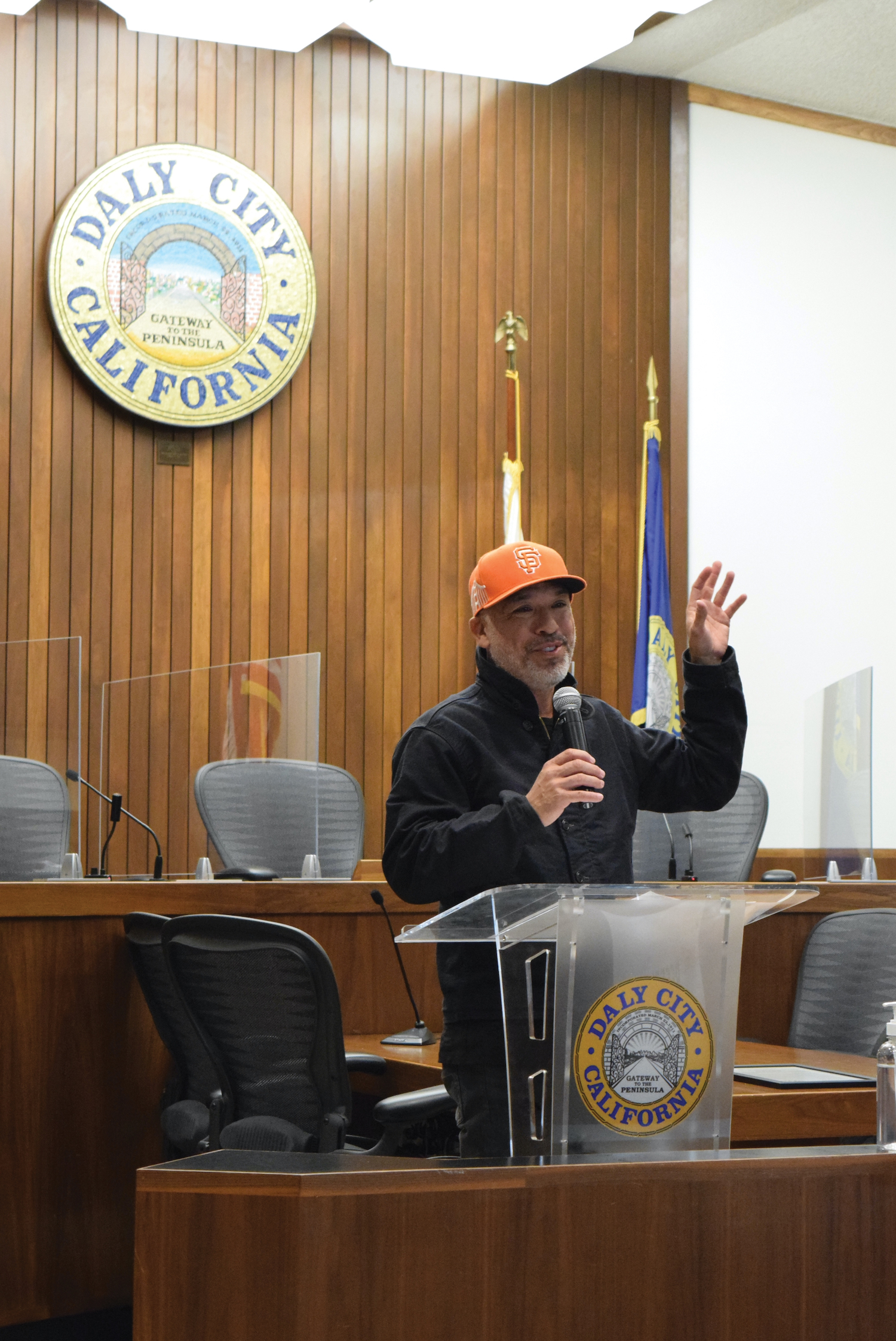 "Thank you so much. Man, I'm overwhelmed right now. I am at a loss for words," Koy said. "I am going to put this on my keychain (elicits laughter)… have this key with my other keys… Oops, this is the key to the city. Sorry, I'm trying to get into my house here."
"And of course this, I'm also going to make a wallet-size (gesturing to the County citation)," he continued, while chuckling, "so I can always show people that I have my own day here. So I will be frequently here July 22nd… 'Jo's here again'… everyone, go home, this is my day. And then close the gate to Daly City. 'No one's allowed in here! It's my day, have a nice day, bye!'"
In referring to the movie "Easter Sunday" which features Daly City, Koy said, "Like I said, it's a movie about family. It's the family we know, not just in Daly City but in this world… through laughter we can identify and relate to each other. And that was the biggest thing I wanted to get across in this film. I wanted to tell the story about my family, but most importantly I just didn't want to let people know that only Filipinos can get this."
"When you leave, you're gonna be like, 'Oh, that mom is just like my mom' and 'that kid is just like my kid'. And funny is just funny. At the end of the movie we can just all look at each other and go, 'Ohhh, my mom did the same thing to me'… and that's what it's all about. We all want to be heard," he added.
Koy went on to relate how the circumstances were different when his mom came to the United States – there was no Google, no Instagram. Koy said she had to find her own community, which he talked about during his set in Seattle where his mom would scan the sea of people after church and try to find people who looked like her, asking them if they were Filipinos, and apologizing if they were of a different ethnicity.
"And as funny as that is, but that was her reality," Koy related.
"So we got to teach this generation the struggle that our ancestors went through for us so that we can live this one. And it's crazy that in 2022, we're still trying to make sure that she's heard or he's heard," he reflected.
He went on to cite Steven Spielberg and the studios for opening the doors for performers like him, and the hope that those doors are kept open so that other people can also walk in those doors.
"Let's try not to bring it back, let's try not to close it on us ourselves. Let's keep the door open, right?" he appealed.
"And I just want to end it with this: if that door does close, I have the key to open it," he said, eliciting a ton of laughs. "Love laughter and life. I know how cheesy that sounds, but that's Filipinos to me. That's all we do – we love, we laugh and we live, that's it. And you see it right here in Daly City. Look at us, we're here and we're all celebrating this moment together."
After the ceremony, Koy spent the time taking pictures with officials present at the morning rites and posing with fans and well-wishers.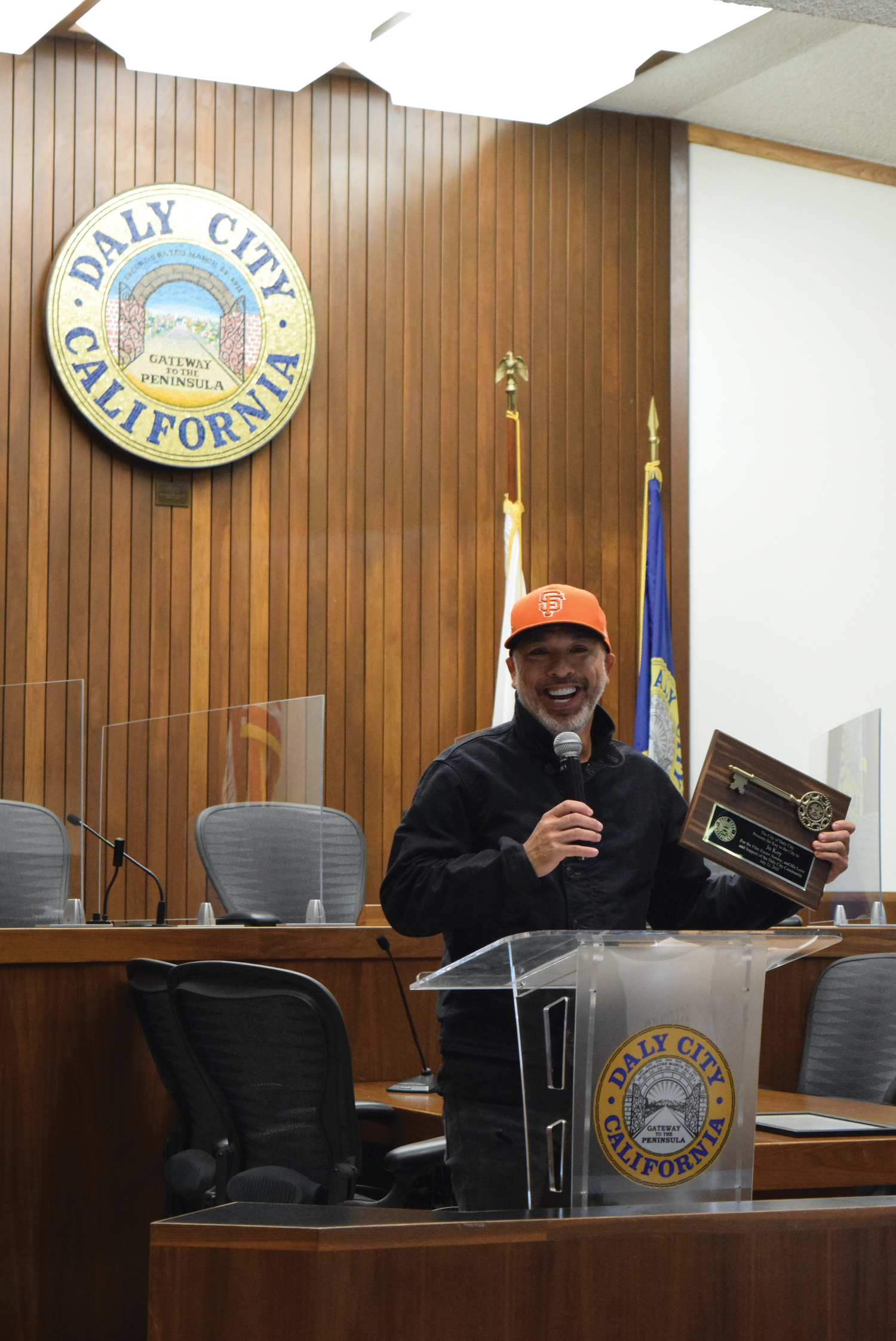 Koy is one of the few Filipino American comics with a wide following here and across the globe. The 51-year-old has a few Netflix specials to his credit, including one that is scheduled for release (Live at the Los Angeles Forum).
Aside from appearances in "The Tonight Show" (both in Jay Leno and Jimmy Fallon's iterations), "Jimmy Kimmel Live!," and "Last Call with Carson Daly," Koy was a regular guest in Chelsea Handler's late night gig, "Chelsea Lately." Koy has a weekly podcast called "The Koy Pond," aside from being heard on other podcasts.
Just in July of this year, Koy appeared with film producer Dan Lin in the "Rise for Comedy" festival where they were able to raise a $75,000 donation for the nonprofit group Search to Involve Pilipino Americans (SIPA).
Jo Koy's new movie, "Easter Sunday," will have its theatrical release on Friday, August 5.