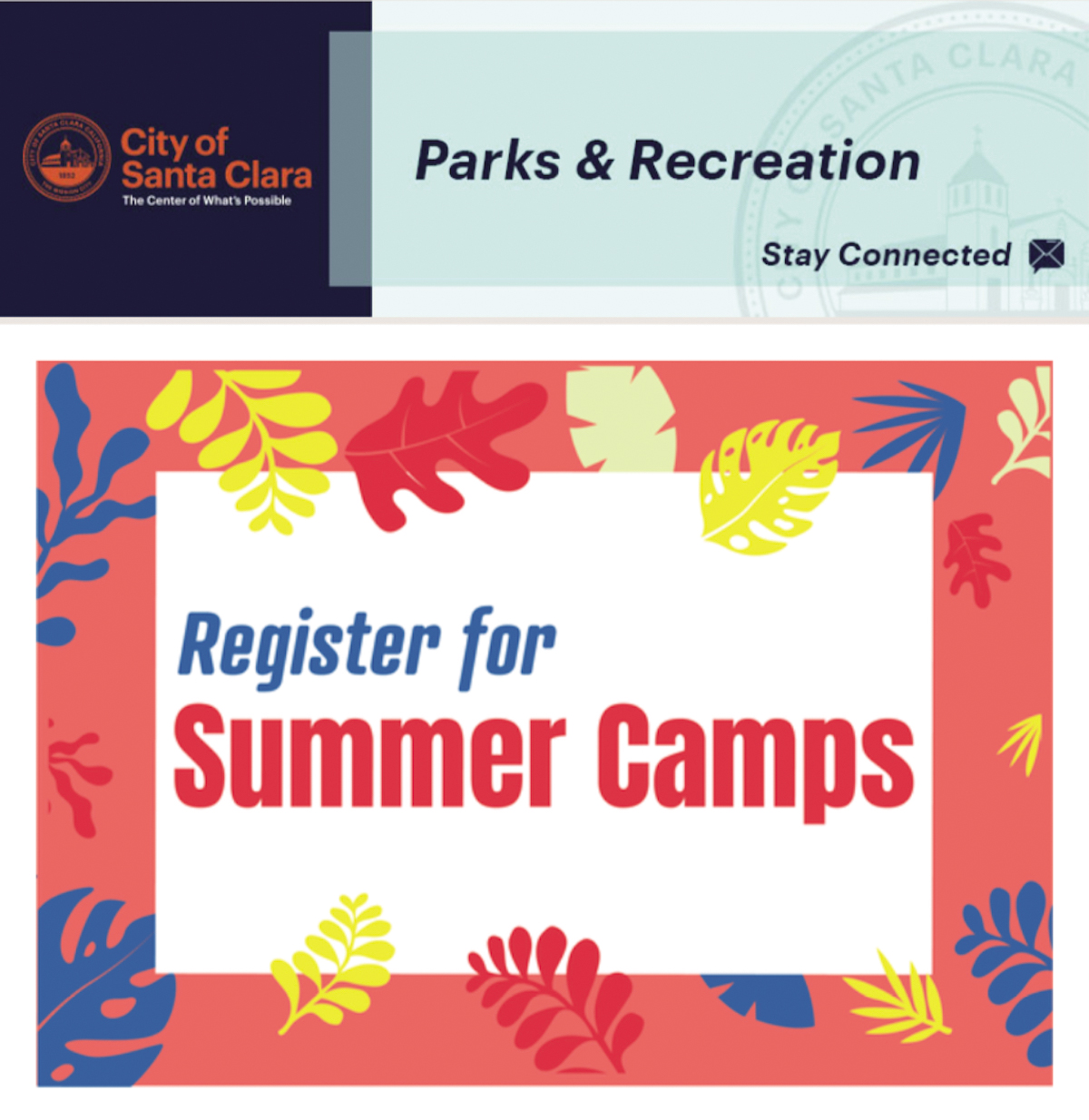 SUMMER is around the corner and now is the perfect time to make plans for summer break! The City of Santa Clara Parks & Recreation Department is excited to offer a variety of camps for ages 3.5 to 15. Choose from half or full day camps. Check out some of our offerings below. Visit SantaClaraCA.gov/ActiveNet for a full list of summer camps.
Enrichment camps
Animal Crossing: LEGO® Horizons Camp: Tom Nook has a special assignment for all participants in this camp; create the best LEGO® island you can and get new neighbors! Bring Animal Crossing to life by recreating your favorite parts of the game completely out of LEGO®.
Junior Programmers Camp: Learn to create your first programs using Scratch Jr.! Start with making a character dance to producing a full simulated environment. In this introductory sequence of projects for Scratch Jr., we gradually introduce a variety of practices and concepts while simultaneously exposing young coders to a variety of blocks and tools in Scratch Jr.
Mad Science: Wacky Robots and Widgets Camp: Whether you love to build things or destroy them, this week of camp includes lots of both! Design simple machines using pulleys, wedges, screws and levers and have fun learning how catapults work! Build a robot to keep, all while learning the science of robotics!
Recreation camps
Camp YAC All-Stars and MVPS: Camp YAC is returning with another fun filled summer for all YACSTERS! Join us for an action-packed summer filled with recreation games, outdoor activities, arts and crafts projects, and more!
C.A.T.S.: Participants come to daily rehearsals for acting, singing, and dancing, culminating in the production of Disney's Frozen Jr.
Machado Day Camp: Machado Day Camp is a half-day camp based on outdoor play, hands on learning and organized games. It is a great opportunity to introduce your child to the recreation camp experience.
Westwood Oaks Little Explorers: Camp provides an opportunity for campers to learn and make new friends within a safe and caring environment. Campers will enjoy a variety of activities, crafts, games, outdoor recreation, and songs all within a special theme each week.
 Sports camps
Gymnastics Camp: Fun filled camp for children who love to run, jump, swing, tumble, and dance! Campers will use trampolines, bars, beams, rope swings, rings, parallel bars and tumbling mats.
Horse Camp: Chaparral offers a fantastic learning experience on all of the ins and outs of horse riding. Horse lovers will get a hands-on introduction to horses, including grooming, horse psychology, and more.
Skyhawks Multi-Sport Camp: Multi-sport camps are designed to introduce young athletes to a variety of different sports in one setting. Athletes will learn the rules and essential skills of each sport, along with vital life lessons such as respect and teamwork. (City of Santa Clara Release)