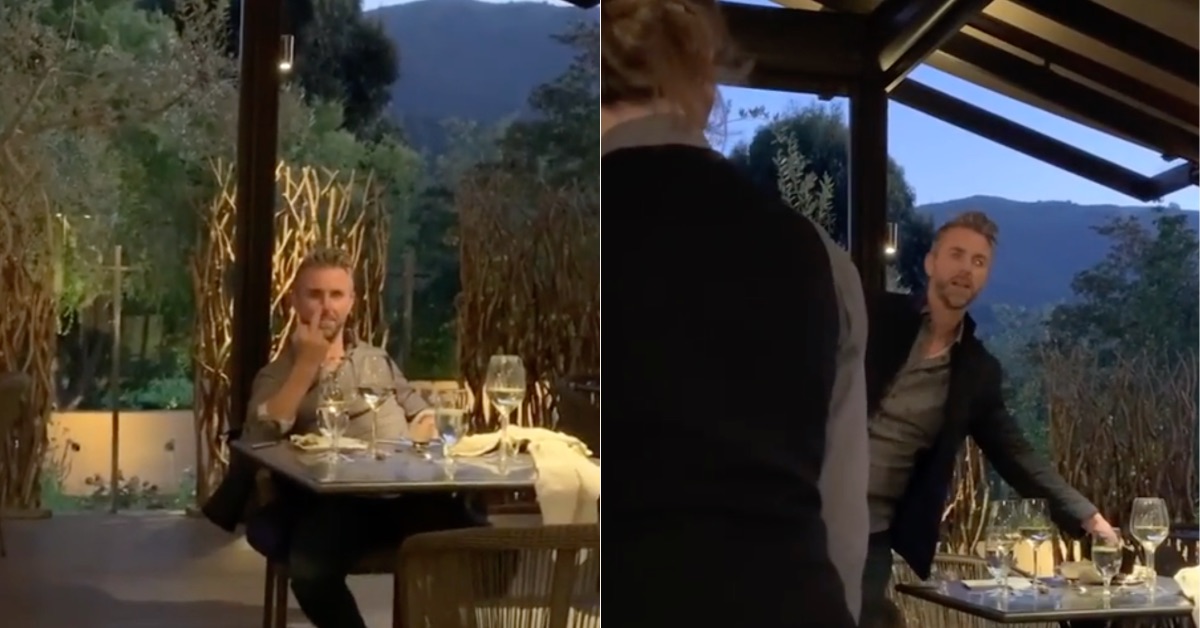 A Filipino American family from Southern California took a trip up north to Carmel Valley over the Fourth of July weekend to celebrate a birthday. What was supposed to be a happy occasion quickly turned into another example of pervasive anti-Asian hate caught on video.
"We were having fun, playing games and when we were having dessert, suddenly, we hear somebody behind us yelling, 'You f***ing Asians," Raymond Orosa told the Asian Journal.
On July 4, Orosa, along with his sister-in-law and her two children, was at the Bernardus Lodge and Spa's Lucia restaurant to celebrate his wife Mari's special day.
When the white man — later identified by social media users as Michael Lofthouse, who owns a tech company called Solid8 in San Francisco — started berating the family, Orosa's niece Jordan Chan pulled out her cellphone and told him to repeat what he had said.
In the video Chan posted on her Instagram, Lofthouse is seen sticking up his middle finger to the family, and then says, "Trump's gonna f*** you."
"It is no coincidence that this man has the audacity to showcase such blatant racism on the 4th of July. White supremacy has a notorious habit of masquerading as patriotism!" Chan wrote.
Later in the video, Lofthouse gets ready to leave and tells them, "You f****** need to leave. You f***ing Asian piece of s***."
"The fact that Donald Trump is our president (i.e. THE MOST POWERFUL MAN IN THE WORLD) gives racists a platform and amplifies voices of hate. The surfacing of racists is so prevalent right now, even in such an ethnically/culturally diverse and liberal state like California, because Trump HIMSELF uses his position to incite racial tension and to promote aggression towards POC, foreigners, and immigrants. We need change!" Chan continued in her post, encouraging people to vote in November.
A waitress later stepped in, saying "You do not talk to guests like that." (The video, which has been viewed nearly 400,000 times on Chan's Instagram, also caught the attention of singer Kelly Clarkson on Twitter, praising the waitress for speaking up and "throwing this trash out.")
"We were shocked. All I could say was, 'What's wrong with you?' because I didn't want to react in a manner that could trigger something. I didn't know how violent he could be and didn't want to jeopardize the safety of my family," Orosa said.
He also told the Asian Journal that the video didn't capture the entire encounter as a man at another table also tried to intervene and chase Lofthouse out of the restaurant.
The lodge has since released a statement commending the staff for how they handled the incident and apologizing to Orosa and his family.
Chan also shared an abusive comment that Lofthouse reportedly posted on her Instagram that has since been deleted.
The tech entrepreneur also issued a public apology, writing, "My behavior in the video is appalling. This was clearly a moment where I lost control and made incredibly hurtful and divisive comments. I would like to deeply apologize to the Chan family. I can only imagine the stress and pain they feel. I was taught to respect people of all races, and I will take the time to reflect on my actions and work to better understand the inequality that so many of those around me face every day."
Orosa, who has been in the U.S. for nearly three decades, said though the incident personally affected his family, it shows a bigger picture of what the Asian American community is facing today.
"I think he shouldn't just apologize to us. He should apologize to the whole Asian community that's seen his video and from that point on, take all the responsibility that comes with it," Orosa said. "He did it and everybody witnessed it. He's gotta be responsible for what he's done and said."
This family's racist experience is one of several that Fil-Ams across the state have spoken up about in recent months. Other examples have included a Filipina American who was told to go back to her country while exercising in Torrance or a white woman who threatened to call the cops on a Fil-Am man who was stenciling 'Black Lives Matter' outside of his San Francisco home.
Recent data from the Stop AAPI Hate reporting center showed that 832 incidents of discrimination and hate against Asians have been reported in California alone.
"Despite the fact that racism still exists, it shouldn't stop us from doing the right thing," Orosa said. "If we have one unified voice and speak up, the better it is for people to understand that we can do this and protect each other from people like this guy, Michael."