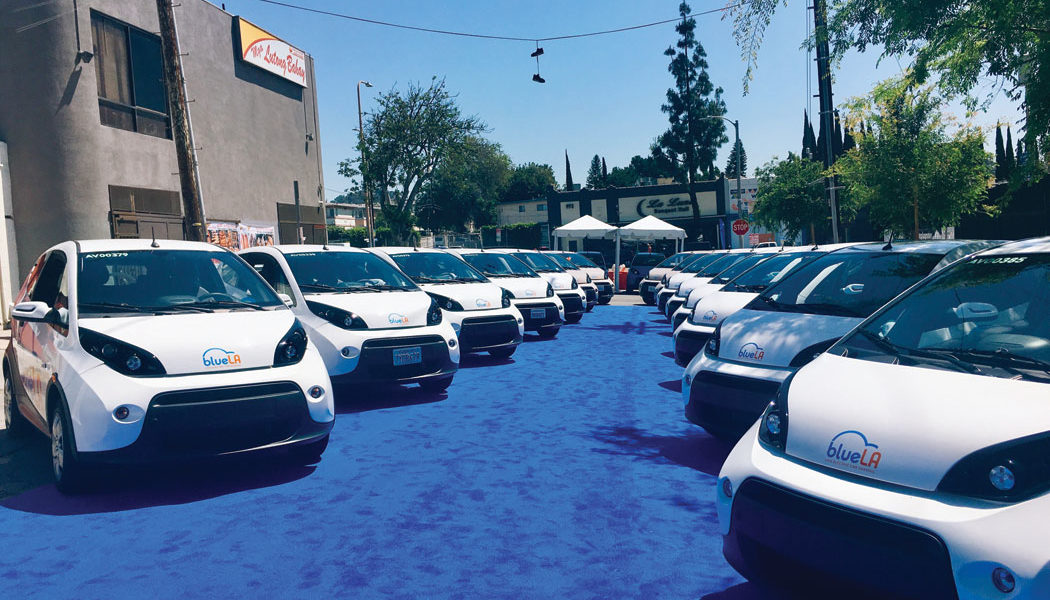 Inaugural hub locations include Historic Filipinotown
In Los Angeles, cars continue to be the preferred method of travel for many of the county's 10 million residents.  This is true even as investments go into expanding the city's transit network.
Having a car often means independence, more freedom, and a lot of saved time.  Yet many Angelenos do not have affordable access to personal cars, limiting their mobility across the large county.
On Friday, April 20, a fleet of white fully electric compact hatchback cars paraded out of Los Angeles City College donning "BlueLA" logos on their doors.  
BlueLA is a carsharing program that gives drivers of at least 18 years, access to a personal car anytime they want for as low as $1 a month, and 15 cents per minute depending on income level.
The program sprung from a partnership between Los Angeles Department of Transportation (LADOT) and Blue Solutions — a carsharing subsidiary of France's Bolloré group — and is the largest of its kind in the U.S.  
BlueLA's mission is to provide an alternative and environmentally friendly mobility solution to underserved communities.
"Blue Solutions recognizes that mobility is a key factor in creating inclusive communities.  By providing a convenient and fully electric car sharing service at a more affordable cost," said Marie Bolloré, CEO of Blue Solutions.  "By providing a convenient and fully electric car sharing service at a more affordable cost, we believe that BlueLA will promote both inclusivity and sustainability."
Currently, cars can be found in seven initial hubs including Los Angeles City College,  Koreatown, MacArthur Park, Chinatown, Pico Union, Boyle Heights, and right in front of the Pilipino Workers Center in Historic Filipinotown.  
Three more stations are scheduled to be opened in less than two weeks, working up to 40 stations and 100 electric cars around the city by the end of the year.  
How BlueLA works
Designed by the Italian auto design house Pininfarina, the BlueLA cars were made specifically for car sharing, seating up to four adults comfortably.  
On a full charge, the cars can get up to 125 miles thanks to the systems and batteries made by the Bolloré group.
Using the carsharing service is simple, and is great for trips to the grocery, running errands, picking kids up from school, and so forth.  
Once registered, drivers can reserve a car using the program's app, or through an easy to use reservation kiosk located at any of the hubs.  
Using either a Metro TAP card or a BlueLA card which gets sent through the mail, drivers simply unplug the car from the charging station, tap their card near the car's door, and begin their trip.
On their trip, drivers have access to the car's own navigation system, car-return system, and a blue telephone button that connects drivers to 24/7 customer service should they need any assistance.
To return the car and end a trip, all drivers have to do is park at any of the hubs, and plug it back in for free battery charging.
"The car sharing system is very good because you park in a station where you booked in advance, your parking spot," Bolloré told the Asian Journal.
The only requirements for the service are that drivers be at least 18 years old, have a valid U.S. driver's license or international driver's permit, and have a debit or credit card to set up an account.
The service also provides auto insurance coverage up to the state minimum limit, secondary to the driver's personal insurance.
Membership prices start as low as $1 per month, and 15 cents per minute for households earning an annual income of $35,000 or less.  That equates to around $9 per hour.  A standard membership costs $5 month, 20 cents per minute.
Environmentally friendly transportation alternative
While the county of Los Angeles has been investing in its public transit system through expansions and improvements of rail and bus connections, putting the new BlueLA cars on Los Angeles roads is about being an environmentally friendly transportation alternative to those who could benefit from the mobility.
"It really provides a mobility option for folks," chief sustainability officer at LADOT, told the Asian Journal.  "For families that may be a one car household, or zero car household, here's another option that you can use to both support using the bus and rail."
Because the cars are 100-percent electric, they fall in line with Los Angeles Mayor Eric Garcetti's electric vehicle goals set in his mission for a cleaner environment and stronger economy.
Garcetti said, "We all want a healthier planet for our children and our grandchildren.  BlueLA will make our collective effort to reduce greenhouse gas emissions more inclusive by providing underserved communities with an environmentally friendly way to get around town — at an affordable price."
The service runs 24 hours a day, seven days a week which is helpful when metro rails or busses may not be in service.  Many of the stations are even located around existing metro stops.
"So you can imagine yourself getting off of the subway or a bus, using BlueLA to complete your errands, come back, and then maybe jump back on the bus or rail," said Parras.  
"For folks that are maybe needing to go from the Pilipino Workers Center to Union Station, it's going to be a quick trip," he added as an example.
It's all part of what they call their "first mile-last mile" solution that they're integrating.
BlueLA received $10 million in investment from Blue Solutions which has already started similar programs in Indianapolis, Singapore, London, Paris, and other European cities.  It is also funded in part by California Air Resources Board and the California Climate Investment Program.
More information on the the service and how to become a member can be found on BlueLA.com, or by emailing contact@bluela.com. (Rae Ann Varona / AJPress)
Facebook Comments