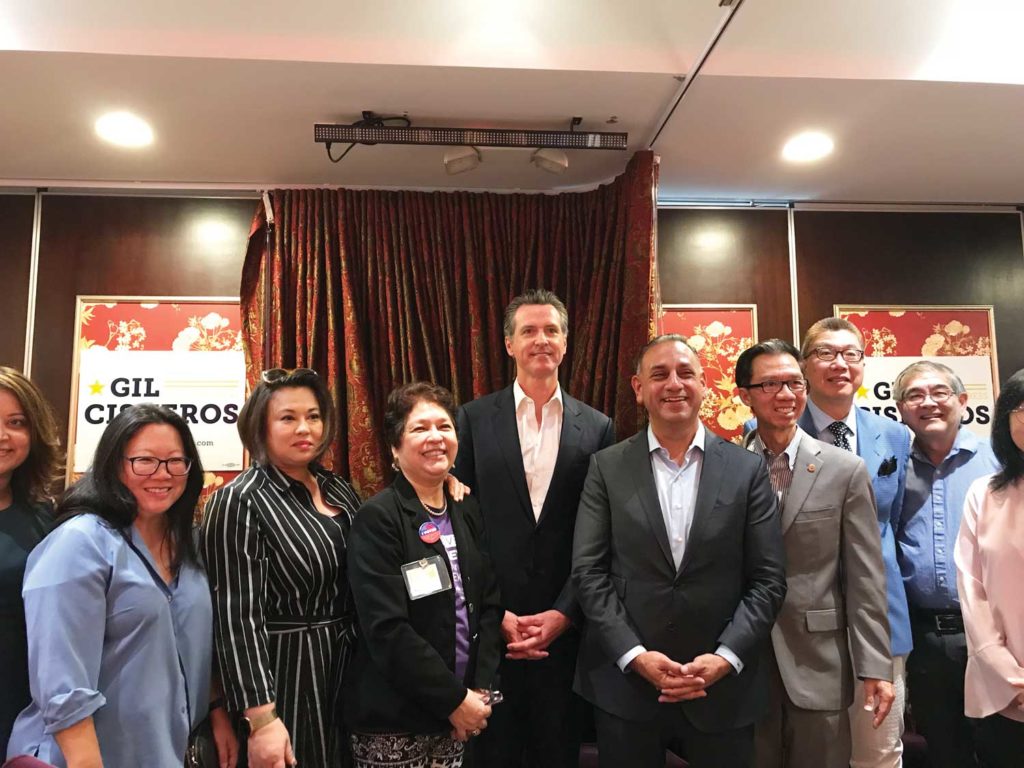 Just 10 days before the midterm elections, Democratic congressional candidate for California's 39th District Gil Cisneros made a last-ditch effort to appeal to the district's rich Asian American constituency.
On Saturday, Oct. 27, the Cisneros campaign met with small Asian-owned businesses in Hacienda Heights to better know the commercial operations of the district, which spans from the southeastern region of the San Gabriel Valley in Hacienda to northeast Orange County.
As previously profiled by the Asian Journal, Cisneros is a first-time candidate running a grassroots campaign, which means he has not accepted funds from corporations or political action committees (PACs).
Cisneros is up against Korean-American Young Kim, who has the solid support of the current representative Ed Royce who has represented the 39th since 1993.
"One thing that we know is that Ed Royce has kind of forgotten about this district for a long time. He hasn't done a town hall in seven years, he hasn't really taken care of his constituents," Cisneros told the Asian Journal on Saturday. "People want change. They want someone who's going to represent that people of the 39th and that they get the constituent services they haven't had in a long time and someone who is going to hold the president accountable and who is going to fight for education, health care, immigration reform and common sense gun legislation, and I believe I'm the one to do it."
Since launching his campaign, Cisneros has garnered a long list of endorsements from organizations like the Sierra Club and Planned Parenthood and politicians like former President Barack Obama, Los Angeles Mayor Eric Garcetti and California Lt. Gov. Gavin Newsom.
"It was probably one of the easiest decisions to make," Newsom said of his endorsement of Cisneros, addressing reporters in Hacienda Heights, adding that he believes Gil is committed "to mitigate the issue of gun violence in this country that was, again, highlighted today in Pittsburgh."
Newsom, who is leading the gubernatorial race in California, added that Cisneros understands the importance of small business and has plans to improve California's public school system.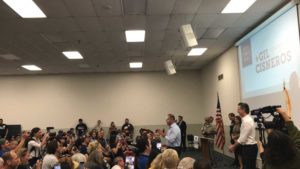 "And if you contrast that with his opponent, it's not even close from my perspective. The choice is an easy one. Gil Cisneros is exponentially better suited to represent his district and his constituency on all the critical issues," Newsom said.
After the business tour, Newsom joined Cisneros at a rally at UFCW 243 in Buena Park to pump up canvassers and those who volunteered for the Cisneros campaign.
"The stakes have literally not been higher. That's not just cliche it is a fact. The stakes have never been higher. This is not just about you, it's not just about Orange County, not just about California and it's not just about the United States. It's about what we represent to the world. And let's not forget: Orange is the new blue," Newsom told the diverse crowd of cheering volunteers.
Cisneros is currently leading the race against Republican Young Kim, a former state assemblymember, by 1 point, according to RealClearPolitics.
Although Orange County has leaned Republican for decades, surveys show that that is slowly changing.
In 2016, a majority of Orange County voted for Hillary Clinton in the presidential election (as well as Democratic Senate candidate Kamala Harris), the first time a Democratic presidential candidate has won the county since the Great Depression. Whereas in 2012, the district gave Mitt Romney the majority vote.