THIS Saturday, Dec. 11, celebrate the Filipino spirit of Christmas at Holiday Fest: Pasko popup celebration in West Covina, California hosted by Adobers, a Filipino tech startup highlighting Filipino businesses.
Adobers, based in the San Gabriel Valley, is operating an online directory dedicated to connecting Filipino-owned businesses to the community and new markets.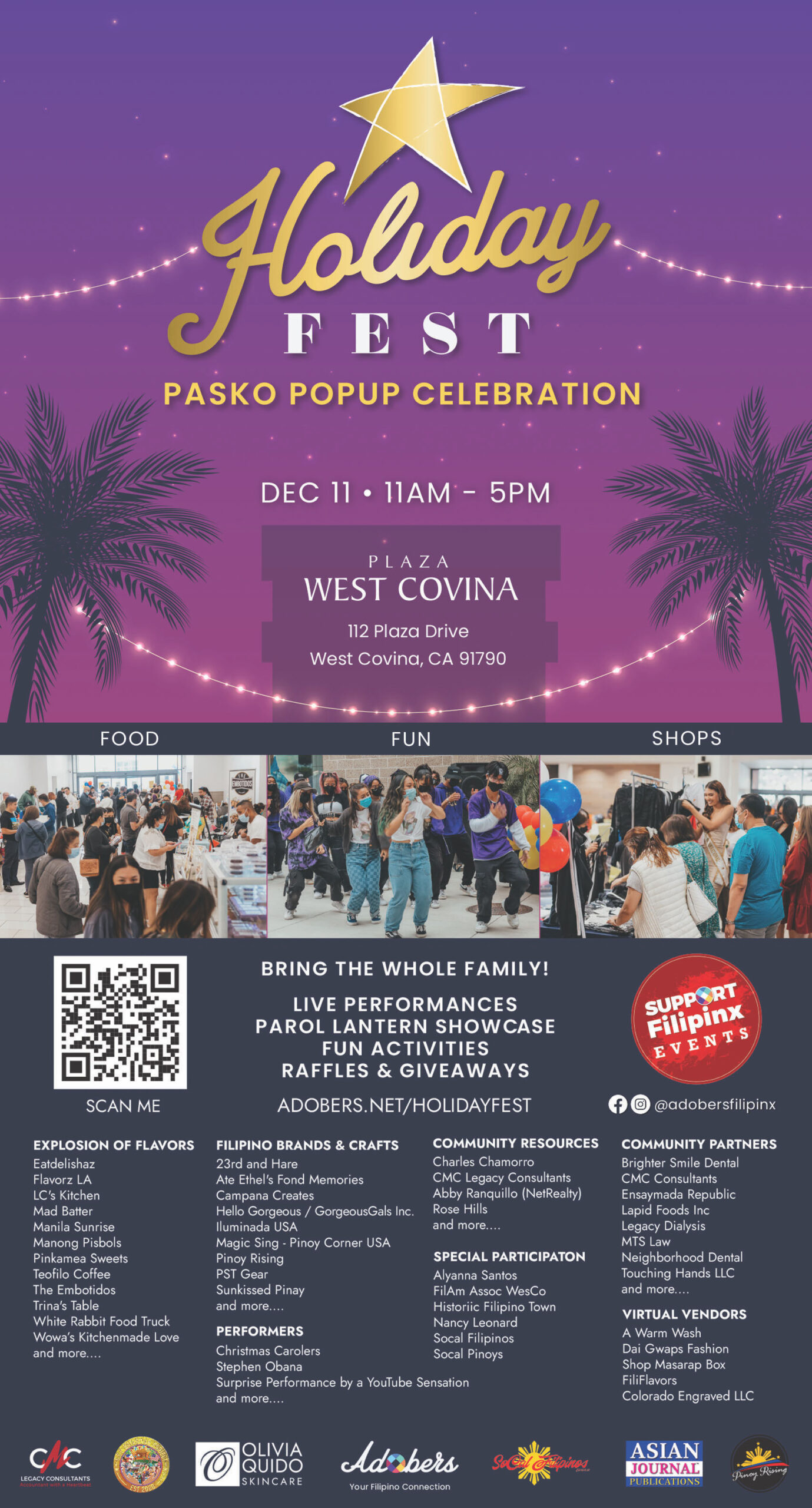 ---
Founders Jv Libunao and Demeven Quirino started the platform in the midst of the pandemic when businesses were shut down and owners resorted to social media to continue their operations. While social media groups are a good place for businesses to advertise DIY style, it is not searchable as it is not designed to be a directory and selling platform, they said.
Now, what started out as a digital platform to represent small businesses has turned into a mission to foster cultural representation starting in Southern California and expanding to the rest of the U.S. Adobers is bringing Filipino craftsmanship through food, products, services and professionals together via an innovation of how Filipinos will do business, connect, learn and experience one of a kind activities to share the Filipino culture and talent with the rest of the U.S.
The Holiday Fest is the second event hosted by Adobers riding off the success of the FAHM Mania to celebrate Filipino American History Month last October 23, 2021, which was attended by over 1,000 guests.
"Plaza West Covina is in the heart of these cities which makes it a great venue to celebrate Pasko, the Filipino way," the founders said. "Holiday Fest is a milestone in Filipino business as there aren't a lot of Filipino events held inside a mall here in the U.S. We are proud to say that Holiday Fest is one of the first ones. We hope that it paves the way for other organizers to change the way Filipino events are done."
The Holiday Fest has a full roster of vendors selling food and other products, which would make for great Christmas gifts. Aside from in-person vendors, there will be a lineup of virtual businesses from Northern California and Colorado who are all part of the Adobers.net directory.
"It's not a Filipino celebration without food and there will be many food options from traditional to fusion. Lastly, if there is food, there should be singing and we will be serenaded and carolled by Wish Bus USA performers, a YouTube Sensation and by upcoming FilAm artists Nadia Younes, Bella Loyola and Stephen Obana," the founders said.
The Holiday Fest will be held on Dec 11, 2021 from 11 a.m. – 5 p.m. at Plaza West Covina (112 Plaza Dr. West Covina, CA 91790). For more information, please visit: https://www.adobers.net/holidayfest.