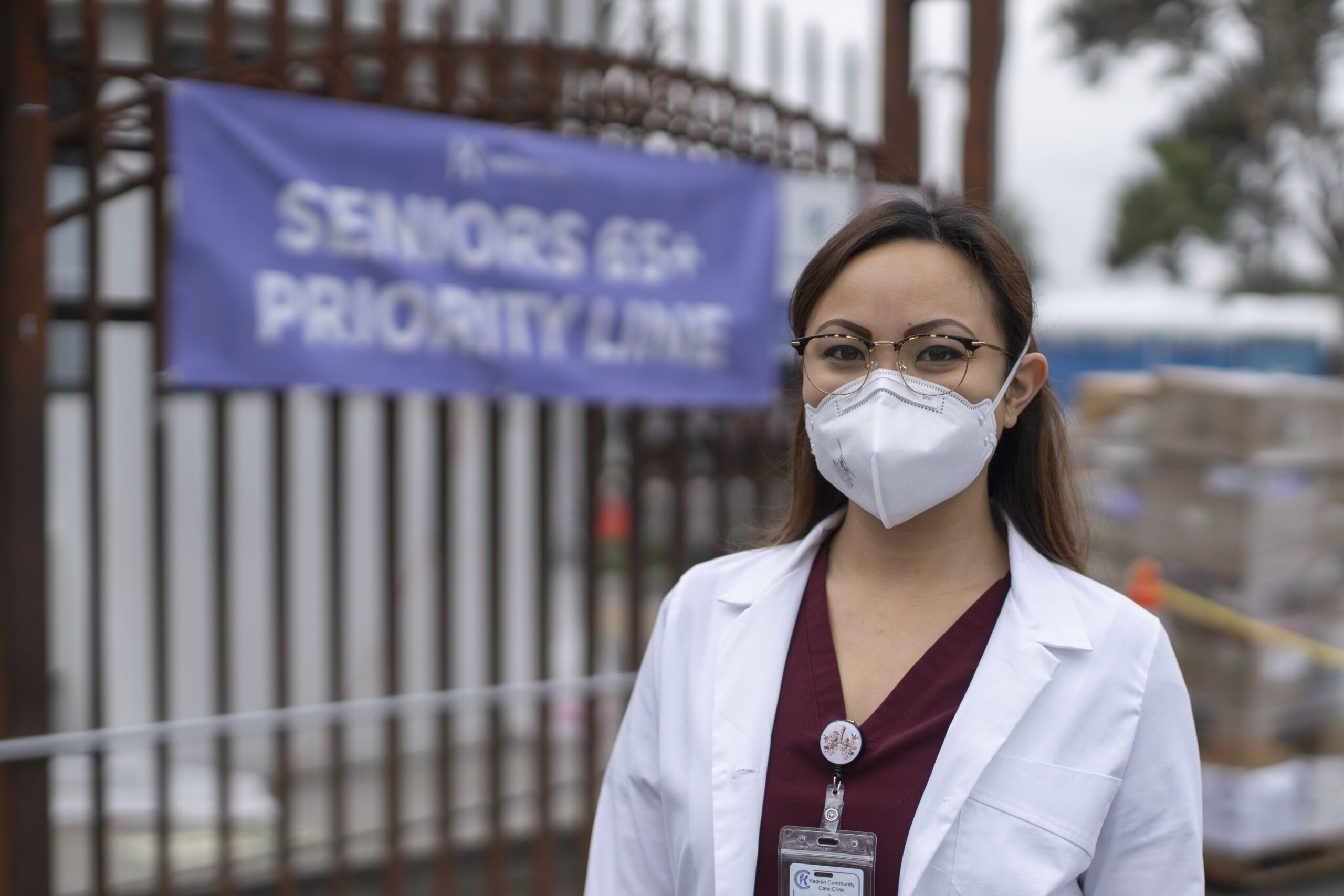 In time of COVID-19, Cal State LA's Chin Institute places nurses in at-risk communities
On her first shift in the field in her new job, Cal State LA nursing graduate Sarah Francisco found herself swept up in the COVID-19 crisis, helping vaccinate patients in South Los Angeles as the virus surged toward a catastrophic peak.
"Having the opportunity to dive in and assist with vaccinating the most vulnerable populations in the community, and seeing their excitement and relief, was very memorable," she recalled of her eventful welcome to Kedren Community Health Center in January.
Francisco is one of eight family nurse practitioners, or FNPs, working across Los Angeles under a new program co-administered by the university's Chin Family Institute for Nursing in the Rongxiang Xu College of Health and Human Services.
The Family Nurse Practitioner Community Care Residency Program has placed the FNP residents at Kedren and three other clinics in underserved communities in East L.A., downtown LA and Chinatown. The Chin Family Institute for Nursing is partnering with the Community Clinic Association of Los Angeles County on the program, which launched on Jan. 11.
Under the eight-month effort, Francisco and her classmates will gain valuable experience in the community clinics while receiving didactic education from Cal State LA's nationally renowned nursing faculty.
The program is part of a growing effort in California and across the nation to provide FNPs with field experience they need to work independently of physicians. The hope is to develop a pipeline of such practitioners to deliver primary care in urban and rural communities that do not have enough health care providers.
Lorie H. Judson, executive director for the Chin Family Institute for Nursing, said the program will enable the residents to put the finishing touches on their training as community-focused FNPs.
"The goal is to help the residents utilize their new skills, hone what they already know, and learn to apply their training quickly and accurately in the clinic setting," she said. "They've all had clinical experience as students. We will be adapting the program to their needs and the focus of the clinics."
The instruction at Cal State LA, led by Donna Scemons, associate professor of nursing, covers subjects such as population-based health, quality improvement and telehealth, using case studies to prepare the residents for clinical scenarios.
The partnership, Judson said, aligns with the founding principles of the Chin Family Institute for Nursing and its benefactors, Drs. Patricia A. and William Chin. The institute, established in 2016, defines its mission as providing postgraduate nursing education, advocacy, leadership and action, emphasizing care for diverse, underserved urban populations.
The Community Clinic Association of Los Angeles County sought Cal State LA as a partner because of the caliber of the university's nursing curriculum, the demographic makeup of its students and the surrounding community, and its experience with educating FNPs who speak Spanish, Judson said.
With the passage last year of Assembly Bill 890 in California, Judson explained, FNPs will not require the supervision of a physician once they complete 4,600 hours of transition to practice.
The word "family" in the FNP designation refers to their mission to provide primary care to patients across their life spans, from infancy onward. FNPs are educated to diagnose and treat not just the physical aspects of patients' care, but their mental and psychosocial needs as well.
Judson notes the diversity of the eight residents' backgrounds and skills. Collectively they speak Spanish, Portuguese, Mandarin, Cantonese, Korean and Vietnamese. In addition to their FNP licenses, they hold degrees in biological engineering, biological sciences, biology, psychology and sociology. "All in all," Judson says, "an amazing inaugural cohort."
The residents come from across the United States. Francisco, the Cal State LA graduate, is joined by classmates from Sonoma State, UC San Francisco and Azusa Pacific University in California, Johns Hopkins University in Baltimore and North Park University in Chicago, as well as two from Columbia University in New York.
Francisco received her accelerated Bachelor of Science in nursing in 2017 and master of science in nursing from Cal State LA, with a specialty option in family practice, in May 2020.
"To be a part of this program and contribute to its success will help highlight the need for more residency programs for future FNPs," she said. "Learning from providers who have worked in the community will be an invaluable experience to have as a new graduate."
Francisco, who was born and raised in the South Bay and lives in the Torrance-Carson area, plans to stay and practice in Los Angeles, a region she values for its diversity and inclusivity.
"The main long-term goals I have as an FNP would be to educate and empower patients who have low health literacy and who encounter barriers to care, as well as instill a sense of trust and support toward the health care provider profession," she said.
Clinics participating in the FNP Community Care Residency Program may extend offers of employment to the residents once they complete their training in August. The program is supported by grants from Kaiser Permanente and the California Area Health Education Center. (Contributed by Cal State LA)