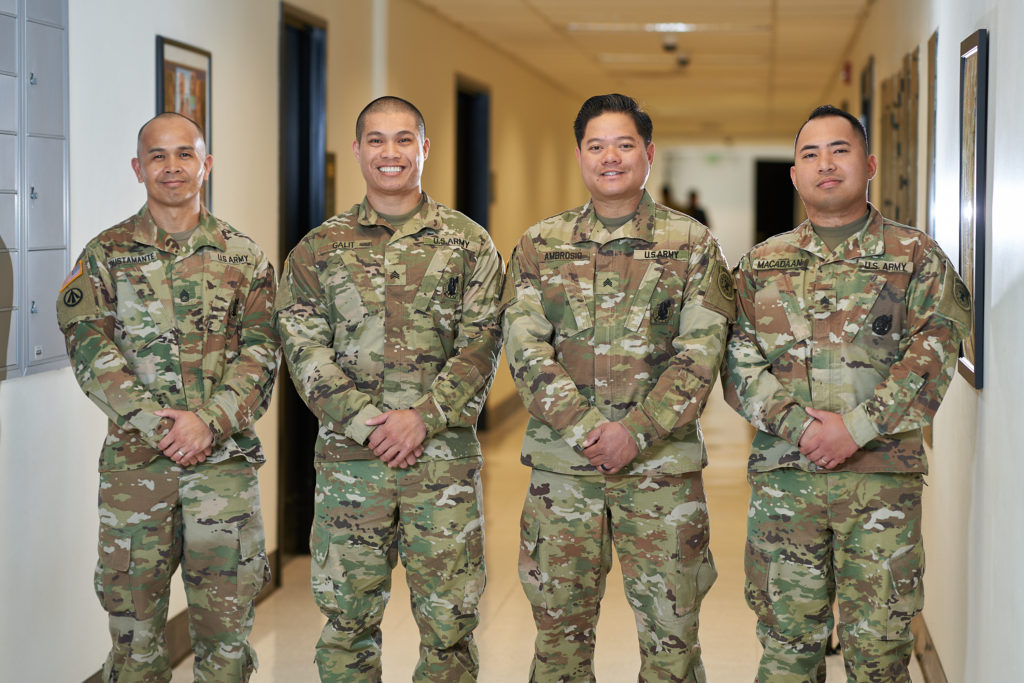 In recent years, estimates have found that only 1 percent of young Americans are eligible to join military service.
For the U.S. Army, there are about 33.4 million Americans between the ages of 17 to 24, the ideal group it is targeting for recruitment. But of that number, only 9.7 million are qualified, while 136,000 are even interested in joining, according to a report by the Army Times.
The requirements to enlist in the Army include between 17 and 34 years old, U.S. citizen or legal permanent resident, have a high school diploma or equivalent, score at least a 33 on the Armed Forces Qualification Test, and meet height and weight requirements, among others.
There are many misconceptions about Army service, such as the major one about how enlisting means automatically being put on the battlefield and being ready to fight in a war.
Meet some Fil-Am recruiters in Southern California who are willing to share their experiences with other Fil-Ams eyeing a career in the military.
"I joined the Army in 2011 after two years of community college. I wanted to become independent and wanted to help my mom, who was a single mother," said Sgt. Dustin Macadaan, who was born in the Philippines and moved to Carson. "I go around to colleges because around that time, they know how tough it is. We talk about if the Army can work for you. At the end, I ask you if you want to join or not. I know you'll make a smart decision."
The Army has a host of benefits from higher education to citizenship opportunities. The cost of higher education is at an all-time high and can be a deterrent for many who want to pursue their post-secondary degrees. However, joining the U.S. Army means that those educational goals don't have to be shelved.
"It's all about information. Our job is to give out information because not a lot of people know," said Sgt. Mamer Galit, a recruiter in Rowland Heights. "What they know is from the movies, but they don't know about the job we actually have. We have nursing, medical, IT, mechanics, aviation. If they want to do cybersecurity, they can do that. We even have hackers in the Army."
Galit added that he shares with other Filipinos that the Army will train them for whatever job the pick.
There are various avenues this branch of the military makes going back to school a reality, from the Concurrent Admissions Program (ConAP) — which is a partnership between the U.S. Army Recruiting Command and over 1,900 colleges — to financial aid programs and education benefits under the Montgomery GI Bill and Post 9/11 GI Bill. Educational benefits can also be transferred to soldiers' spouses and children.
"I joined the Army as a reservist, but prior to that, I was actually an active duty Marine for four years. But I thought the Army gave a good opportunity to go back to school and take advantage of the benefits as far as the Montgomery GI Bill Post-9/11 and tuition assistance while you're in the reserve time," said Sgt. Jason Ambrosio.
The Army also offers graduate-level scholarships in law, medicine and the seminary. Through the Health Professions Scholarship Program (HPSP), the Army will pay 100 percent of tuition for a graduate-level health care degree for any accredited medical, dental, veterinary, psychology or optometry program in the United States or Puerto Rico.
For the latter two fields, there is the Funded Legal Education Program (FLEP) that selects several active duty Army officers to obtain a legal education and the Chaplain Candidate Scholarship Partnership (CCSP), which is a joint venture between some of our nation's leading graduate institutions and the Army to provide financial assistance to candidates for chaplaincy.
Non-citizens who are legal permanent residents (green card holders) may join the military. Members of the Armed Forces can file for naturalization and may experience a quicker process in terms of becoming a citizen. Their spouses can also be eligible for expedited naturalization.
"I was a college student and had two part-time jobs and I needed something to help me get work experience and get a better opportunity," said Sgt. First Class Anthony Bustamante, a recruiter in Tarzana. "That's where the United States Army came in. I was able to use the Army to help me succeed in my civilian life and also find a professional job I didn't know I was good at until I go into the Army."
He added, "My mom is proud that I joined the Army. She wasn't a first but then she saw that it was something I really wanted to do and became very successful."
(Advertising Supplement)