This current moment has been described as many things: a chance for self-reflection, a practice of selflessness, a collective meditative mental health reset.
And, it is most certainly all those things. But it is also a case study in entrepreneurial spirit and how maintaining a sense of community — even during a period of physical distance — is crucial.
Since the threat of the COVID-19 virus ballooned in the last several weeks, hospitals and medical workers have been working nonstop to treat patients and maintain a productive and healthy workspace.
As a response to that, a wide scope of organizations as well as businesses have been putting forth efforts to give back and try to weather through a time of economic precarity.
Despite being among the hardest hit during pandemic emergency measures, local Filipino American business owners have begun supporting community front-liners who have had their own lives and jobs flipped upside down since the outbreak.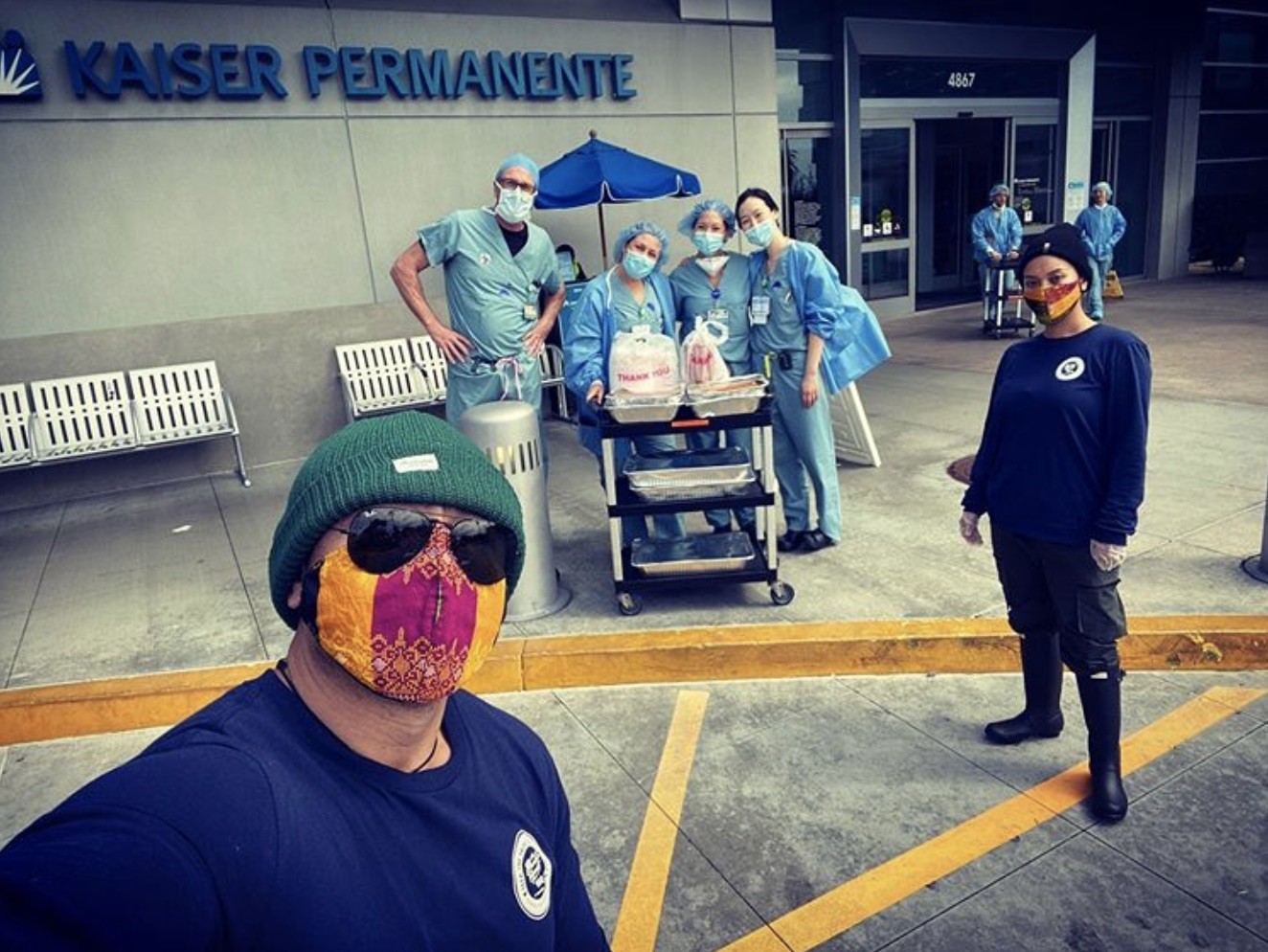 One of the first businesses to initiate the trend of giving back to front-liners was The Park's Finest, whose owners Johneric and Christine Concordia started the "Feed the Frontliners" project that raised more than $20,000 to deliver meals to medical workers, firefighters and police officers. Since then, other Filipino business owners have taken it upon themselves to have similar efforts.
As Fil-Am business owners, folks like Kristine de la Cruz of the bakery Créme Caramel in Sherman Oaks and Monique "Mo" Maravilla of Kindness & Mischief Coffee in Highland Park are profoundly aware of the workload and risk these medical front-liners put themselves through every day.
De la Cruz first realized the gravity of this new normal when she heard that a friend's cousin passed away in the Philippines from the virus. And, she knew that those who are on the front lines of the crisis, many of whom are Filipino, are in need of support from other members of the community.
"That brings the reality [of the situation] to the forefront," de la Cruz told the Asian Journal in a recent Zoom interview. "When on the surface, all I'm doing is trying to maintain my business but anything we could do to help the community is like the cherry on top. We all have family that are nurses and it's their job to keep people alive and they just have to go through so much on the daily, and that's escalated so much since this outbreak."
Once they both realized that the COVID-19 outbreak would both be a detriment to the medical workforce as well as small businesses, de La Cruz and Maravilla conjured up a way to give back to these essential workers as well as keep their businesses from shuttering.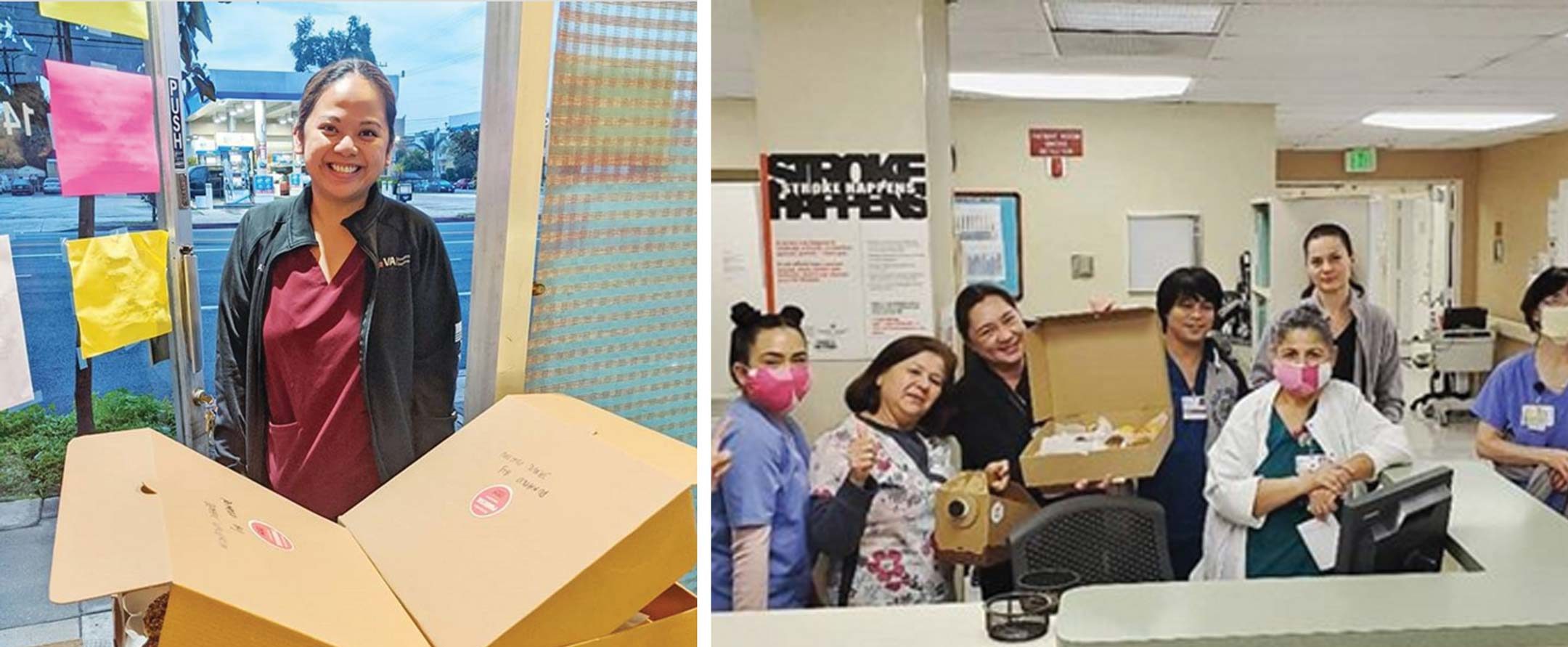 Through their connections with various nurses, they were able to secure relationships with various hospitals in the area, and so far, they have provided food and coffee to Sherman Oaks Hospital, Kaiser Permanente in Panorama City, Providence St. Joseph's Medical Center, Veterans Affairs Hospital in Greater LA, Glendale Adventist and Pomona Valley Hospital Medical Center. (Both Maravilla and de La Cruz also plan to cater to hospitals in the Orange County area.)
Throughout the week, Créme Caramel donates 10 boxes of their signature pan de sal pastries and Kindness and Mischief donates 10 boxes of coffee to each hospital, and currently, they are accepting donations from the public to keep the project going.
In addition to these deliveries and donations to front-liners, Maravilla has also temporarily converted her brick and mortar store in Highland Park into a pantry, selling food staples like rice, flour, yeast, beans, and other goods as a way to keep the business on its toes as well as provide a necessary nutrition resource for the community.
"It's so gratifying to be able to give people that," Maravilla told the Asian Journal, noting that she hopes that this side project could provide the community an alternative food resource amid the massive panic buying that has emptied out grocery store shelves.
"When people buy these pantry items, they're just so thankful," Maravilla added. "When I see that, it makes me want to continue to provide these items because I don't want anyone else's lives to be even harder."
And Maravilla and de la Cruz aren't the only business owners giving back to the community. Mike Alcantara of the platform-building collective Lokels Only began collaborating with various vendors that were hit by the new safety measures to provide care packages to medical workers as well as anyone with little to no access to food and nutrition.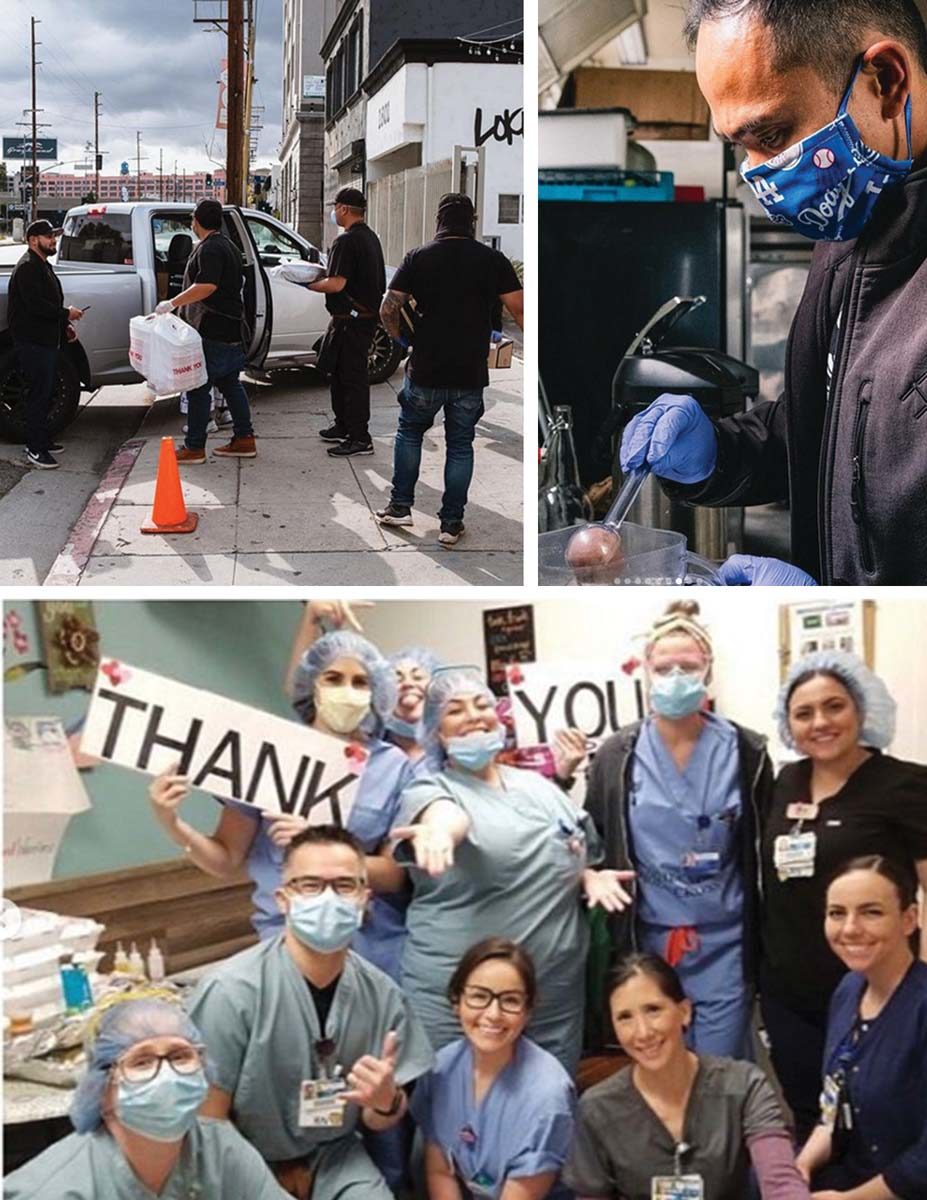 So far, Lokels Only is working with 11 local vendors to prepare these care packages.
"We have to make the best and utilize our platform for everybody who's involved so why not partake in also donating to the frontlines and people at risk or people who can't get meals who are affected by the economy right now," Alcantara shared with the Asian Journal in a phone interview.
The project began as a call to social media for individual donations of $8: one donation means one meal to go out to someone who needs it. This opened the floodgates with hospitals, shelters and other community organizers looking to get involved in the project.
The efforts of Lokels Only has amounted in about 130 meals donated thus far and as the outbreak continues to upend people's lives, Alcantara is looking to continue the project to ensure that they are taking care of as many front-liners as possible. Aside from fostering a collaborative charity effort, Alcantara also noted that by giving back in all the possible ways people can, it cultivates positivity in a time where news headlines and death tolls can strip all sense of hope.
"For us, our mission has always been about community, from day 1," Alcantara shared. "We have to persevere, and we have to show that the situation is not gonna get the best of us and we've also got to figure it out in the right way. We've got to find some footing to stand on, which gives us normalcy. We're still continuing to have that slice of life."
The ways in which Maravilla, de la Cruz, and Alcantara have maximized their resources and energy is indicative of the entrepreneurial spirit that feels almost inherent within the Filipino immigrant identity. Both business owners acknowledged the determination ingrained within second-generation Fil-Ams stemmed from generations past.
In many ways, Filipinos were built to withstand adversity and to optimize the moment in order to breakthrough. De La Cruz and Maravilla pointed out two important moments in their careers as small business owners: for de La Cruz it was in late 2018 during a tumultuous transition period in her business and for Maravilla, it was the struggles she faced during her first year as a business owner.
Both acknowledged that after those difficulties, they feel like they and their businesses could weather anything, including this current outbreak.
"For anyone who is going through anything, whether it's all of us going through these dark times together or anyone going through some real struggles, there is an end to it. There's an eventual end and this, what we're going through, is not going to be life for us for the rest of time," de la Cruz said. "There's going to be an end, and once that happens, we'll be ready and we just need to keep on going."