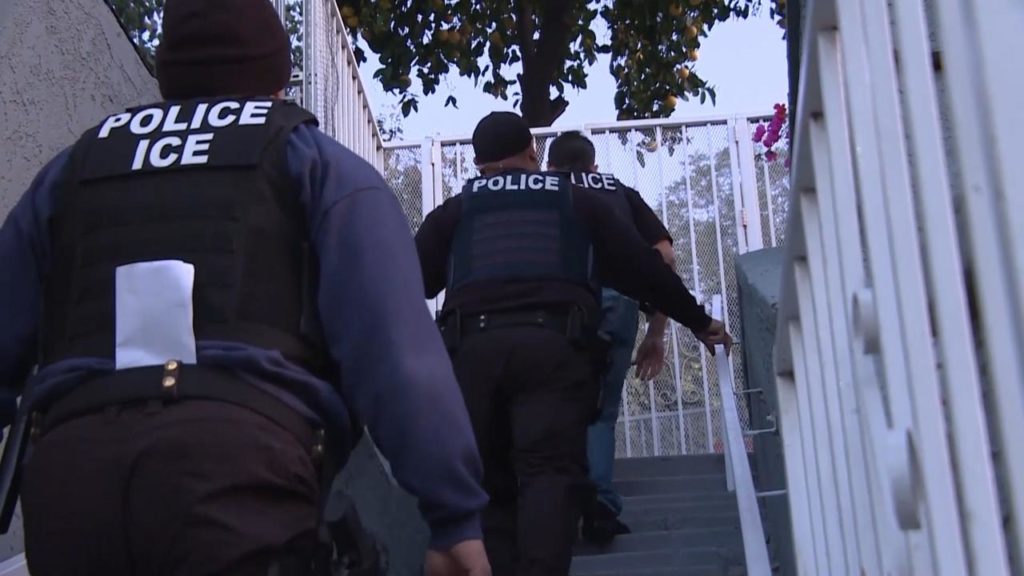 In a massive immigration operation this week, the United States Immigration and Customs Enforcement (ICE) agency targeted and arrested 150 undocumented immigrants, ICE announced on Wednesday, September 26.
The 3-day operation occurred from Sunday, Sept. 23-25 all over the Southland, including the Los Angeles, Orange County and Riverside counties. ICE officials cited sanctuary state laws that prevent "cooperation from local jails" which "is negatively impacting public safety."
According to data provided by ICE, the arrestees included 76 from LA County, 34 in Orange County and 16 in Riverside County. A majority of those in custody — 123 — hail from Mexico, and most of them were men (138 vs 12 women).
Immigration advocacy groups as well as some lawmakers have condemned ICE's frequent presence in Southern California, and have even called for the abolition of the agency. Raids and operations have undertaken with heightened frequency, and many experts attribute that to President Donald Trump's tightening of immigration policies and practices.
Thomas Giles, acting field office director for ICE Enforcement and Removal Operations in LA, said he wanted to clarify "the misconception that ICE goes out there and does random raids and sweeps and just picks people up" and that the 150 in custody were "targeted," he told reporters outside the Federal Building in downtown LA.
Giles condemned the sanctuary state bill, SB 54, for hindering federal immigration agencies' efforts in capturing criminals who are undocumented. SB 54 prohibits state and local law enforcement from handing over information or aiding federal immigration agencies, including allowing access to local jails.
As a result of that mandate, "we have to go out in the communities to find these people — and it puts community members and officers at risk," Gilles said.
The Los Angeles County Sheriff's Department (LASD) recently went under fire for allowing ICE into its county jail facilities, but LA County Sheriff Jim McDonnell said that the the decision to allow ICE agents into the jail facilities of the LASD was to keep ICE out of the streets.
By allowing these agents entrance into jail facilities to target the specific offenders they are searching for, it prevents ICE from detaining any additional undocumented immigrants on the streets.
"By doing that we were hopeful that would prevent ICE from having to go into the community to locate the person they could've taken into custody in a jail environment without risk to anybody else and in an orderly fashion," McDonnell told the Asian Journal in a recent interview.
"[ICE agents] could potentially, not only arrest the individual they're looking for, but if there are additional undocumented people in the environment, they're potentially subject to investigation and deportation as well, and many of them would be people working hard and trying to make a living. We didn't want to subject them to that," McDonnell explained. (Klarize Medenilla/AJPress)