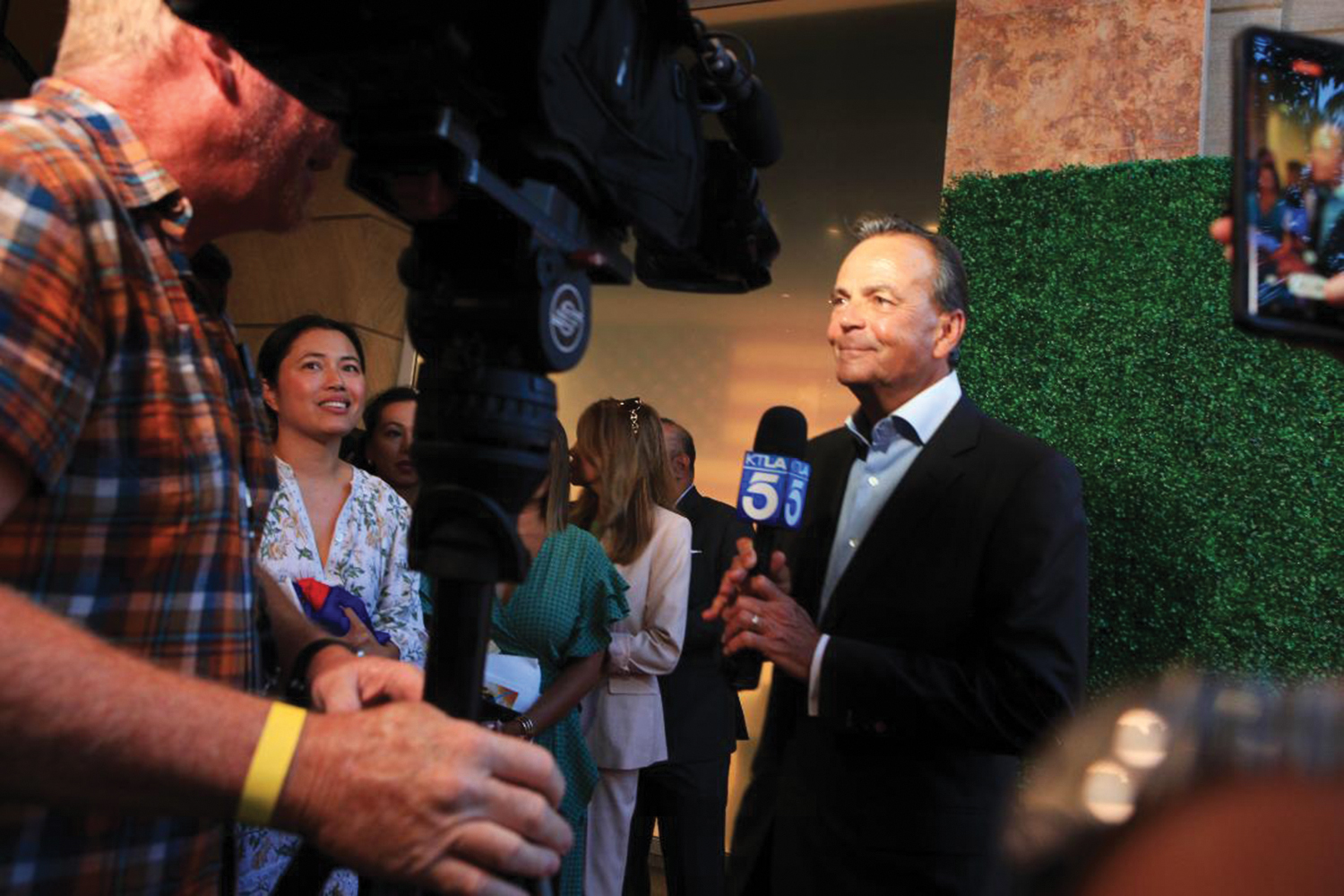 AS an advocate of crime prevention and public safety, Los Angeles mayoral candidate Rick Caruso has vowed to put an end to Asian hate crimes in his jurisdiction.
In an interview with the Asian Journal at the sidelines of the recently hosted event by Caruso in celebration of the first major Hollywood studio film about Filipino Americans "Easter Sunday," he said "(if I win) as a mayor, I will make sure that we stop that."
He took note that the local government should focus on implementing policies and rules that would address concerns about the rising number of hate crimes in the city.
"It's (really) terrible. Hate crimes are up 180 percent," he said, noting that if he wins, he would make sure that the perpetrators of these crimes would be punished accordingly.
"We are going to persecute people who are taking advantage of the Asian population. We have to make sure that they know that committing hate crimes is absolutely wrong and will not be tolerated," he said.
He also committed to continue to give a voice to the Filipino community. "I want to give a voice to the Filipino community. They've been in Los Angeles (for the longest time) but we don't give the recognition to the Filipino community that they deserve," he said. "Overall, I want to make a more liveable community, safer for the people," he added.
Caruso, a lawyer by training, believed that to be able to eliminate crimes, there's a need to strengthen the law enforcement's rules and policies.
It would be recalled that Caruso was then president of the Police Commission at the height of the great turmoil at the LAPD with the Department operating under a federal consent decree.
During his presidency at the LAPC from 2001 to 2005, Caruso restored public trust in the LAPD, especially among Black, Asian and Latino Angelenos.
At that time, he oversaw a 30% reduction in crime, fought for community policing and police accountability and stood up to political pressure when he hired Chief William Bratton, who is remembered as the most transformational figure in the history of policing in the City of Los Angeles.
"There is no doubt that our police force can do better, but the attacks on rank-and-file officers must stop. The men and women of the LAPD risk their lives on a daily basis. Rhetoric about "defunding the police" makes no sense when you consider that murders are skyrocketing and LA is the most under-policed big city in America," he said.
"We need to invest in more training, both to reduce unnecessary use of force incidents and to eliminate any elements of unconscious bias. But when an emergency strikes, we all want our first responders to arrive quickly and to save lives, and we need to show our support for them with respect and gratitude, along with a constant and firm demand for excellence, fair treatment, and world-class professionalism," he added.
Police visibility, he said, would also be a great help in curbing crimes in the city. "The LAPD is the smallest big city police force per capita in the US and that must change," he said.
He committed to deploy and add some 1,500 officers to the LA force before the end of his first term.
Caruso will likewise make sure that the LAPD returns to community-based policing with more senior lead officers working hand-in-hand with community groups and neighborhood leaders to build trust and ensure the communities who need it the most have police officers who reflect their values and demographics.
According to Caruso, he also plans to address increasing incidences of gun violence which is prevalent and getting out of control in Los Angeles.
In 2021, the city recorded 397 murders, the highest total in almost 15 years — and a 53% increase from 2019 levels.
In one year, homicides, car theft, and robberies at gunpoint are all up by double digits. More than half or 54% of the city's shootings were related to gang violence, and homicides of the homeless increased 22%.
"Robberies with a firearm increased 21 percent citywide last year, with LAPD's central bureau logging the largest increase of 37%."
The aspiring LA mayor said he would also crack down on gun trafficking and illegal manufacturing of "ghost guns."
"(About) 80 percent rifles that are flooding our streets with untraceable and illegal high-powered rifles that are weapons of war," he noted.
Moreso, he said there is a need to expand the LAPD Gun Unit and insist on a more coordinated approach to gun violence with partnerships with the Bureau of Alcohol, Tobacco, Firearms and Explosives (ATF), the Federal Bureau of Investigation (FBI), and Homeland Security.
Caruso likewise emphasize on employing "Precision Policing" strategies to concentrate resources around the worst offenders and high-crime areas to address the 'demand-side' of the problem.
"It's worked elsewhere – for example, in New York, the NYPD's shift to a surgical form of "precision policing," in which law enforcement focuses resources on a small number of individuals who are thought to be the primary drivers of violence," he said.
In addition, he said he would also expand laws around safe storage of weapons in homes with real penalties if violated, especially in homes with children.
He said he would also get guns out of the hands of domestic abusers. "I will double down on efforts to take guns away from those deemed too much of a risk to own them, such as the Armed and Prohibited Persons System (APPS) program which gives local authorities a way to remove firearms from individuals who'd lost their right to bear them because of violent crimes, serious mental health issues or active restraining orders," he said.
Aside from making the communities safer, Caruso pledged to put an end to street homelessness and clean up corruption. (Donnabelle Gatdula-Arevalo/AJPress )