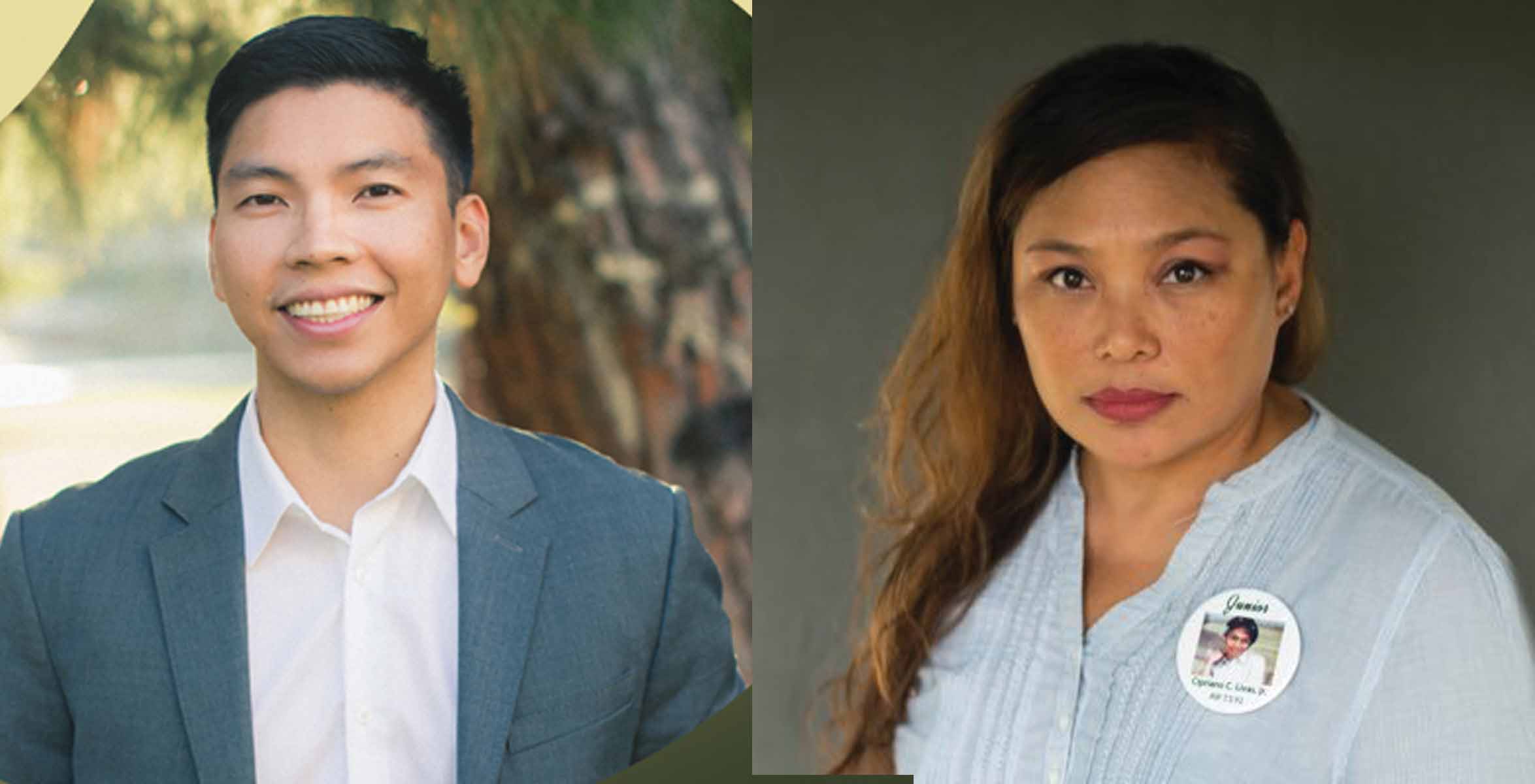 A conversation with LA City controller candidate Kenneth Mejia and CA Assembly candidate Mia Livas-Porter
AS political campaigns begin to ramp up for the 2022 midterm elections, Filipino American candidates are harnessing the momentum of the tumultuous last year and a half of COVID-19, the rise in anti-Asian hate crimes, and the (still-occurring) reckoning of law enforcement's relationship with communities of color.
On Wednesday, June 18, two Filipino American Los Angeles-based candidates for office — Mia Livas-Porter, who is running to represent the California Assembly's 51st district, and Kenneth Mejia, who is running for LA City controller — met with members of the diverse LA community to discuss their campaigns and the importance of Fil-Am representation in government.
After the appointment of Attorney General Rob Bonta (formerly a California assemblymember) in April, there are currently no Filipino Americans in the State Legislature.
"As attorney general, [Bonta is] doing a lot of protecting of laws and communities, but we need people to make laws that actually help ensure that our kababayan (fellow Filipinos) and all communities of color and working-class communities are represented and have a voice," said Godfrey Plata, a community organizer and former California Assembly candidate, who hosted Wednesday's virtual meet-and-greet.
The meet-and-greet was a chance for community members to connect with Livas-Porter and Mejia, but it was also a fundraiser to propel each candidate in their respective races.
"June 30 is what the newspapers and journalists will look at to tell how serious incumbents' opponents are," Plata said, emphasizing the importance of fundraising in electoral politics.
The primary elections in which both Livas-Porter and Mejia are running will take place on  June 7, 2022. If both garner enough votes, they may advance to the general midterm election on Nov. 8, 2022.
Filipinos and Filipino Americans are the largest Asian and Pacific Islander (API) group in California, and out of the 38 APIs who have served in the California Legislature, only two Filipinos have served: Bonta and Todd Gloria, a Democrat who served the San Diego area from 2016 to 2020 before being elected as the city's mayor.
Livas-Porter, who claims to be a descendent of the great Visayan hero Lapu-Lapu who led the defeat of Portuguese colonizer Ferdinand Magellan, is seeking to become the third Filipino American to serve in the Legislature.
The mother and community activist first soft-launched her campaign in March and has been seeking to connect with residents of California's 51st district, which roughly comprises Northeast LA and East LA. Livas-Porter said on Wednesday that she wanted to hold the incumbent Wendy Carrillo (who was elected in 2017) accountable.
"I hadn't seen the kind of leadership that I had wanted," said Livas-Porter, who is a Democrat, noting that she did in fact vote for Carrillo, also a Democrat, in 2017. "But I feel that she, having accepted fossil fuel money and charter [school] industry money, and seeing her voting record [while in the assembly], doesn't reflect what our district needs." (According to public records on the CA Secretary of State's website, Carrillo did receive donations from political action committees that advocate for charter schools and energy corporations.)
Among the issues important to Livas-Porter includes gun violence and the protection of young children in schools. As a mother of two, she felt motivated after the 2018 Parkland shooting to become more involved in causes that prevent gun violence, joining the gun control organization Moms Demand Action.
The Filipina also noted a personal attachment to the issue of gun violence. In her early 20s, her brother died by suicide after a five-year battle with schizophrenia. As customary within Filipino culture — especially Filipino Catholics — she and her family "kept silent" about the tragedy for decades.
"I shut my voice for 25 years, and it was only until my advocacy with Moms Demand Action that I learned the power of speaking my truth, of being vulnerable and sharing experiences to give others courage to come forward," she said.
She added, "That's one of my top priorities, violence prevention, and advocating for those who are the most vulnerable among us, whether they are children or those struggling with mental illness. I want to speak and be the voice of those who do not have a voice."
Mejia, a fellow working-class advocate, is also seeking to bring more accountability to the ways in which the City of LA spends its money.
The son of Filipino immigrants and lifelong Angeleno, Mejia is a certified public accountant (CPA) and advocate for housing justice who said that Senator Bernie Sanders, the tenacious Democratic socialist, was a major political influence.
Formerly a member of the Green Party, Mejia unsuccessfully ran for Congress to replace Rep. Jimmy Gomez in the state's 34th congressional district in 2018. However, the loss mobilized Mejia who is gaining traction among the growing number of progressive Angelenos who are fighting for more progressive leadership.
"As a controller, you're not in a policymaking position; you could only show numbers. The city controller is the city's auditor and accountant who is there to help root out wasteful spending," Mejia explained.
As LA city controller candidate, Mejia has been critical of Mayor Eric Garcetti's spending, particularly his proposed allocation to the Los Angeles Police Department (LAPD). The national discourse and frenzy over reforming/defunding/abolishing the police has no doubt found its own home in LA, whose police department has a tarnished history of corruption, brutality and discrimination.
But there are residents who believe that the campaign to abolish or defund the police will lead to increased crime and threats to public safety. But activists like Mejia argue that law enforcement is not the only way communities can curb crime.
"One of the things that we're trying to tell people is that public safety doesn't always have to be with the police," Mejia said, noting that public safety manifests itself in stable public rights like education, housing and public transportation.
Garcetti's proposed 2021-2022 city budget includes about $3 billion to the LAPD, which is roughly 27% of the total budget. In comparison, Parks and Recreation comprises 3%, transportation 3%, housing 2% and cultural affairs 0.25%.
Following the increase in anti-Asian hate crimes and the "summer of reckoning" following high-profile murders of unarmed Black individuals across the country, Filipino community members have become part of the coalition of activists who are calling for greater community investment in public services by redirecting funds from the LAPD.
"As Filipinos, it's important to realize we are a people who fight against oppression and against systems that put people down, and that's what our campaign is trying to do through exposing these finances," Mejia told the Asian Journal during the meet-and-greet. "For example, there are lots of Filipino elders, our lolas (grandmothers) and lolos (grandfathers) who are getting evicted because they can't afford rent, and there's not enough people [in government] to protect them because there's just not enough funding.
He added, "It's really about seeing what our priorities are as a city, and then helping the most vulnerable people here and most of the time it's our immigrant community, and they're usually elders. We're really trying to shine a light and give people something to reimagine."