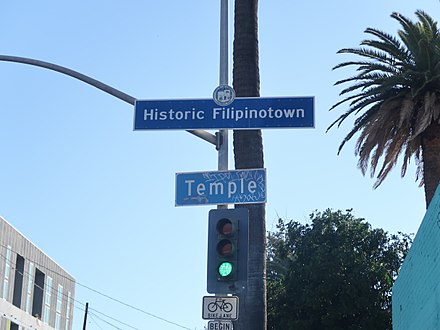 LOS Angeles Filipino-American organizations and community leaders are seeking to rename a portion of a main Historic Filipinotown street to honor the Filipino labor leader Larry Itliong who led the famous Delano Grape Strike in 1965.
A proposal to rename part of Temple Street that traverses Historic Filipinotown to Larry Itliong Avenue has already been submitted to the Office of Los Angeles Mayor Eric Garcetti.  
It was also sent to Councilmembers Mitch O'Farrell of the 13th District covering Historic Filipinotown, Gil Cedillo of the First District covering Echo Park, and Jose Huizar of the 14th District covering downtown Los Angeles where the east end of the proposed Larry Itliong Avenue would start.
Leading the proposal are the Filipino American Community of Los Angeles (FACLA) and the Media and Business Club of Los Angeles County (MBC).
The neighborhood of Historic Filipinotown was designated in 2002 when Garcetti was still the councilmember of the area.
Larry Itliong Avenue would start on Figueroa St. in downtown Los Angeles and would go up westward to Silver Lake Boulevard and Virgil Avenue, according to the proposal.
Known as "one of the fathers of the West Coast labor movement," the Pangasinan-born Itliong headed the Great Delano Grape Strike in 1965 along with Filipinos Philip Vera Cruz, Benjamin Gines, and Pete Velasco.  
Itliong and his group were later joined by Mexican workers under the National Farm Workers Association which was led by the Mexican labor leader Cesar Chavez.  Together, they led the grape strike that eventually led to the formation of the United Farm Workers which consisted of Filipino and Mexican farm workers.
A  portion of Los Angeles' Sunset Boulevard had been renamed in 1993 after Chavez despite the fact that Itliong, having fought for workers' rights since as early as the 1930s, preceded both Chavez and the great Martin Luther King Jr. in the nation's fight for civil rights.
A meeting is slated for December 20 with Mayor Garcetti who authored the bill that renamed the portion of Temple-Beverly Corridor as Historic Filipinotown back in 2002.
Among the organizations endorsing the proposal are the National Federation of Filipino American Associations (NaFFAA), and elected Fil-Am officials including Cerritos Mayor Mark Pulido and Carson Councilmember Elito Santarina.
Supporters also include the Fil-Am Chambers of Commerce, and organizations across Southern California and Historic Filipinotown including the Historic Filipinotown Neighborhood Association, Rotary Club of Historic Filipinotown, Search to Involve Pilipino Americans (SIPA), Filipino American Service Groups Inc. (FASGI), the Pilipino Workers Center (PWC), the Justice for Filipino American Veterans (JFAV), Philippine Women's Club and the Knights of Rizal.
Presidents of the various FIlipino organizations are currently in the works of signing a joint petition.
They say that it would be a "source of pride" and bring recognition to the Filipinos who live in LA County, especially the nearly 10,000 Filipinos who live and have businesses in Historic Filipinotown.