PHILIPPINE Senator Grace Poe shared her experiences and thoughts on what it means to be a Filipino abroad during a recent visit to Los Angeles, California on Friday, June 30.
"What we all went through is universal," said Poe in Filipino, after warming up attendees with a few Filipino jokes in honor of late Senator Miriam Defensor Santiago who like Poe was a 2016 Philippine presidential candidate and was known for her humor.
She added, "Whether you're here in the U.S., or you're in the Philippines, we struggle everyday to provide for our families."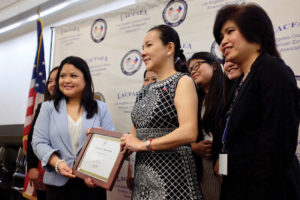 Hosting the event were employment advocating organizations Los Angeles County Filipino American Employee Association, CSI Professionals Inc., and SEIU Local 721.
On moving to the US
After studying at the University of the Philippines Manila, Poe and her husband moved to the U.S. in the 1990's where she studied in Massachusetts' Boston College and earned her degree in political science. 
Her husband, Neil Llamanzares, went to San Francisco and then Washington D.C. for undergraduate and later master's studies.  The two then went to live in Virginia for 12 years where Poe gave birth to her three kids.
"As soon as we got here, my husband and I had to work very hard because we were determined to live our lives in this country without having to rely on our parents," shared Poe who worked as a preschool teacher and part time as a scientific equipment salesperson — jobs she said gave her enough pay and flexibility to be around her family.
Aside from experiencing economic differences, Poe spoke of the struggles of homesickness shared by many Filipinos living abroad.
"It was exciting to be around new surroundings, but we missed our families and the Filipino culture that we had left behind," said Poe, again eliciting laughs from attendees through the mentioning of Filipino personality traits — pointing with their lips, having a balikbayan box as another piece of luggage, collecting hotel items for souvenirs, and seeing a meal as incomplete if it didn't have rice.
Poe also reminisced on the days before internet when she and her husband would look for the cheapest calling cards in Filipino stores to stay in touch with their family back home in the Philippines, and how they would similarly search for the cheapest balikbayan box delivery company to send home sought after American goods.
And then there were trips to Filipino markets for "Boy Bawang, patis, and sinigang mix" to give them a taste of home.
"Kung ano ano pa ang comfort food (whatever else was comfort food)," said Poe.
She added that having faith and determination was what helped her family in starting a life in the U.S.
"What saved us I guess was our faith and resilience — our determination," said Poe.  "I think Filipinos are resilient people and can easily adapt to new surroundings."
On responsibility
Speaking of social responsibility, Poe encouraged Filipinos to be involved in bettering the Philippines, despite living elsewhere.
"You're all here today I'm sure not because you love the Philippines less, but because we have a responsibility also to better ourselves so that we can be a positive force to any community that we a part of, whether here or whether we choose to retire in the Philippines someday," said Poe.
She said that doing good in one's community abroad was a good way of bringing pride to the Philippines.
Stressing the importance of being respectful, she said, "It doesn't matter who you are or who you dealt with.  It's important to disagree without being disagreeable."
"And it's also important for you to set a good example," she added.
The adopted daughter of the King of Philippine movies, national artist and later 2004 presidential candidate Fernando Poe Jr., the senator said much of her inspiration to enter public service came from her father who was a big advocate of fighting poverty.
After her father passed away in 2004, Poe returned back to the Philippines permanently to help her mother actress Susan Roces.  Moving back, she said, opened her eyes again to the "harsh realities of Philippine society."
She decided to further her father's mission and served as chair of the FPJ for President Movement which after his death continued advocacy for political and social programs, offering services like free legal advice and medical missions.
"Even if my father was never officially a part of government, in his own personal capacity, he was able to help many of our country," said Poe.
Poe further encouraged Filipinos to exercise both support and criticism when needed, adding that she herself would support the president if whatever program he is pushing is right.
"But I'm also a critic," said Poe.  "Especially when I feel that it is not just."
She said in Filipino, "It's hard when you're always mad.  You need to be supportive too.  But, there are many things in the Philippines that we know need to be fixed.  Don't lose your vigilance.  It's important for democracy."
Speaking specifically of Filipinos living in the U.S., she said its numbers had the ability of influencing the future of the Philippines.
"The sheer number of Filipino-Americans alone make us a force to be reckoned with," said Poe, citing the U.S. Census Bureau's population numbers gathered from the 2010 census.
Fil-Ams are currently the largest Asian American population in California.  In Los Angeles County alone, Filipinos account for 606,657 of its people.
"Imagine how much is spent on clothes and groceries," said Poe, adding that some of her favorites places to shop and eat are Ross Dress for Less, In-N-Out Burger, and a number of Filipino joints like Barrio Fiesta and Island Pacific.
On Philippine future
Often seen at senate hearings in cases such as last year's University of Santo Tomas hazing death, and cases regarding extrajudicial killing investigations stemming from the current administration's controversial anti-drug campaign, Poe reminded that a lot of work was being done outside of hearings.
Among the most recent efforts Poe has been involved in include the recently signed Balik Scientists Act which is expected to encourage Filipino professionals to come back to the Philippines, and the Tax Reform for Acceleration and Inclusion (TRAIN) which Poe pushed to include support for the country's poor population.
Poe emphasized the importance of the Philippines' younger population in the country's future, describing them as an "advantage."
"The median age is 23 years old," said Poe.  "In other countries, the median age is like 40 plus.  Tayo bata (We are young.)."
She gave the example of focusing on the first 1,000 days of children's lives — providing parents with access to vitamins, supplements, and checkups during the children's' developmental years.
"What kind of children are we going to have if they are hungry?," she asked.
Poe also touched on the opportunities of tourism, explaining that roughly six million tourists visit the Philippines annually, generating roughly five billion dollars.  When compared to Thailand which gets around 26 million tourists a year and generating around 48 billion dollars, she said there's room for improvement.
"We're an English speaking country.  We're an archipelago.  We're surrounded by beautiful beaches.  Our countrymen are warm by nature.  Why can't we compete?" she asked. 
Ending her speech, Poe again encouraged Fil-Ams to do their part in improving the Philippines.
"Like you, I've lived here," said Poe.  "And we still continue to love our country, so whatever you can do to contribute,  you can go home, do community service work, medical missions, anything. I'm sure our kababayans will be very grateful." (Rae Ann Varona/AJPress)