"Why does it take a strike for the district to meet our basic needs?"
THE Los Angeles teachers union on Tuesday, January 22 successfully negotiated with the school district on a new contract that effectively ended the union's first strike in 30 years.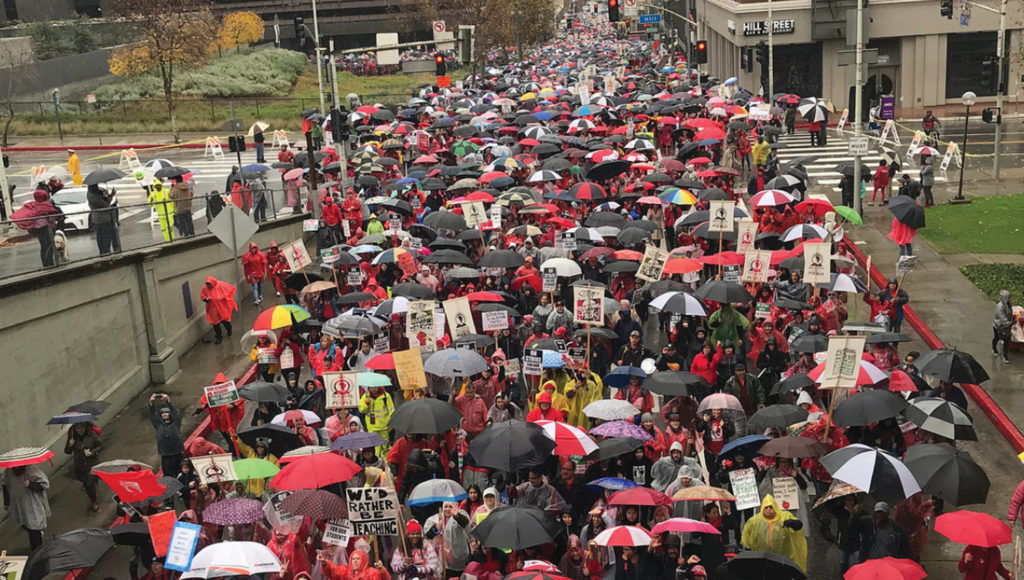 From Jan. 14-22, one of the loudest protests in defense of quality public education spanned the Los Angeles Unified School District (LAUSD), which faced thunderous demands from the more than 30,000 members of United Teachers Los Angeles (UTLA) to lower class size, hire more teachers and school support staff, and increase pay, as previously reported by the Asian Journal.
The union said that 81 percent of its members voted in favor of the tentative agreement, which addressed a majority of the teachers' concerns.
"For years, our students were being starved of the resources they need. It is a historic day," UTLA President Alex Caputo-Pearl said on Tuesday.
According to the agreement released on UTLA's website on Tuesday, the union and the district agreed upon the "complete elimination of Section 1.5," a mandate in the teachers' contract that allowed the district to ignore classroom cap sizes in order to increase the capacity as it saw fit.
Before the agreement, class sizes ranged from 40 to 50 students in one classroom, which teachers said couldn't afford individual attention. That means that class sizes are set to decrease steadily over the next few years: grades 4-12 will shrink by one in the 2019-2020 and 2020-2021 academic years and then by two the following year.
Additionally, the deal put a cap of 24 students for grades 3 and below.
Class size is a huge deal for teachers because student success hinges largely on an accessible relationship between teacher and student, according to Emily Reyes, a Filipina-American 5th-grade teacher at Crescent Heights Boulevard Elementary School in the Mid-City West area of LA.
"[Smaller class size] is the hallmark of student success," Reyes told the Asian Journal on Tuesday in an interview near the LAUSD headquarters in downtown LA. "If I have 40 kids in my class, I don't get to have those personal conferences where I can give feedback and help. And by not having that opportunity, I'm not able to connect with those students and I'm not able to fulfill their needs because sometimes it's not just their learning needs. It's also about their emotional needs."
Additionally, the agreement provided that a nurse be available on campus on all school days, a triumph after educators criticized that the district's budget and staff cuts resulted in most schools having an on-site nurse once a week.
Middle schools would have full library services, and in high schools, the student per counselor ratio would be 500:1. (On average a single counselor would be responsible for closer to 1,000 students, previously, Reyes said.)
Additionally, teachers gained a 6 percent salary raise and successfully halted the district's plan to cut health care benefits.
Specifically, teachers would get a 3 percent retro salary increase (back pay owed) for the 2017-2018 school year, and a 3 percent retro increase by July 1, 2018.
"We can't serve our children as well if we don't have the resources to do that," Reyes said. "How do you expect to have high success rates when you're basically preparing us to fail? We don't even get a fair chance because we don't have everything that we need."
The strike's impact
Last week, Reyes accompanied a union member for a talking head interview on HLN's Headline News. When they arrived in the green room of the CNN building in LA, Reyes had been talking with someone about the strikes and mentioned that she was a teacher.
From across the corridor, she heard someone shout, "I support you!"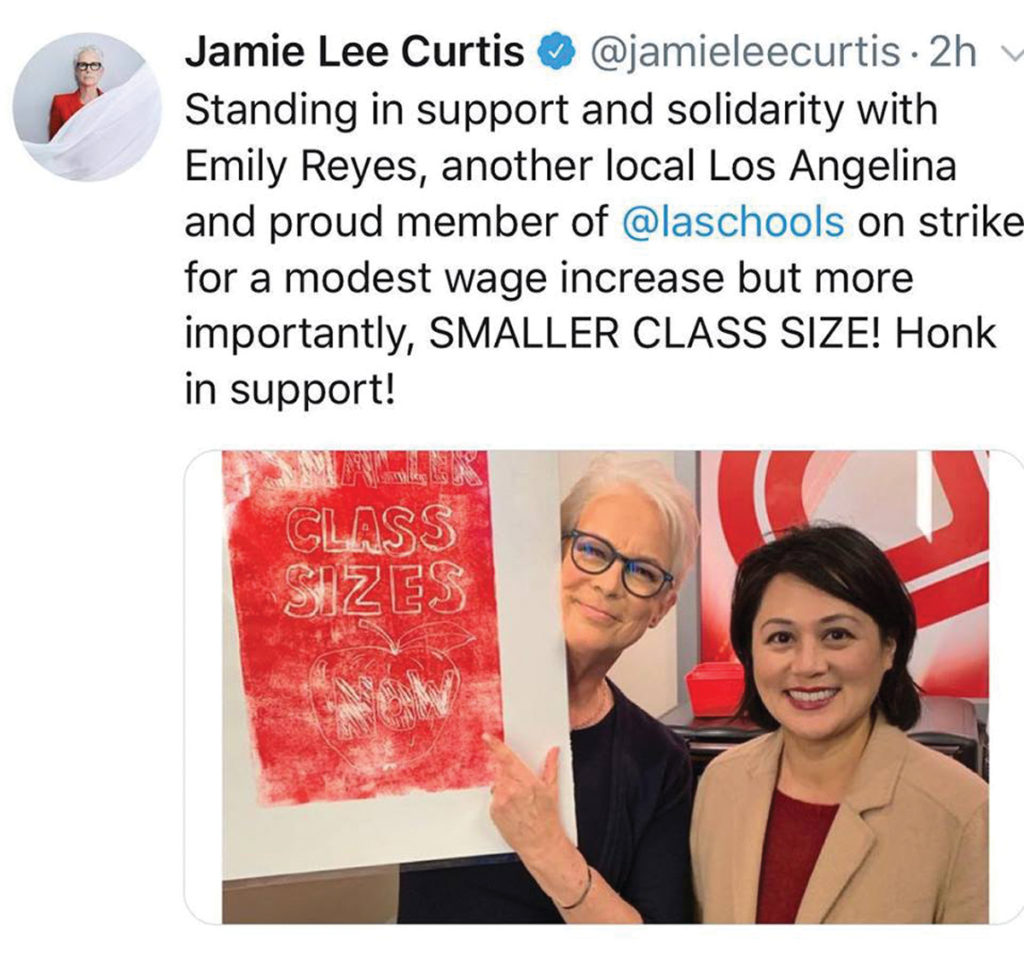 Reyes turned around and saw legendary "scream queen" and philanthropist Jamie Lee Curtis who invited Reyes into her dressing room to chat.
"She told me how much she supported the teachers, and I was really starstruck because I immediately thought of True Lies and Halloween," Reyes said with a laugh. "So it really meant something that there was this really famous actress and important figure in Hollywood supporting our cause."
Awareness of the campaign was partially elevated through celebrity support, which increased publicity and impact. Actress and creator of "Crazy Ex-Girlfriend" Rachel Bloom, comedienne Kathy Griffin and actress Busy Philipps were among the droves of public figures to stand in solidarity with the teachers.
In the grand scheme of things, the strike gave teachers what they asked for: a reduction in class size, ample staffing and a salary raise. (Teachers who asked not to be quoted noted that "a majority" of teachers aren't pleased with the retro salary increases, and would have preferred a traditional salary raise.)
After the agreement was made and the teachers returned to the classrooms to resume their lessons on Wednesday, all seems calm on the schoolyard front.
But the strike puts into sharp relief the state of American public education and, more specifically, the value of public schools to district officials and lawmakers from the local, state and federal levels of government.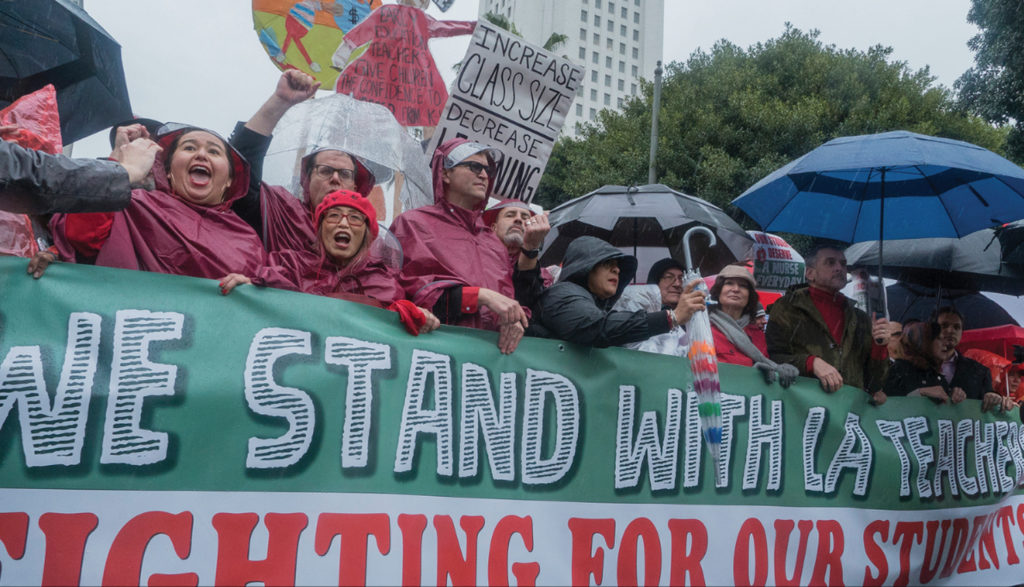 "It took so many variables for us to get even the bare minimum of what teachers deserve. We had to strike for a week, celebrities and public figures had to bring awareness to the issue and all these things, and we are far from the only public school district fighting for these necessary changes," another teacher at John Burroughs Middle School in Mid-Wilshire, who also requested to remain anonymous, told the Asian Journal after school hours on the first day back after the strike.
The John Burroughs teacher noted his students' relief that they wouldn't have to spend any more days watching movies in the auditorium while their teachers were out "fighting for their right."
But, still, he pondered of the time spent (in his words, "time wasted") that could've been used to ensure more students wouldn't have to suffer with paltry resources and overly inflated classes that affected teacher-student mentorship.
"It may sound weird, but I keep thinking about the years and years we had to make do with what paltry resources we had, and the years of inflated class sizes. I think a lot about the students who didn't get a [positive] classroom experience because I didn't have time for them individually," he said, noting that class size was his biggest issue, "more so than pay raises."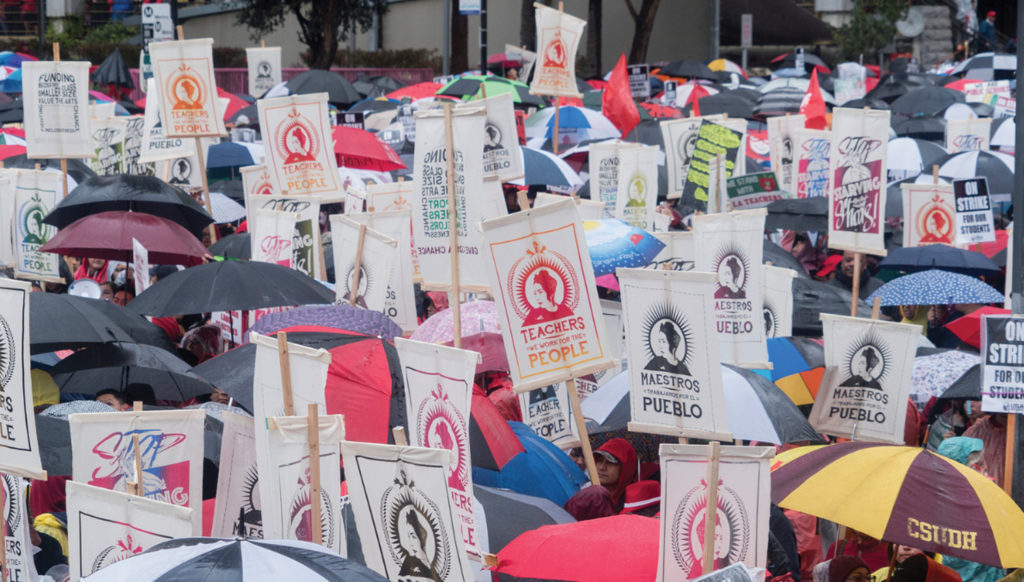 The six-day strike cost the district an estimated $151.4 million based on the attendance numbers.
"Why does it take a strike for the district to meet our basic needs? This shouldn't have happened, and I know it sounds helplessly negative, and I should happy we've reached this agreement, but I really resent the district for being inattentive about the obvious," he lamented. (Klarize Medenilla/AJPress)