Fil-Am activists show solidarity for those affected by Trump's highly-criticized immigration policies
AFTER President Donald Trump's "zero tolerance policy" — which separated immigrant children from parents — sparked outrage across the country, hundreds of thousands of protesters partook in the national "Families Belong Together" march and rally this weekend, paralleling the same political outrage from the Women's March and the March For Our Lives rallies earlier this year.
In Los Angeles, a diverse gathering of thousands of activists flooded the streets of Downtown on Saturday, June 30, wielding colorful signs and shouting chants that called for the abolishing of the United States Immigration and Customs Enforcement (ICE).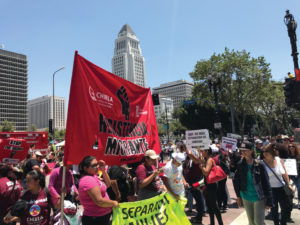 A rally in front of City Hall featured religious leaders, celebrities and California lawmakers who denounced Trump's zero tolerance policy, a stringent immigration protocol that immediately convicts all immigrants (most of whom are Central American) illegally crossing the U.S.-Mexico border. As extensively covered by the Asian Journal, that policy has reportedly included separating migrant children from their parents and placing them in large cage enclosures.
"If you are pro-family, you cannot separate families," LA Mayor Eric Garcetti said in his address to the crowd. "We've got a message for the White House: We care, and so should you."
Rep. Maxine Waters (D-South LA), a veteran congresswoman who has been deep in a war of words with the president in the last couple weeks, took to the stage and did not mince words when decrying the administration's handling of the border crisis.
"How dare you take the babies from mothers' arms?" Waters said at the rally. "How dare you take the children and send them all across the country into so-called detention centers? You are putting them in cages; you are putting them in jails, and you think we're going to let you get away with that? I don't think so!"
Saturday's march brought together people from all walks of life who share a common ideology: Trump's immigration policy, especially his zero-tolerance policy, is "inhumane."
"We see that this zero tolerance policy is really a zero humanity policy, and we wanted to be there to say that families should be reunited and end this policy," Pilipino Workers Center (PWC) Executive Director Aquilina Soriano-Versoza said in an interview with the Asian Journal. "The situation at the border is so urgent because so much harm is being done to the children and the families who are refugees who are fleeing from violence and should not be treated as criminals, but as refugees and as victims who we can support and who we should have compassion for."
PWC is a non-profit organization that serves Filipino immigrants in Southern California and advocates for migrant workers rights and provides them resources for employment. Although the crisis at the border doesn't directly impact the Fil-Am community, Soriano-Versoza emphasized the diversity of family separation and that Filipino immigrants are often separated from their families because of the convoluted U.S. immigration system that predates the Trump administration.
"This is something that has impacted our community greatly," Soriano-Versoza added. "A lot of Filipinos are separated from their families because of the way that the immigration policies are set here where we have so many that are left behind. It's different from what's happening at the borders right now, but it's still family separation."
Although the march was centered around family separation at the border, participants took advantage of the platform to protest other controversial Trump policies. The march was planned weeks ago, but Saturday's march capped an eventful political week during which the Supreme Court voted to uphold the travel ban, which prohibits travel from five majority-Muslim countries.
The Philippines, in which 11 percent of its citizens are Muslim according to the National Commission of Muslim Filipinos, is not an affected country in the current travel ban, but Soriano-Versoza remarked that this ban could bring forth more bans of the global Muslim community.
"There is a significant Muslim population in the Philippines, and it's impacted by this because it's based upon these different stereotypes of branding all Muslims as terrorists and possible terrorists when you know this is not the case," she said. "Once we start discriminating and having a precedent of discriminating, especially with immigration policies like [the travel ban], it can continue — even though we're not directly impacted by this specific ban — by uplifting the framework as a basis for it, which could promote more discriminatory practices."
Alana Gomez, who is half-Filipina and half-Jordanian, said that the travel ban angered her more than any other Trump policy. She attended the march with her Jordanian cousins and held signs that read, "MUSLIM BAN: 'ARBITRARY AND CAPRICIOUS,'" referencing the rulings of several federal judges who stopped the ban before the Supreme Court ultimately voted for it.
"Half of my family is Muslim, so I took that personally," Gomez, 32, told the Asian Journal. "It was really shocking. Banning entire countries from coming to the United States just because they happen to be mostly Muslim isn't the American way. Barricading the country isn't going to make us safer. And it's just plain discriminatory."
Although she doesn't practice the religion, she feels "culturally Muslim" and still celebrates Muslim holidays and remains close to her family members who practice the religion.
"Peace and civility are two of the main tenets of Islam, which is something a lot of Americans don't know," Gomez continued. "Those who use the name for terrorism are not Muslim just like white supremacists who claim Christianity are not Christians. It's insane that lawmakers, who presumably went to school to learn these things, support such a ban. Just like any other religion or ethnic groups, there are bad, evil people and even terrorists, but they don't represent an entire people."
Other "Families Belong Together" rallies in the Southern California area included those held in Carlsbad, Irvine, Laguna Beach, Malibu, Moreno Valley, National City, Palm Springs, Pasadena, Riverside, San Diego and Temecula.
Much like the March For Our Lives rally in March, which centered around gun control at the fore of several school shootings in the U.S., Saturday's march featured an overwhelmingly young attendance.
One of those young people was 18-year-old Billy Garcia, a Filipino-American high school graduate who said that he wants to major in political science.
Flanked by his friends, Garcia carried a sign he made that said, 'Take Back Congress – Vote Blue!' and said that his main motivation for coming to the march was to show support for immigrants at the border and to be a part of the chorus of dissenters against the Trump administration.
"It's insane that it took [public] outrage for [the Trump administration] to sign that executive order," Garcia told the Asian Journal. "That means that they, Trump and Sessions and all those other [people in the administration], knew about the policy and let it happen anyways."
Garcia admitted that he's felt disillusioned after Trump's election, but he said that he and his friends have begun canvassing for Democratic candidates and have encouraged their peers to get involved in politics and "stay woke."
When asked if he will be casting his first vote in the November midterm elections, he simply said, "Hell yes." His friends nodded in agreement. (Klarize Medenilla/AJPress)