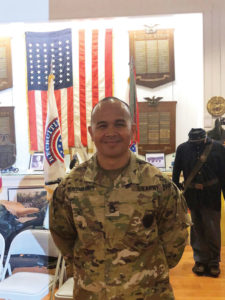 U.S. Army Los Angeles Recruiting Battalion Commander, LTC Patrick Flood presided over the change of command ceremony  from Captain Tifani Summers to Captain Miguel Diaz at the Museum of Military History in Simi Valley on Wednesday, September 19.
Captain Summers served in Los Angeles for two years and has done a tremendous job connecting with the local community. She recently accepted a position into the Public Affairs Brand and will be attending school at The Defense Information School (DINFOS), Ft. Meade in Maryland before being stationed in Korea.
Captain Diaz, who grew up in East Los Angeles, will be taking over the Ventura Recruiting Company. Captain Diaz enlisted in the U.S. Marines Corps as an infantryman in 2003. In 2010, he was commissioned as a second lieutenant into the Adjutant General Corps from the Army's Officer Candidate School in FT Benning, GA.
He has served in various locations and duty positions across the continental United states and has amassed several distinctions throughout his career.
Working with Captain Diaz is SFC Anthony Bustamante, a Filipino-American recruiter based in Tarzana. He can assist in answering questions about college opportunities through the U.S. Army.
In his speech, Commander, LTC Flood quoted former U.S. President Theodore Roosevelt saying: "The best executive is one who has sense enough to pick good people to do what he wants done, and self-restraint enough to keep from meddling with them while they do it."
He also swore in some future soldiers. Lunch was served at the reception for local dignitaries, families, friends and supporters.