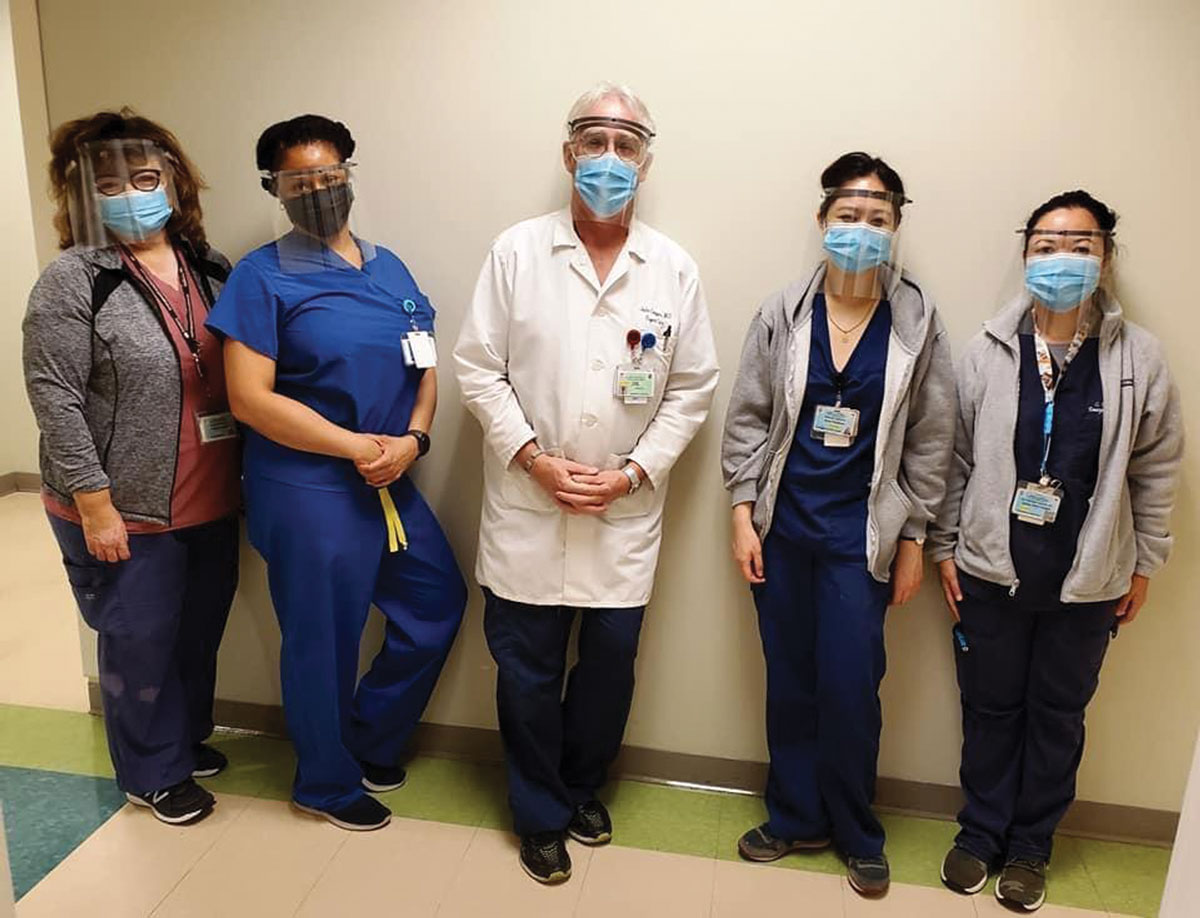 With the extensions of shelter-in-place orders and the collective apprehension for the dangerously unforeseeable future, the coronavirus pandemic continues to ominously rage on like a slow burn of normal life.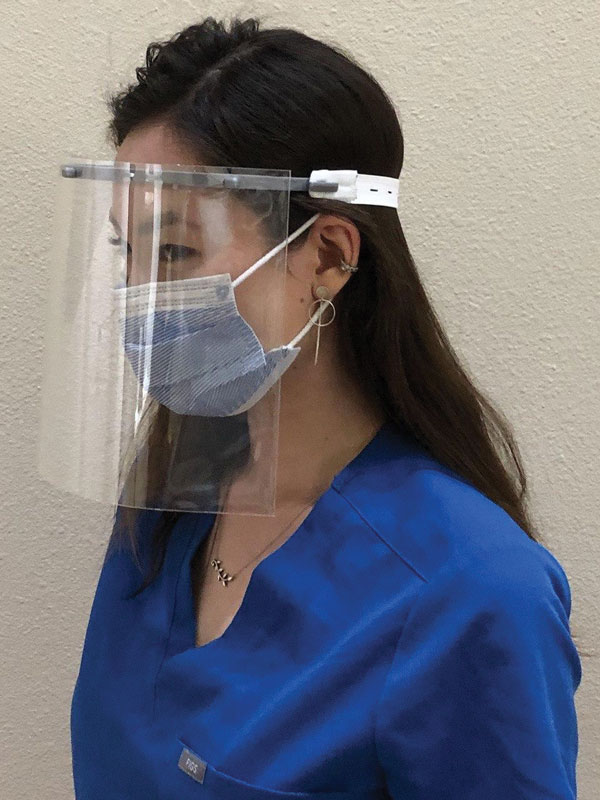 For teenagers and high school students who now must live their formative years during a zeitgeist-defining crisis, the anxiety is amplified as traditional classroom time is reduced to virtual meetings and the prospect of higher education feels hazier than ever.
But in between the strains of distance learning and merely staying healthy amid the COVID-19 pandemic, a group of mostly Asian American juniors from West Ranch High School (WRHS) in Santa Clarita, California have chosen to use what free time they have to strengthen the community and help out those most vulnerable to being infected.
On April 7, Open-Source Print and Protect (OPP) was established by WRHS juniors Matthew Chan, Kevin Gillespie, Rachel Gim, and Shaden Nasr, and now also includes David Gee and Tristan Manalang. Its mission is to design and distribute face shields using their own 3D printers to implement "concepts of value engineering, optimizing convenience and reusability," the students wrote in a letter.
OPP is a 100% student-run and initiated organization with the mission to contribute to the community and be a solution to the problem of dwindling personal protective equipment among frontliners.
In a Zoom interview with the Asian Journal, the group took time from a hectic week of studying and taking AP exams to share their experience starting and successfully running a growing start-up company.
"Basically I stumbled upon a face shield design, and I just noticed things in it [that] I thought I could maybe improve, so I made my own design based on those improvements," Gillespie told the Asian Journal, adding that the designs were based off the Prusa RC3 and 3DVerkstan face shield designs.
Resembling a visor, Gillespie explained that the design is meant to be a more comfortable model of existing shields. Using personal 3D printers, the students create the frames themselves and then attach a flexible sheet of plastic that covers the entire face.
Chan said that wearers still have to wear a cloth covering, surgical mask or any other nose and mouth covering along with the mask, but the shield provides a needed barrier for medical workers who come face-to-face with the virus on a daily basis.
So far, OPP has fulfilled more than 30 orders and created and distributed about 600 shields since beginning the project a little more than a month ago, the students said during the Zoom meeting. They have an overall goal to distribute at least 1,000 shields to essential workers across the LA area.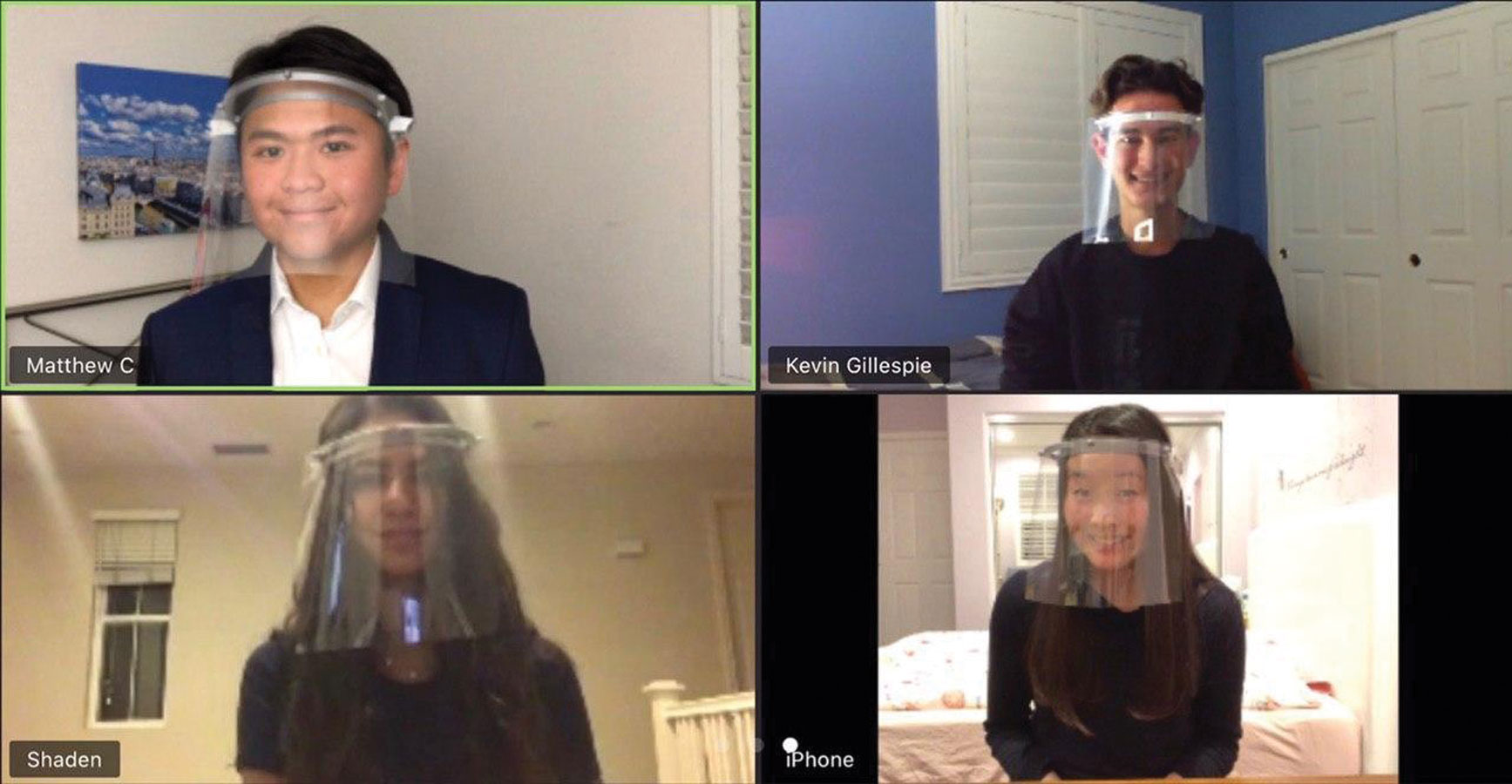 Currently, it takes a little less than an hour to create one mask at the price of $1.70; in an effort to help raise funds to keep the project going, the group has started a GoFundme that they hope will lower the cost of the shield and help them produce more. (The group has raised more than $4,500, as of press time.)
With the help of Manalang, the group has also partnered up with Skye Bottle, which has devoted a portion of its profits to OPP.
OPP's design has been delivered to area hospitals like LA County+USC Medical Center, Cedars-Sinai and Kaiser Permanente as well as the LA County Health Department, providing necessary protective gear for emergency room personnel, urgent care workers, caregivers and private practitioners.
Hospital workers, in particular, are in dire need of any solution that'll help with the scarcity of equipment.
Gim, who is in charge of OPP's PR, shared that many of her family members are health care workers, so she's acutely aware of the meager supplies available to those who work directly with infected patients.
"I'm really glad that we can do what we can and use the free time that we have to give back. I think it's the least that we can do for our community and keep everyone safe," Gim said.
The group has also donated about 100 face shields to a corrections facility, and they are looking to expand their distribution to include essential workplaces like grocery stores and community shelters, said Gim.
They also aim to reach Native American reservations as well as foreign embassies for developing countries like Ecuador where "crew supplies of personal protective equipment may be more scarce" and more aid may be needed, said Chan.
"Our intention is to keep doing this for as long as it's necessary and can benefit others than need us," he added.
They felt like they had "to do something to help during this time" but another reason they wanted to go forth with this project had to do with their own productivity.
"It helps keep us going and organized and it gives us something to learn from and do because we can learn, and have learned, a lot from doing a project like this and it can apply to a lot of things in the future," Gillespie shared.
Sharing their hopes of expanding the company's reach and brainstorming other designs for personal protective equipment, the OPP team's enthusiasm for providing solutions during a time of mounting catastrophe no doubt puts into sharp relief a society's inability to provide the bare necessities during times of crises.
Teenagers studying and taking AP tests and preparing for college shouldn't feel the need to fill a void that companies, governments, agencies and other bureaucracies have failed to cover.
The scarcity of personal protective equipment among medical workers has become one of the biggest scandals of the pandemic in a country that is on the verge of re-opening prematurely and where people have been assaulted for not having a face mask.
However, the OPP team, and other Generation Z-ers who have also kickstarted their own COVID-19-related projects, are perhaps one of the brightest silver linings to come out of this crisis that has so far infected more than 1.4 million Americans.
The quickness, creativity and tenacity with which these individuals acted to become an essential business themselves are remarkable from a business standpoint; it's all the more extraordinary that the individuals in question are teenagers in the age of quarantine.
It's no doubt that these students have bright futures ahead of them (a few of them expressed dreams of working in STEM), but right now, their focus is ensuring that there is a future, period.
"One of the biggest things about this is not necessarily feeling like we're 'essential' but feeling like we're kind of doing a small thing because small things add up to huge things, and we're kind of like a piece of a huge puzzle because there are other groups producing shields, too," Gillespie said. "There's this whole network of people who are doing a lot to keep the community safe, and it's a nice feeling to be a part of that."