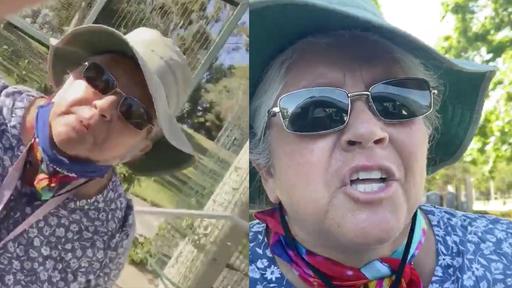 A Long Beach, California woman who was caught on video twice last week hurling anti-Asian sentiments toward two individuals, including a Filipina American in one instance, was located by Torrance authorities but has not been arrested.
Lena Hernandez, 56, was found by Torrance Police Department detectives and members of its Specialized Crisis Intervention Team at a park in San Pedro on Wednesday, June 17. She was interviewed about the three incidents linked to her.
The incidents include: berating a Fil-Am woman named Sherry who was exercising at Wilson Park in Torrance; using racist language toward an Asian American man at the parking lot of the same park; and allegedly physically attacking another Pinay woman named Kayceelyn Salminao inside a restroom at the Del Amo Fashion Center last October. The two most recent ones were caught on video, which have both gone viral.
Despite locating Hernandez, police did not make an arrest because the three incidents are considered "misdemeanor crimes," police said.
"Based on the fact all three incidents are misdemeanor crimes and did not occur in the presence of an officer, Hernandez was not arrested at the time of the interview," the department said in a release on Wednesday. "The details of the interview will be submitted to the City of Torrance Prosecutors office."
In a viral video posted on social media last week on Wednesday, June 10, a Fil-Am woman who is only identified as Sherry, is seen exercising at Wilson Park when Hernandez confronts her for taking up room on the steps.
My friend was threatened in Wilson Park in Torrance, California today while she was working out in a public park by a Karen. She now does not feel safe to exercise in the park because of this. This is infuriating @TorranceCA @TorrancePD @ABC7 @CNN @LANow pic.twitter.com/JkZbRpODbA

— Rachel Tennell (@rmtennell) June 10, 2020
The interaction escalates as Hernandez unleashes more expletives and a racist rant.
"Get the (expletive) out of this world…Get the f*** out of this state. Go back to whatever (expletive) Asian country you belong in," she shouts. "This is not your place. This is not your home. We do not want you here."
In a separate video from that same morning, an Asian American man who was at the park's parking lot with his son was also subjected to Hernandez's tirade.
Our friend and attorney just sent us this video of a very racist and extremely disturbed old lady going off on him while his kids are in the car…. pic.twitter.com/DvkE7oKL5s

— brendon mcnerney (@brendonmcnerney) June 11, 2020
"You are going to go to real jail now," she said, using a mock Asian accent. "You understand me, China man?"
Salminao previously told the Asian Journal that Hernandez attacked her inside the restroom of the Torrance mall in October 2019, but nothing happened after she filed a police report.
"Then seeing the other video made me even more angry. This woman is still out here in our community, harassing other people," Salminao told the Asian Journal.
She has since given the police department another statement in light of the latest events involving Hernandez and is still seeking to press charges.
Anyone with additional information about the aforementioned cases is asked to call Torrance police at (310) 328-3456.