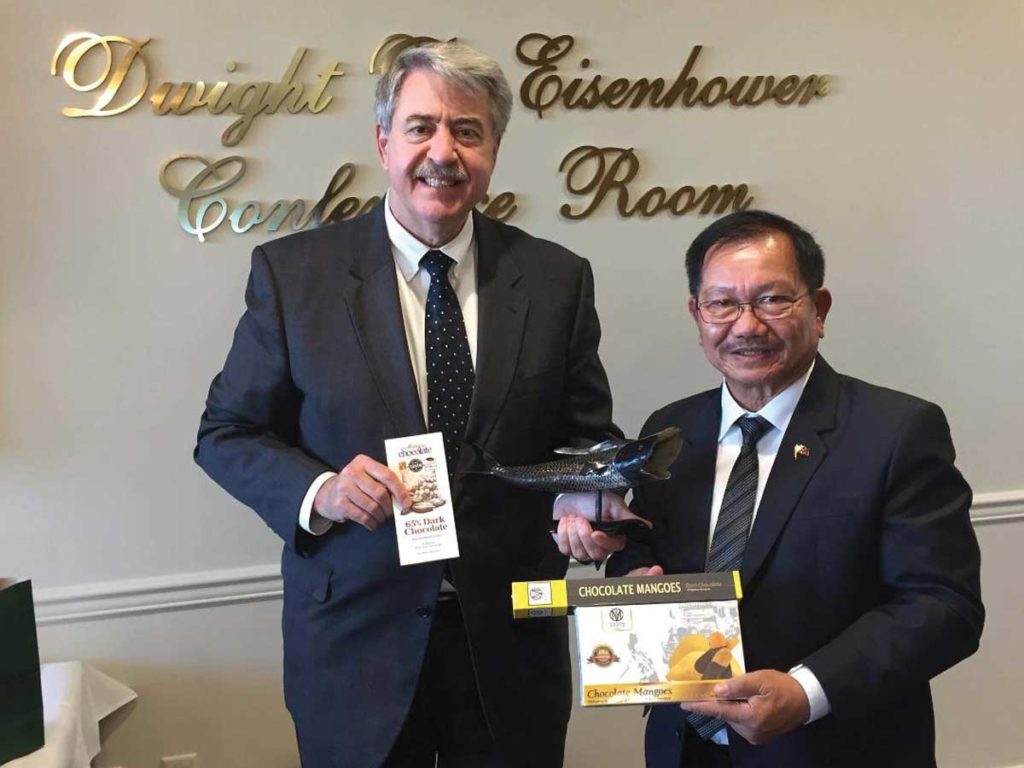 WASHINGTON, D.C. – After attending the High-Level Meeting on the Implementation of the United Nations Decade of Family Farming (2019-2028) in New York held at the margins of the 73rd Session of the United Nations General Assembly, Philippine Agriculture Secretary Emmanuel F. Piñol proceeded to Washington, D.C. to discuss with the U.S. Department of Agriculture (USDA) bilateral collaboration opportunities that can yield benefits for agricultural producers, importers, exporters and consumers of both countries.
Secretary Piñol met with USDA Undersecretary for Trade and Foreign Agricultural Affairs Ted McKinney on Friday, September 28 where both agriculture officials re-affirmed the agricultural trade and cooperation between their respective countries.
 Dr. Josyline C. Javelosa, Philippine Agriculture Attaché to the United States and the Americas joined Secretary Piñol in the meeting and reported to Philippine Ambassador to the United States Jose Manuel Romualdez that the meeting went very well.
"I am pleased to learn that our Agriculture Secretary highlighted the importance of technology, quality and safety standards to boost Philippine farm and agro-industrial competitiveness and has discussed initiatives to collaborate with the United States on agricultural technology," Ambassador Romualdez said in a statement.
 "The United States is the top market of the Philippines for its food and agricultural product exports amounting to about $1.5 billion in 2017 while the Philippines is the United States' 12th largest market for its agricultural and food exports estimated at $2.7 billion last year," the Ambassador further added.
 During the meeting, Secretary Piñol also expressed appreciation for the market access for Philippine food and fiber products in the U.S. market, and further informed Undersecretary McKinney that heis looking forward to the forthcoming U.S. market opening for Philippine young coconuts.
 Dr. Javelosa further reports that Secretary Piñol shared with Undersecretary McKinney the positive outcomes of his visit to Driscoll's research and development center in California on possible R&D collaborations, his discussion with the U.S. Soybean Expert Council on expanding opportunities in soybean meal utilization and processing in the Philippines, and his meeting with Indiana-based Buskirk Engineering on establishing pellet feed mills in the Philippines, among others. He also discussed with Undersecretary McKinney a proposed goat industry development initiative in the Philippines with an infusion of good genetics from the United States.
 Undersecretary McKinney welcomed all of these initiatives, and also cited the USDA's Food for Progress Program in which the Philippines, through several projects, has received support. He further indicated that he is looking forward to visit the Philippines on November 13-15 for a trade mission.
 "High-level dialogues such as this one between Agriculture Secretary Piñol and Agriculture Undersecretary McKinney, including engagements with the private sector reinforce the economic ties that bind our nations. Our alliance with the United States will continue to be stable and enduring, and moving in the right direction," Ambassador Romualdez concluded.